By: Brendan Gilmartin
Wal-Mart Stores (WMT) is scheduled to report 3Q 2013 earnings before the opening bell on Thursday, November 15. The release is typically available at 7:00 a.m. EST. Results from the world's largest retailer and constituent of the Dow Jones Industrial Average tend to heavily influence the direction of the equity index futures.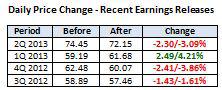 Key measures for Wal-Mart:
Wal-Mart indicated back in August it expects 3Q 2013 diluted earnings per share from continuing operations to range between $1.04 and $1.09. The current Street estimate of $1.07 is at the high end of the range. (Source: Yahoo! Finance).
Earnings Per Share Guidance (4Q 2013): This is a crucial forward-looking measure for Wal-Mart. The current consensus estimate for 4Q 2013 is $1.59.
Earnings Per Share Guidance (FY 2013): Back in August, Wal-Mart said it now expects full-year EPS of $4.83 to $4.93, eclipsing the prior range of $4.72 to $4.92. The Street estimate is $4.93.
Revenues: Revenues are seen rising 4.40% Y/Y to $115.04 bln.
Comparable Store Sales: Back in August, Wal-Mart reported it expects comparable store sales to range from 1% to 3%.
Recent News
10/12: Jefferies upgraded Wal-Mart from Hold to Buy and raised the price target from $74 to $88, according to a post on StreetInsider.com. The firm also raised its current year EPS estimate from $4.88 to $4.93, citing several factors, including increased unit growth, expanding multiples, and improving international operations.
10/12: Janney Capital Markets reiterated a Buy rating on Wal-Mart and raised the price target from $76 to $80, according to a post on Barron's Online. The positive view is based on use of technology to reduce costs, increased returns, and expense leverage.
10/10: Wal-Mart President and CEO Mike Duke told analysts the U.S. business is "in a very good place" and driving strong comp sales, while Walmart International is gaining market share in nearly all the countries it operates.
10/10: Wal-Mart told analysts it remains focused on growth, leverage and returns and expects to grow total company sales 5% to 7% in fiscal 2014, which is projected to increase net sales by $23.0 to $33.0 billion.

Technical Review
After breaking out to an all-time high of $77.60 on October 16, Wal-Mart shares have been slipping in recent weeks, down 7%. Following the retreat, there are several indicators suggesting the shares are near-term oversold: 1. Tested and held support at $71 - a level going back to mid-June; 2. A bullish "hammer" reversal candlestick following the recent drop; and 3. The Relative Strength Index (RSI) just above the key 30-level. Should earnings prove to be disappointing, however, there is downside risk to $68.00, followed by the 200-Day SMA near $67.00. (Chart courtesy of StockCharts.com)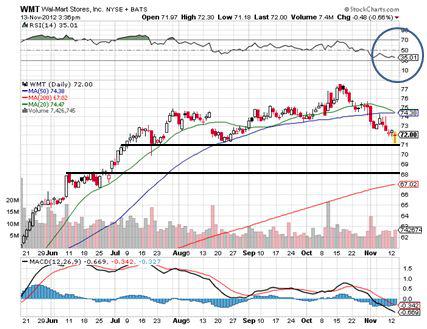 Summary
After breaking out to all-time highs in mid-October, Wal-Mart shares have since retreated ahead of the 3Q 2013 earnings release. Despite the decline, the fundamental picture remains positive with Wal-Mart heavily focused on expense controls, sales growth, and leverage - all of which are contributing to robust performance in the U.S. and abroad. Despite this robust outlook, however, Wal-Mart faces the risk of a weaker economic backdrop, coupled with increased competition from the likes of Amazon.com (AMZN) and Target (TGT). Much of the focus will therefore center on the outlook for 4Q 2013 which tracks the holiday shopping period.
DISCLAIMER: By using this report, you acknowledge that Selerity, Inc. is in no way liable for losses or gains arising out of commentary, analysis, and or data in this report. Your investment decisions and recommendations are made entirely at your discretion. Selerity does not own securities in companies that they write about, is not an investment adviser, and the content contained herein is not an endorsement to buy or sell any securities. No content published as part of this report constitutes a recommendation that any particular investment, security, portfolio of securities, transaction or investment strategy is suitable for any specific person.
Disclosure: I have no positions in any stocks mentioned, and no plans to initiate any positions within the next 72 hours. I wrote this article myself, and it expresses my own opinions. I am not receiving compensation for it (other than from Seeking Alpha). I have no business relationship with any company whose stock is mentioned in this article.