Cheesecake Factory (NASDAQ:CAKE) stock is trading around $33.25 versus its 52-week range of $25.81-$36.25, up 22% in the past year. The stock is trading at a P/E multiple of 18 times, and a forward P/E of 16 times. Cheesecake Factory has one of the largest short positions among its peers at 14.2% versus the industry average of 6.5%. Others in its peer group such as Yum Brands (NYSE:YUM) has a short float of 2%, McDonald's (NYSE:MCD) has a short float of 1%, Tim Hortons (THI) has a short float of 1%, and Darden Restaurants (NYSE:DRI) has a short float of 6%. The Cheesecake factory most recently reported Q3-2012 earnings, and the fundamentals below reflect on the company's improving fundamentals. Also, there is a possibility that if the company delivers on its future plans, an increase in short covering will provide an upside for the stock.
The company reported strong Q3-2012 results throughout the quarter, across all segments, and across all geographies. Fortunately, higher gas prices in California did not impact company comps. The company reported Q32012 EPS of $0.49, 20 bps better than consensus. Comps increased to 2.5% above the consensus of 2.1%.
Management has taken the initiative to close non-profitable and matured restaurants, and relocate them to other geographies. This is definitely preferred over using capital by just adding new locations. First time in the company's history, the company has decided to close a location. The company is closing the Los Angeles location and evaluating other geographies to replace it.
The company has a conservative balance sheet with $56 million in cash and cash equivalents, and zero public debt. The company continues to grow cash with $119 million in free cash flow generated in 2011, $136 million in 2012, and expected to generate $60-$80 million in 2012.
Here is a name that has potential for growth going forward if the company has a successful delivery on its business strategies. The stock also yields 1.5%, which might be an incentive for investors who would like to be paid to be patient.
Risks related to investing in the company are tied to food inflation, which might not be compensated by menu price increases, and any change in customer traffic due to an increase in gas prices.
Interactive Chart: Press Play to compare changes in market cap over the last two years for the stocks mentioned below. Analyst ratings sourced from Zacks Investment Research.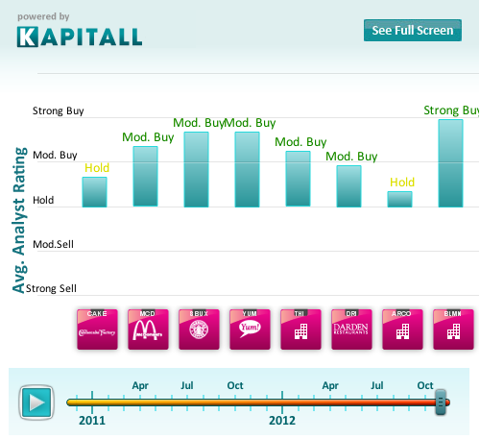 Tool provided by Kapitall.
Disclosure: I have no positions in any stocks mentioned, and no plans to initiate any positions within the next 72 hours.
Business relationship disclosure: Business relationship disclosure: Kapitall is a team of analysts. This article was written by Sabina Bhatia, one of our writers. We did not receive compensation for this article (other than from Seeking Alpha), and we have no business relationship with any company whose stock is mentioned in this article.