Haemonetics Corporation's (NYSE:HAE) growth is slowing, it trades at a premium to peers, and the blood processing systems company's stock is close to breaking down on the charts. 
Haemonetics designs, manufactures, and markets automated blood processing systems and single use consumables for blood donors and surgical patients.   
Shares are trading at a P/E of 27.50 which is very pricey in the current bear market.  Gross Margins are expected to contract in Q2 although the current expectation is for an improvement in Q3 and Q4.  Haemonetics forward P/E of 19.7 is the highest among its 8 closest peers, although growth forecasts are only in-line with its peers. 
On 8/1/2008 the Company raised annual revenue guidance from a range of 8 to 11 percent up to 10 to 13 percent.  The company is being very aggressive and we are not so sure it can live up to these forecasts as the credit market makes it less likely that institutions invest in Haemonetics' technological products.  Also, since August 1 there has been a larger focus on global economic slowdown, and with more than a 50% exposure to international sales, this is not a good sign for the company. 
With operating cash flow declining from 2006 to 2007, and from 2007 to 2008 coupled with operating expenses surging nearly 15% from 2007 to 2008, it is hard to justify the current valuation multiples on Haemonetics.  While the balance sheet remains strong, the management effectiveness has been rapidly declining, which can be seen by the falling ROA and ROE rates. 
Brad Nutter, President and CEO, has been actively exercising options and selling shares of his company.  He has sold 100,000 shares in the last month, with 50,000 shares being sold after the close yesterday.  Considering the stock is more than 20% off its recent highs, the insider selling does not show a lot of confidence in the business.  Also, in the past 1 week 5 mutual funds have been sellers of shares while only 1 has been a buyer. (Information from MFFAIS) 
On the chart, we see that the $53 level is a big area of support and a break of that will likely send shares to $47.50, and then further down to $45.  A stop just above the 200 EMA at $58 makes this an easy trade to manage.  The Fib levels have also held up fairly well, so the 50% retrace at $54.36 may be the initial support area. 
click to enlarge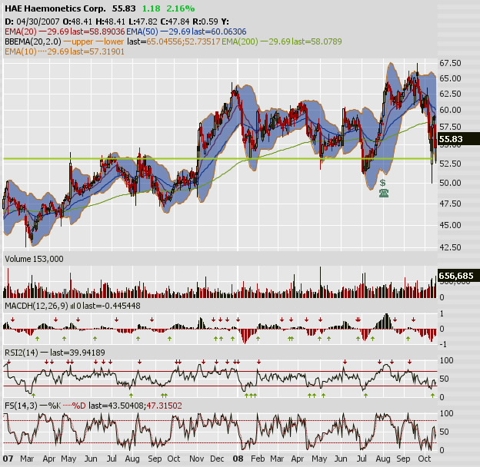 (chart courtesy of Prophet Charts, ThinkorSwim)
Haemonetics will report earnings on 10/27/08 and the outlook is unlikely to impress investors, and the stock could see a lot of red ahead.
Disclosure: none