In this period of financial repression, dividend stocks are more interesting for income investors than corporate bonds. Most people know that already in concept, but don't always have good data to back it up as a long-term proposition.
For those with a Missouri "show me" perspective, let's look at Microsoft (NASDAQ:MSFT) as an example to see how it might fare as an income vehicle over a period of 10 years. Side-by-side comparison has Microsoft (and many other dividend stocks) beating their own bonds and Treasuries hands-down under even moderately adverse scenarios.
On a difficult market day like today for Microsoft (down 3.22%), it is hard to think about its positive aspects. Short-term traders should be out, and income investors might consider accumulating. Income oriented holders needn't panic, if income is really their primary objective. Whether those looking for capital appreciation should be there or someplace else is debatable, although analyst ratings are definitely favorable for Microsoft's year ahead potential, as shown in Figure 9 below.
Figure 1 shows the big price drop today, along with the daily price history since its high in 2007, its 200-day exponential moving average (gold line), and an indicator of the price that is 20% below the 1-year trailing high (red line).
Figure1: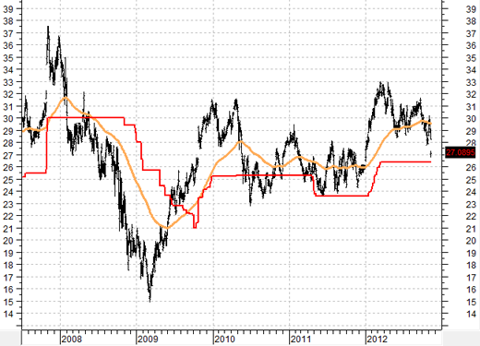 Here in Figure 2 are the current Microsoft bonds available in the market. The 10-year bond shaded in pink has a 2.07% yield. With bonds the principal does not grow and is assumed not to shrink. The bond default risk for Microsoft over the next 10 years is minimal to negligible. After 10 years, the proceeds, before any tax effect, would be $1,207 on an $1,000 face amount bond.
Figure 2: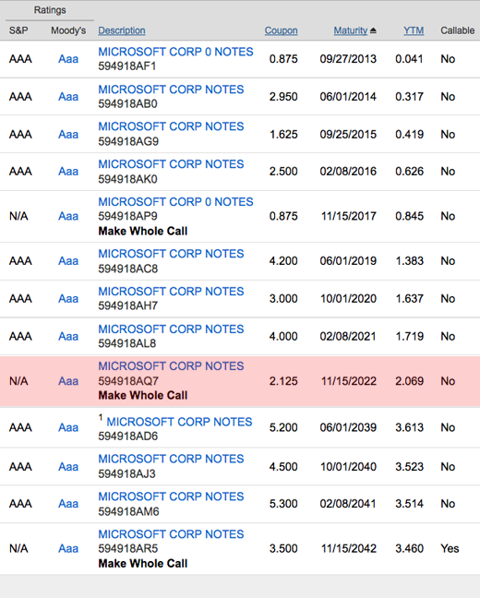 MICROSOFT YIELD OVER TIME
The current yield on Microsoft stock is 3.2% (1.13% more than their 10-year bonds). Their 3-year and 5-year dividend growth rate have been around 15%. Their 1-year growth has been significantly higher. According to the Thomson Reuters "Street" average estimates, the Microsoft dividends will rise by 25% through 2015. That represents a 7.75% growth rate. There are analysts with 5-year dividend growth rate projections higher than 15%.
Let's see what might come from dividend growth rates of 7.5%, 10%, 12.5% and 15%, with a conservative most likely in the back of mind being 7.5%.
Scenario A: Static Price
As shown in Figure 1, if Microsoft increases its dividends by 7.5% per year through a 10-year holding time, and if Microsoft repeats its essentially 0% historical price increase over 10 years, the stock would realize about 32% more than its own bonds (the ending yield would be 6.14% of the then market price). Put differently, the dividends are likely to pay back 32% or more, perhaps even 40% to 50% of the cost of purchase over a 10-year holding period.

Scenario B: Price Rise
If the price of Microsoft rose cumulatively by 25% over 10 years, while growing its dividend at 7.5%, the stock would realize about 57% more than its 10-year corporate bond (the ending yield would be 4.91% of the then market price).

Scenario C: Price Decline
If the Microsoft price declined cumulatively by 25% over 10 years, while growing its dividend at 7.5%, it would still outperform its own 10-year bond by about 7% (the ending yield would be 8.19% of the then market price).
Should Microsoft increase dividends at rates faster than 7.5% (e.g. 10%, 12.25% and 15% shown), the stock out-performance would be substantially greater, also shown in Figure 3.
Figure 3: Microsoft Versus Its Own 10-Year Bonds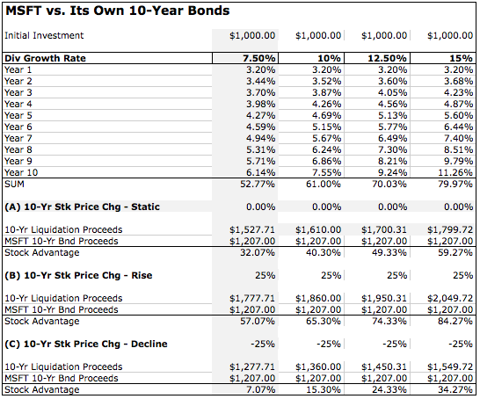 Using the same assumptions as in Figure 3, the data in Figure 4 compares Microsoft stock with 10-year Treasury bonds.
Figure 4: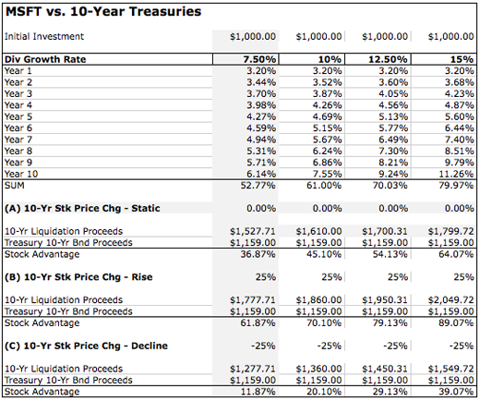 Investors who wish who seek all or most of their total return from price appreciation may do well to look elsewhere. However, for income oriented investors Microsoft could be an interesting opportunity. If it drifts sideways for the next 10 years, as it did in the past 10 years, it is superior to bonds. It has minimal to negligible risk of default, a reasonable chance of price appreciation, and room for modest price deterioration while maintaining an overall total return over its own bonds, and certainly over 10-year Treasuries.
We provide 10-year plausible dividend payback calculations for all of the stocks in our monthly Rational Risk Equity Income Investor letter (RationalRisk.com)
Microsoft has been a value trap of sorts for a long-time, but the valuation argument has become increasingly compelling over the past 10 years. Being unloved as it is, there is much less room for earnings or revenue growth disappointments than for its key competitors, which have higher growth rates and higher valuation multiples. As a financial machine, Microsoft is likely to plod on for a long time, at a minimum, and the potential for positive surprises is substantial.
Here are key cumulative growth data from the past 10-years for revenue, EBITDA, dividends and price, in Figure 5 from YCharts.
Figure 5: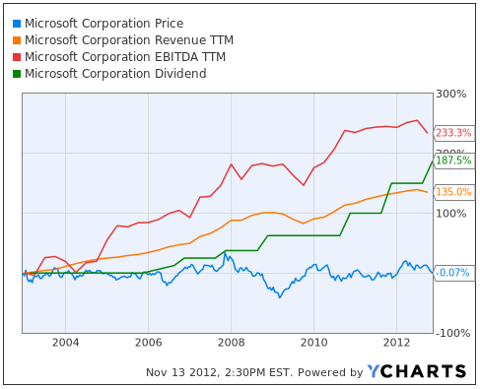 The dollar values of the price, earnings and dividends are shown in this 5-year chart from CorporateInformation in Figure 6. While net earnings are down, EBITDA is still strong, as shown in Figure 5.
Figure 6: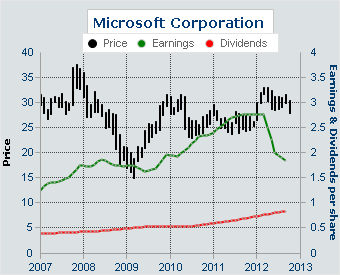 Here are key valuation metrics over the past 10 years in Figure 7 (EV/EBITDA, P/E, P/S and P/B) -- not high multiples.
Figure 7: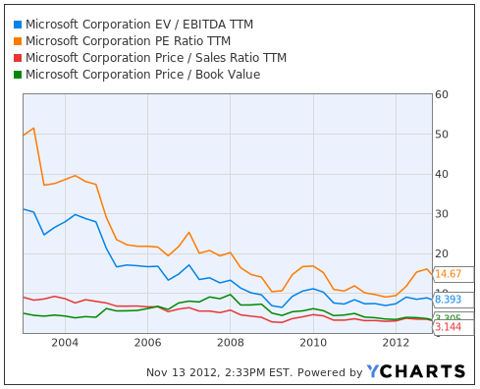 Here is the average analyst 1-year ahead target price over the past 18 months versus the actual market price in Figure 8 from 4-Traders. There is lots of room for growth if they turn out to be right, but fortunately Microsoft still works as an income vehicle if those projections are too optimistic.
Figure 8: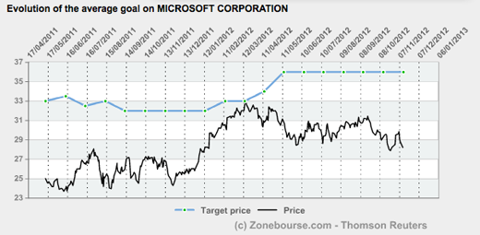 Here is the overall bullish rating for Microsoft from Thomson Reuters StarMine (via Fidelity) in Figure 9. The StarMine method rates stocks on the basis of the opinions of those analysts they find most accurate in the past on the sector.
Figure 9: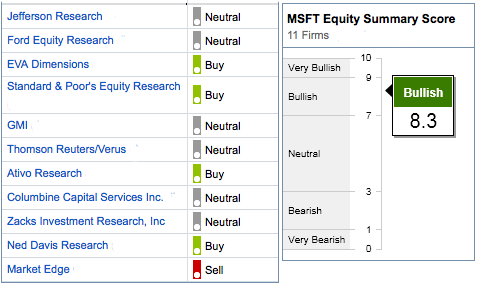 Disclosure: QVM has positions in MSFT as of the creation date of this article (November 13, 2012). We certify that except as cited herein, this is our work product. We received no compensation or other inducement from any party to produce this article, but are compensated retroactively by Seeking Alpha based on readership of this specific article.
General Disclaimer: This article provides opinions and information, but does not contain recommendations or personal investment advice to any specific person for any particular purpose. Do your own research or obtain suitable personal advice. You are responsible for your own investment decisions. This article is presented subject to our full disclaimer found on the QVM site available here.