Stocks To Trade
Today, we are looking at an earnings trade in Lowe's (NYSE:LOW), longs in Mellanox Technologies (NASDAQ:MLNX) and Netflix (NASDAQ:NFLX), and shorts in Peabody Energy (BTU) and Microsoft (NASDAQ:MSFT).
For an earnings trade, we are looking at Lowe's. Home Depot (NYSE:HD) reported very solid earnings this morning that signal what we can expect from LOW. While we believe HD benefits more from residential construction and LOW from home remodeling, LOW will also benefit from a solid housing market that is recovering. Additionally, the stock was held in check today due some recent technical weakness. We believe, though, that the stock is perfect for a bull put spread. Lowe's is expecting to see flat growth, and we believe recent weakness in the stock is pricing in that flatness. At the same time, the stock has great support at 31 for 50-day MA and 29 for 200-day MA. We like using that 200-day MA and volatility premium for earnings to sell some premium. We like the 29/27 bull put spread for a play on the report.
Trade: LOW, Dec22, 29/27 Bull Put Spread
Max Gain: 12%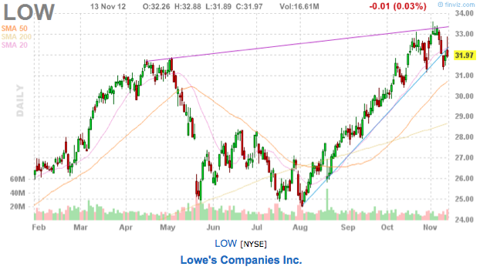 For longs, we like the looks of Mellanox and Netflix right now. MLNX broke out a bit today in the market despite overall weakness, which makes us believe that the strength is real. The move was on decent volume as well. The catalyst for MLNX has been a rebound ever since an earnings gap down in mid-October. The company had been held down by the 85 level all day, but it broke above that area today and started moving higher. The company has a lot of future prospects as can be seen from their 60 PE vs. 20 future PE. The stock is expected to go through strong growth in 2013, and the cut in Q4 outlook caused significant weakness. It appears money is flowing back into the stock as investors search for growth again. We like MLNX here to continue higher. NFLX, additionally, has been very solid as of late. The company has moved very well ever since Carl Icahn announced a large stake in the company. We were worried that NFLX might dip on the back of the introduction of a "poison pill," but that news was outweighed by recent news that the company maintains around 1/3 of all internet usage during peak hours as well as speculation that the company is looking to be taken over. That move would drastically increase the company's shares. We believe that the speculation, decent recent results, and Icahn's potential bid keep the stock up and like it for a bull put spread.
Equity Trade: MLNX, Long
Breakout Point: Break of Tuesday's HOD
Options Trade: NFLX, Dec22, 65/62.50 Bull Put Spread
Max Gain: 16%
For shorts, we like the looks of Peabody and Microsoft. Peabody has been weak ever since Obama's election, and the stock has been held under $27 since that. The company appears to be forming a bear flag right now, and we believe they would be a great short if they break $26. The problem for BTU is that Obama is not as coal-friendly as Romney. Further, the company is being held down by the 200-day MA and 20-day MA above it. The company is forming a bear flag, where the stock gaps down, trails higher to a key MA, and then is rejected at that line. MSFT got hit hard today on the back of news that Windows Exec Sinofsky was departing the company. News later surfaced that it was due to disagreeing personalities between Sinofsky and CEO Steve Ballmer. The company, on top of that, said that the Surface was selling modestly yesterday. Two weak news stories, and the company is reeling on the back of Windows 8 and Surface issues. We do not see a near-term catalyst and more potential downside for MSFT. We like them for a bear call spread.
Stock Trade: BTU, Short
Breakout point: Break of 26.00
Options Trade: MSFT, Jan13, 30/31 Bear Call Spread
Max Gain: 9%
Tomorrow's Outlook:
The market has been very flat over the past three sessions. A lot of weakness has been priced into the market, and we believe the market is just waiting for the next big news. Will Greece get funding? Will the fiscal cliff be avoided? How will Sandy affect GDP? Tomorrow, we finally get some important economic data that the market will be watching in Retail Sales. If those numbers are solid, we could see the market move to the upside. At the same time, there is a lot of fear in this market. We are seeing gains evaporated each day. Some positive news out of Greece or out of the fiscal cliff debacle is probably the only way this market gets back on track.
Our Moves/Holdings:
We had a pretty solid day in the market. We were able to make a 3% gain in a Fastenal (NASDAQ:FAST) short as well as a 4% gain in a Fidelity National (NYSE:FNF), Symantec (NASDAQ:SYMC) pair trade. We also closed 1/2 of our Baidu (NASDAQ:BIDU) bear call spread for a 17% gain. We took a 1.5% loss in Eaton (NYSE:ETN) long as well as loss in Capital One (NYSE:COF) bull put spread. We added Baxter (NYSE:BAX) long, Siemens (SI) short pair trade. We added a long in Campbell's Soup (NYSE:CPB) as well.
We have the following positions:
In our Short-Term Equity Portfolio we are long Baxter. We are short Siemen .
In our Options Portfolio, we are long Hershey (NYSE:HSY), PulteGroup (NYSE:PHM), Whirlpool (NYSE:WHR), Intuitive Surgical (NASDAQ:ISRG), Discover (NYSE:DFS), Starbucks (NASDAQ:SBUX). We are short SPDR S&P 500 (NYSEARCA:SPY) and Baidu.
In our Earnings Alpha Portfolio, we are long Campbell's Soup, Phillips 66 (NYSE:PSX), Discover Financial. We are short Direxion Financial (NYSEARCA:FAS) and SPDR Energy (NYSEARCA:XLE).
In our Goldman Sachs Up/Down Paper Portfolio, we are long CSX (NYSE:CSX), Avis Budget (NASDAQ:CAR), and Taiwan Semi (NYSE:TSM).
Chart courtesy of finviz.com.
Disclosure: I have no positions in any stocks mentioned, and no plans to initiate any positions within the next 72 hours.
Business relationship disclosure: The Oxen Group is a team of analysts. This article was written by David Ristau, one of our writers. We did not receive compensation for this article (other than from Seeking Alpha), and we have no business relationship with any company whose stock is mentioned in this article.