Verizon (NYSE:VZ) is, by revenue and market cap, the second biggest communications provider in the United States. It is also one of the most followed stocks of the Dow 30, mainly because of its almost 5% dividend yield. Here, we will evaluate how safe this $2.03 dividend really is, and "stress test" it for various possible risks down the road.
The first place to search for clues, about how able is a company to support its dividend, is the Cash Flow Statement. The company must generate enough cash from operating activities to cover at least its capital expenditures (MUTF:CAPEX). What remains is its Free Cash Flow (FCF) which in turn should be big enough to cover the dividend and other financial activities.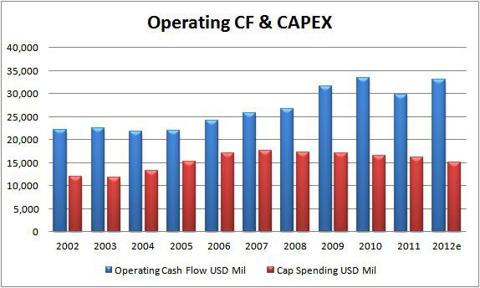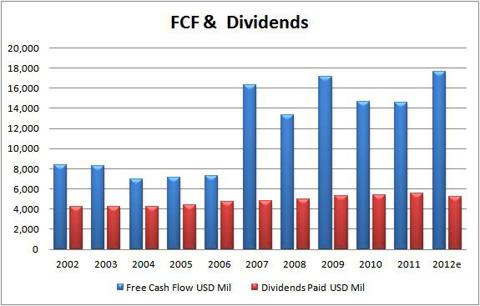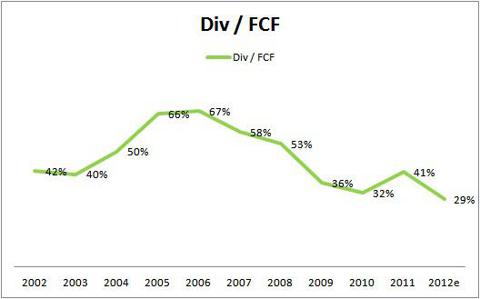 As you can see, historically VZ has generated ample cash flows and they always were more than enough to cover for its dividend. The highest dividend payment has been 67% of FCF and if Q4 2012 goes as the previous three quarters, the FCF payout will drop to a 10 year low of 29%. This is a sign of security and also a great sign that a large dividend raise is possible down the road.
Another thing one always has to check, is debt. We have to be certain that debt maturities won't pose any risk of disruption to dividend payments. Below are Verizon's debt maturity schedule.
The highest ones, are in 2013, 2014 and 2018 and are $5, $7 and $9 billion respectively. As you can see in the next graph, VZ's Free Cash Flow after dividend payments has been for the last 4 years $8 billion or more. The large increase from 2008 to 2009 has been due to the expiration of AT&T's (NYSE:T) iPhone exclusivity.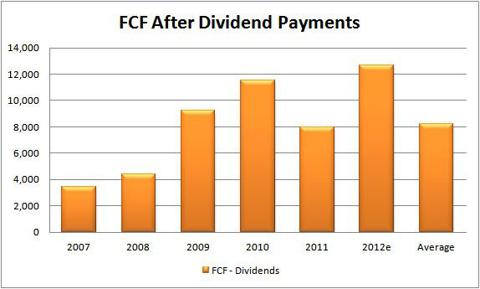 (I haven't accounted in the above charts for about $8.3 billion which is cash paid to non-controlling interests in 2012; particularly to Vodafone by Verizon Wireless. I apologize for my omission)
Apparently, Verizon will be quite able to cover most, if not all, of its future debt repayments on its own without adding any increasing its debt. The only thing it may have to do, will be refinancing a small portion of the expiring debt, to minimize the possibility of disruption. Fortunately this will be easy to achieve, given that Verizon is a strong cash generating machine and a long way from being overindebted.
Verizon's ability to generate a lot of free cash flow, is emphasized by the fact that it's redeeming $2 billion worth of Notes before their maturity. You can read about those tender offers here and here.
Moreover, in the next couple of years the company will have a lot more cash coming in than now. This is because of the smartphone & tablet revolution. As we move forward to higher and higher data usage in every day life, Verizon's revenue is can go nowhere but up.
Verizon may be the only big cap stock out there offering such a juicy dividend, without the risk of it either being cut or cancelled for the foreseeable future. And as if this wasn't enough, it has also great potential for a dividend raise, as soon as the next year kicks in. So, if you are investing for income, give Verizon a good look and add it to your portfolio. It may take some time before you can find again such a great opportunity!
Disclosure: I have no positions in any stocks mentioned, and no plans to initiate any positions within the next 72 hours. I wrote this article myself, and it expresses my own opinions. I am not receiving compensation for it (other than from Seeking Alpha). I have no business relationship with any company whose stock is mentioned in this article.