The past few months have seen the grandiose decline of several big names in the social media industry. The social networking site Facebook (NASDAQ:FB) is now trading at around $19 down from an IPO price around $38 earlier this year, and the social media game developer Zynga (NASDAQ:ZNGA) is now trading at a paltry $2.12 after an IPO around $10 near the end of 2011.
One such site which seems to be relatively unscathed is LinkedIn (NYSE:LNKD). This following article is devoted to why it is different from the other social media sites and whether that difference is enough to explain its stubborn stock price.
Before we begin, let's clarify that LinkedIn is not a pure social media site. Its heavy reliance on the job postings and searches in its business model results in it commonly being compared to competitors such as Monster Worldwide (NYSE:MWW) or Manpower Group (NYSE:MAN). However, I believe the site is still more comparable to Social Media considering its requirement that users create and post a profile and content, and the fact that the related functions generally only work to the extent that users populate their own profiles.
1) Financial Results
LinkedIn generated revenues of $252M for Q3 2012, compared to $139M in the same period in 2011. Looking at the past four quarters, LinkedIn was able to generate strong revenue growth in each quarter with the increases of 10-21% quarter over quarter.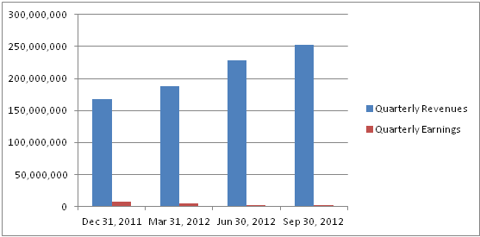 The mix of expenses incurred are relatively consistent per dollar of sales with one exception:
Cost of Sales at a consistent 13% of sales
Selling, General and Administrative - SGA - at a consistent 46-48% of sales
Research and Development at an increasing 25-29%
Other Expenses at a consistent 8-9%
The bottom line over this period is a declining trend from $6.9M (4.8%) at Dec 2011 to $2.3M (1%) at Sept 2012. This decline in profitability is due to the high rate of SGA expenses and the high level of resources committed to the development of the site. It seems apparent that LinkedIn has been sacrificing margins for market share. While this is reasonable in its current growth stage, it restricts our ability to perceive the true potential for profitability.
LinkedIn does not carry any debt. Its cash and short-term investments are more than enough to cover the total of the liabilities. Cash generated from operating activities is consistently strong compared to earnings, which suggests that the operations are highly liquid. This is a very favorable picture for LinkedIn as it shows that it will not have to rely on dilutive stock issuances in the future to fund its operations and expansions.
2) Membership
Based on most recent figures, LinkedIn has approximately 187M members, more than 100M of whom joined in the last two years. This membership figure is small compared to Facebook's excess of 1B active monthly users, but the full market size is not comparable. Facebook targets everyone, their mothers and their dogs whereas LinkedIn has a smaller target market of professionals.
This smaller market size suggests that LinkedIn's room for growth in memberships might be limited. As stated by the company in its quarterly report, every executive of the Fortune 500 companies is a member. I interpret this to mean its focus on growth should be to increase revenues per member, rather than purely having more members.
Since we cannot compare the membership figures with those of Facebook directly, let's look at how they interact with the financials:
| | | |
| --- | --- | --- |
| Item | | LinkedIn |
| Revenues Q3 2012 | $1,262,000,000 | $252,028,000 |
| Pretax Income Q3 2012 | $ 372,000,000 | $ 6,708,000 |
| Membership Q3 2012 | 1,010,000,000 | 187,000,000 |
| Revenue per Member | $1.25 | $1.35 |
| Pre-Tax income per member | $0.37 | $0.036 |
LinkedIn has been able to generate higher revenues per member in the 3rd quarter of 2012. What is disappointing to see here is that the revenues per member are not significantly higher than those of Facebook. Essentially, LinkedIn generated only $0.10 more in revenues from the profile of the CEO of a Fortune 500 company than Facebook generated from my aunt's cat's Facebook profile. Though Facebook seems to generate plenty of revenues from the gaming applications and advertising, I would expect the premium monthly fees starting at $15.99 USD per month and the large amount of revenues earned from the hiring arm to have more of an impact on this figure.
As we dig a bit deeper into the numbers, we see revenues generated in the U.S. of $162,377 or 65% of the total. This is surprising considering of LinkedIn's 187M members, only about 38% or 71M are American, resulting in revenues of approximately $2.30 per American member. This seems to indicate where most of the premium subscribers reside as well as where the service is the most effective in generating revenues. The resulting concern is the lack of profitability of the service in other areas of the world.
3) LinkedIn's Key Success Factors
LinkedIn generates revenues from three main categories:
a) Talent Solutions - The hiring arm which generated 55% of total revenue in Q3 2012
This is a unique platform developed by LinkedIn where recruiters and organizations can find candidates from a database of user-generated profiles. The job-search site industry has a limitless amount of competitor sites, but the ease to search through online profiles and resumes posted by users gives LinkedIn a competitive advantage.
b) Premium Subscriptions - the extended membership services generated 20% of total revenue in Q3 2012
Unlike the incumbents, LinkedIn has been able to derive revenues directly from subscribers through premium services which enhance the user experience. The premium service is available to organizations and individual users who are able to access more options when searching or organizing profiles, and provides access to information regarding hits and visitors on their profile.
c) Marketing Solution - the advertising division which generated 25% of total revenue in Q3 2012
As with most social media sites, a core revenue driver is advertising space, and LinkedIn is no different in this aspect. The big take-away from this is the fact that advertising only consists of 25% of total revenues. The diversified source of revenues is a strong positive factor for this company. As seen with Facebook and Twitter, advertising in Social Media seems to suffer from an excess of spam campaigns, which causes me to question the sustainability of those revenues in the long-run. On the other hand, LinkedIn's revenues from hiring solutions and premium memberships could drive the revenue growth that is expected.
4) Valuation
Based on the analyst estimates, full year EPS is expected to be $0.72 per share, which would give a P/E multiple of 131. While this is better than the previous P/E multiples in the nine-hundreds, it still suggests the company is overpriced compared to the industry average of 10 or the S&P 500 average of 14.
At its recent price of $99, LinkedIn would require earnings of $7.07 per share in order to be valued in accordance with the average P/E of the S&P 500 (14). Its current strategy of sacrificing margins for growth distorts our ability to perceive its true profitability; however, with current 2012 sales projected at approx $8.85 per share, and 2013 sales projected at $13.45 per share, it would have to substantially increase its margins to meet this.
This valuation stems from the earnings and revenue growth expectations. The average estimate for 2013 projects a revenue growth of 52% to $1.44B and EPS growth of 78% to $1.28. Growth per year for the next 5 years is projected at 64.69%. These growth figures seem to be very optimistic, and although they may be achievable by LinkedIn, the fact that they are already priced into the shares suggests any shortfall in revenues or earnings would have significant impact on the price.
Conclusion
LinkedIn drove an impressive increase in revenues in the 3rd quarter of 2012. Its model expands beyond the horizons of both a Social Media site and a Job-Search site leading to a competitive advantage. As a result, it is able to diversify from advertising and generate revenues from premium subscriber services and job-search related services which will drive the revenue growth in the next few years.
LinkedIn still has room to grow, to a lesser extent in number of memberships and to a greater extent in revenues per member. In order to accomplish this, it seems to be successfully improving its own model to generate more members, premium users and user activity. This company will likely be able to generate much higher revenues in the future. But does this justify the current valuation?
While LinkedIn may be a great company that may generate impressive growth in the future, there is an immense level of growth already priced into the stock. What this means for the stock price in the near future is uncertain, but an earnings release below expectations could cause a sharp drop as we see a re-alignment of this share price with its meager proven earnings potential.
Disclosure: I have no positions in any stocks mentioned, and no plans to initiate any positions within the next 72 hours. I wrote this article myself, and it expresses my own opinions. I am not receiving compensation for it (other than from Seeking Alpha). I have no business relationship with any company whose stock is mentioned in this article.