The U.S. Federal Reserve announced its latest quantitative easing (QE) program on September 13, 2012. The program included the purchase of $40 billion in Agency Mortgage Backed Securities (MBS) per month in addition to the MBS they were already purchasing under the current repurchase program. Unlike the past QE1 and QE2 programs from the Fed, the latest QE3 program has no determined end date. Instead, the program will remain ongoing until the Fed is satisfied with any accompanying decline in the unemployment rate. And the Fed also stated the discretion to increase the amount of the purchase program to more than $40 billion in the future if necessary.
The stock market (NYSEARCA:SPY) had been anticipating this aggressive monetary policy action by the U.S. Federal Reserve for months. The key aspect of QE that has previously juiced stocks higher is the associated expansion of the Fed's balance sheet. The following charts show the strong correlation between stocks and balance sheet expanding QE from the Fed.
click to enlarge images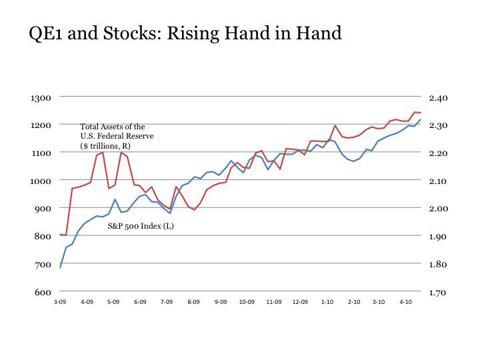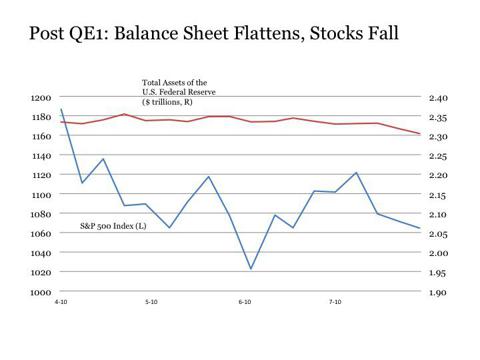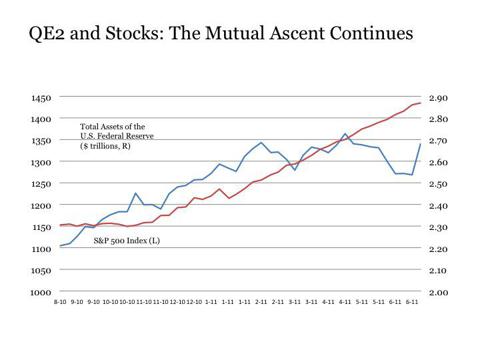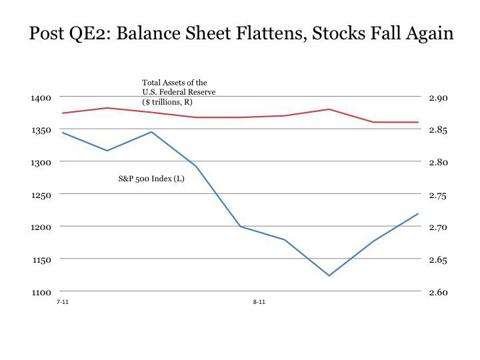 Put simply, when the Fed's balance sheet is expanding, stocks rise. And when the Fed stops expanding its balance sheet, stocks falter.
This leads us to today. Although the Fed launched QE3 back in September and has been following through with its $40 billion per month Agency MBS asset purchase program, the Fed's balance sheet is not expanding (see chart below).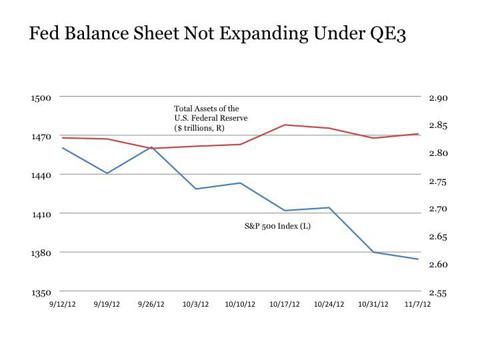 This is a critically important detail, for as long as the Fed balance sheet remains flat, stocks are unlikely to enjoy any profound lift from policy stimulus. Thus, monitoring the Fed's balance sheet along with any future actions by the Fed to increase the amount of asset purchases to their existing program will be vitally important in determining whether the stock market might begin to melt higher as it did under past QE programs.
Disclosure: I have no positions in any stocks mentioned, and no plans to initiate any positions within the next 72 hours. I wrote this article myself, and it expresses my own opinions. I am not receiving compensation for it. I have no business relationship with any company whose stock is mentioned in this article.
This post is for information purposes only. There are risks involved with investing including loss of principal. Gerring Wealth Management (GWM) makes no explicit or implicit guarantee with respect to performance or the outcome of any investment or projections made by GWM. There is no guarantee that the goals of the strategies discussed by GWM will be met.