Although our firm sold out of our GASFRAC (OTC:GSFVF) position earlier in the year, we feel compelled to devote analysis and evaluation resources to it. In our defense, it's no more different then when people crane their necks to gawk at traffic accidents on the Massachusetts Turnpike. We also cover it because it is a well-known gas well-fracturing company which has developed a patented waterless Liquid Petroleum Gas gel. The gel not only yields higher reservoir production, it eliminates concerns over water use in fracturing. Because of concerns about the relation of water to natural gas hydro-fracking operations, we thought that GASFRAC's LPG gel was appealing as an alternative to water-based fracking solutions.
We reinitiated coverage of GasFrac in June as a speculative idea that we wanted to reevaluate. We reiterated our view that it was a spec idea to watch but with a negative outlook, a furrowed brow and a jaundiced eye. In September, we concluded that investors should avoid any long exposure to the company due to its management issues. GASFRAC's Former CEO Zeke Zeringue and COO Steve Batchelor were immediately relieved of their duties on September 11th. No reason was given but that was a major curveball as they had only been in their positions for 10 months and part of the thesis for investing in GASFRAC was that these gentleman could take the company to the next level in its corporate journey.
It's a good thing we suggested investors sell their positions in GASFRAC (and aggressive investors short it back in September as the stock price has declined another 40% due to the management malarkey and because of its Q3 earnings warning in September). Prior to its Q3 earnings warning, we could say at least the company is growing its revenues. Now we can't even say that.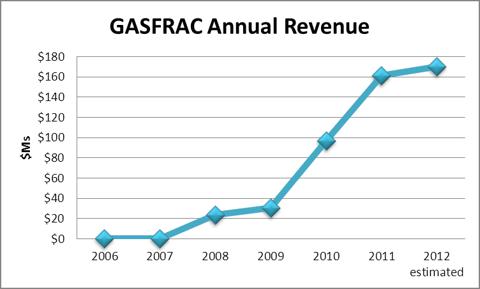 Click to enlarge
Source: GASFRAC 2008-2011 Annual Reports and Saibus Research estimates
In our previous report, we touched upon GASFRAC's rapid capital expenditure program. We were pleased that Q2 2012 CapEx had declined by over 30% on a linked quarter and year-over-year basis. We appreciate the theory that as a rapidly growing small cap, the company should reinvest its operating cash flows in growing the business. Unfortunately, GASFRAC has done that and then some.
GASFRAC's CapEx was unsustainable and forced it to raise over $300M in capital from stock, bond and bank credit in order to cover this mad-dash to growth. The good news is that it has pulled in its horns with regards to the CapEx program though it is plain to see that the company is doing this in order to conserve cash due to its deteriorating revenue outlook.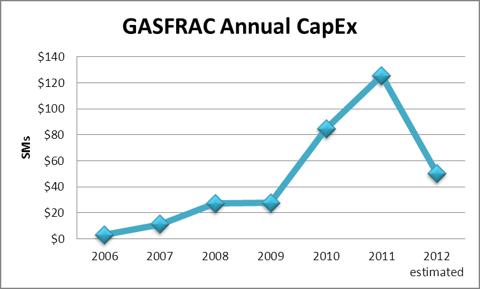 Click to enlarge
Source: GASFRAC 2008-2011 Annual Reports and Saibus Research estimates
Q3 2012 saw disappointing results for the company. We were pleased that GASFRAC took the liberty of preannouncing that it generated rotten results in October so we didn't have to wait and hope that GASFRAC pulled off strong results. Maybe that's why the previous management got canned. GasFrac's Q3 2012 revenue was $40.8M and dropped by 29% versus the prior year's comparable period. This was due to the absence of a $20.9M materials sale to Husky Energy.
Excluding this sale, GASFRAC's revenue growth during the period was a feeble 11.8% year-over-year. Services revenue growth in its Canadian operations was similar to the levels achieved in its U.S. operations. Wet conditions throughout the quarter prevented operations in many areas. The most significant impact for its Canadian operations was the delay of recommencement of operations for Husky from an original early June starts date into mid-July. Revenue was earned from 8 customers during the quarter with three of these customers representing 85% of the total revenue earned from Canadian operations and 69% from total operations.
We're pleased that the company was finally able to reduce its operating expenses during the quarter, though we were disappointed that the cost reductions had accompanied sales reductions. The good news was that operating expense for the quarter decreased by $3M year-over-year. The bad news was that operating expenses as a share of quarterly revenue increased by 29% year-over-year. Considering that investors slammed GASFRAC's stock by 20% in April when it preannounced lousy results, by 25% when it reported lousy results for Q2 and 17% when it fired its former CEO and COO, we believe that investors should be relieved that the company only declined by 7.7% on November 8th when it reported Q3 results.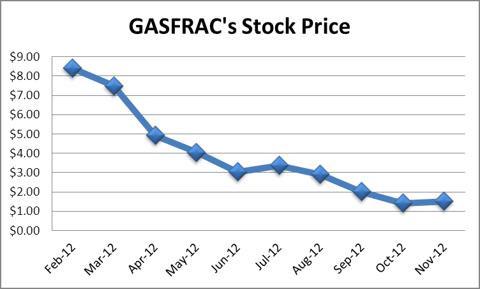 Click to enlarge
GASFRAC's CFO James Hill is serving as the interim CEO of the company and the company expects to be in a position to announce a new CEO by the end of the year. GASFRAC's bank syndicate agreed to amend the company's credit facility such that covenants relating to trailing twelve month EBITDA were suspended through to the end of the first quarter of 2013 and the company's draws on the facility during this period were limited to $60 million. These changes were made in order to provide the necessary financial capacity and flexibility for GASFRAC. As part of its operational review, the company also engaged in a series of deep staff reductions in order to further cut costs and to reduce the break-even revenue levels.
In conclusion, GASFRAC is a mystery wrapped in a riddle inside an enigma. There is value in the company due to its durable assets and its severe discount to book value and that's why we're keeping GASFRAC on our watch list. We would steer clear of GASFRAC for another few months or until it shows investors why it was so beloved in early 2011. We believe that the company has great potential due to the drought in North America offering potential for waterless fracking products and solutions to step in to fill the void for oil companies who are not necessarily able to obtain the water needed to perform fracking operations to drill for oil and gas. We haven't heard much from former GASFRAC Bull Nawar Alsaadi except for a sheepish Instablog post in which he had registered criticism of the company.
Unless investors can get Warren Buffett-like special terms on their investment in GASFRAC, they should steer clear of the company as we believe that the management and operational issues more than offset the growth potential of the company over the near-term time period. The only value we see in the company is if a larger oil services company is willing to play the part of an angel investor and acquire it so it doesn't go through the indignity of a bankruptcy. And even if it is taken over, the acquirer doesn't necessarily have to pay the market or even book price.
Disclosure: I have no positions in any stocks mentioned, and no plans to initiate any positions within the next 72 hours. I wrote this article myself, and it expresses my own opinions. I am not receiving compensation for it (other than from Seeking Alpha). I have no business relationship with any company whose stock is mentioned in this article.
Additional disclosure: This article was written by an analyst at Saibus Research. Saibus Research has not received compensation directly or indirectly for expressing the recommendation in this article. We have no business relationship with any company whose stock is mentioned in this article. Under no circumstances must this report be considered an offer to buy, sell, subscribe for or trade securities or other instruments.