This week begins the Lame Duck session of Congress. It may provide some insight into the future of the relative performance of US vs. European equity indexes.
The chart below presents the ratio of implied volatilities (3M ATM) of the SP 500 and the Stoxx 600. It shows that the discrimination between indexes was very limited during the first two years of the financial crisis. The ratio of volatilities was mostly affected by idiosyncratic factors. In particular, the debt ceiling crisis that brought about a spike in the US to Europe implied volatility ratio and in late 2011 when the European situation reached a climax (before VLTRO implementation).
It looks like the fear linked to the fiscal cliff will bring about a similar pattern.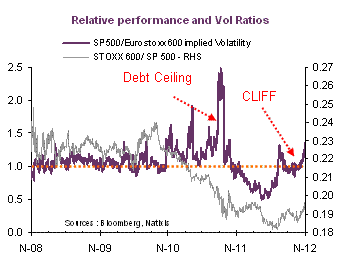 Interestingly enough, in the summer of 2011, a higher volatility ratio did not translate into an outperformance of European stocks, but a higher implied volatility in the US came along an outperformance of US stocks.
Later that year, when the volatility ratio breached the threshold of 1 on the downside, European stocks outperformed.
There does not appear to be any directionality when stocks and volatility are taken in relative terms. Signals sent by the volatility ratio can be misleading when we try to translate it into stock indexes ratios.
As the chart above shows, both series seemed to have recoupled towards a "normal relationship," . But for any investor willing to bet on a negative outcome for the fiscal cliff, I highly recommend using options rather than indexes.
Disclosure: I have no positions in any stocks mentioned, and no plans to initiate any positions within the next 72 hours. I wrote this article myself, and it expresses my own opinions. I am not receiving compensation for it (other than from Seeking Alpha). I have no business relationship with any company whose stock is mentioned in this article.