The delay in the signing of new potash contracts with India and China continues to weigh heavily on fertilizer producers. Agrium Inc (NYSE:AGU) is the latest to report a significant drop in earnings. The Canadian fertilizer producer's quarterly profits dropped by 56 percent compared to the same quarter of last year. Moreover, the company is also expecting a weaker fourth quarter due to the same reasons.
An eight week downtime at the company's Saskatchewan potash mine and lower farm product sales because of a drought also impacted earnings negatively.
There is an abundant supply of potash in China. The recent cuts in subsidies have made the nutrient too expensive for Indian farmers. However, the company expects to seal new potash deals with China by 1Q13 and with India by 2Q13.
Investment View:
We have a buy rating for AGU. We believe Agrium's sales are only delayed and not wiped out. We believe that the demand for potash and phosphate will increase in particular, as farmers buy nutrients before the next planting season and demand picks up from the key Asian markets. The company has a robust retail business, the largest in North America, and AGU's fertilizer business will benefit on the whole from increased planted acres of key crops.
We believe that the fundamental agricultural outlook remains positive. As we mentioned in our previous article, increased grain prices and elevated farmer income will increase the application of fertilizers, as farmers look to capitalize on sound crop economics through enhanced yields. The company will also continue to benefit from the hearty nitrogen market.
3Q Earnings Review:
AGU reported third quarter adjusted EPS of $1.34, well below consensus estimates of $1.82. This is Agrium's first quarterly miss since last year, after beating estimates in the last three quarters.
| | | | | |
| --- | --- | --- | --- | --- |
| Earnings History | Dec-11 | Mar-12 | Jun-12 | Sep-12 |
| Estimated EPS | 1.99 | 0.99 | 5.25 | 1.82 |
| Actual EPS | 2.34 | 1.32 | 5.47 | 1.34 |
| Surprise % | 17.60% | 33.30% | 4.20% | -26.40% |
Source: Yahoo Finance
EPS were adjusted for several one-time payments, including a share based payment expense of $53 million ($0.23 per share), an environmental remediation liabilities charge of $66 million ($0.29 per diluted share) and a $5 million charge (or $0.02 per share) pertaining to the closure of the Courtright facility.
Sales declined by 5.7 per cent y/y.
Wholesale Segment - Potash and Phosphate more than offset strong Nitrogen results
Sales for the segment were down 3 per cent year-over-year. A 35 per cent increase in nitrogen sales due to higher prices and volumes was more than offset by weak potash and phosphate results.
While nitrogen sales were up 35 per cent y/y, higher prices and sales volume helped Agrium post a 53 per cent increase in nitrogen gross profit.
Almost half of Agrium's potash demand comes from North America. A planned eight week turnaround at the Vanscoy facility and a longer than expected restart period of constrained supply to meet domestic demand, together with weak potash demand from China and India, resulted in a whopping 77 per cent decline in Potash's gross profit.
Lower realized prices, combined with lower sales volume and higher input costs resulted in a 43 per cent decline in phosphate's gross profit.
Retail Segment:
Sales of Agrium's retail segment, the largest in North America, dropped by 10 per cent as the U.S. witnessed the worst drought in more than 5 decades. Gross profit declined across all products under the retail segment of the company.
Guidance:
The company expects next quarter's earnings to be in the range of $1.50-$1.90 per share. On the other hand, the sell side expects next quarter's earnings to be $1.80 per share. Lower potash sales are again expected to impact earnings negatively. Analysts are expecting next year's earnings to be around $9.95 per share.
Company Overview:
Agrium is a major North American fertilizer producer with exposure in potash, phosphate, and nitrogen. The company produces and markets agricultural products to both wholesale and retail customers.
The company has three main reporting segments, namely, Retail, Wholesale and Advanced Technologies. The Retail segment accounted for two-thirds of Agrium's 2011 net sales, whereas a majority of the remaining revenue came from the Wholesale segment. In the Retail segment, a majority of the revenue comes from crop nutrients and crop protection products, whereas nitrogen accounts for a majority of the Wholesale segment's revenue.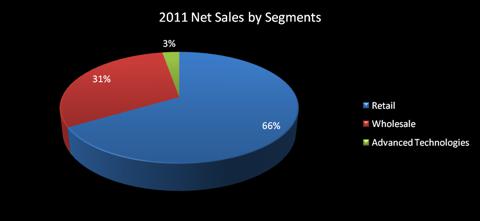 Source: Company Documents and Qineqt Calculations
Financials:
AGU is trading at a forward P/E ratio of 9.5x, less than that of its peer, Potash Corp. (NYSE:POT), which is trading at 11.4x. It has the lowest PEG ratio, of 1.5, among its peers. It also has the best long term growth rate of 6 per cent among its competitors. The company has a low dividend yield of 1 per cent and the stock has appreciated 35 per cent in value YTD. The company also has a strong balance sheet, with total cash of $1.86 billion and total debt of $2.76 billion. AGU has levered free cash flows of $1.05 billion and operating cash flows of $2.15 billion. The debt-to-equity ratio for the company's most recent quarter is 36.4%.
| | | | |
| --- | --- | --- | --- |
| Comp Sheet | Agrium Inc. | Potash Corp. | CF Industries Holdings (NYSE:CF) |
| Forward P/E (1 year) | 9.5 | 11.4 | 7.6 |
| PEG ratio (5 year expected) | 1.5 | 5.2 | 4.1 |
| EV/EBITDA (NYSE:TTM) | 5.9 | 9.7 | 3.3 |
| Dividend yield | 1.00% | 2.20% | 0.80% |
| Long-term earnings growth rate | 6.00% | 2.50% | 1.75% |
| Share price Performance (YTD) | 35.00% | -11.00% | 27.50% |
Source: Yahoo Finance
Risks:
A steep decline in prices of agricultural commodities across the globe due to capacity expansions and an increase in natural gas prices are key risks to our analysis.
Disclosure: I have no positions in any stocks mentioned, and no plans to initiate any positions within the next 72 hours.
Business relationship disclosure: The article has been written by Qineqt's Basic Material Analyst. Qineqt is not receiving compensation for it (other than from Seeking Alpha). Qineqt has no business relationship with any company whose stock is mentioned in this article.