IAMGOLD (NYSE:IAG) is a Canadian based gold and niobium producer with its current gold production derived from West Africa and Suriname, while its niobium production comes from Quebec, Canada.
Third Quarter Gold Production by Country:
click to enlarge images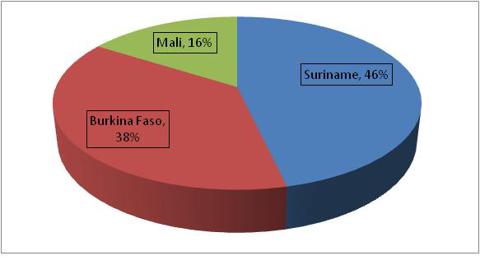 Click to enlarge
The company reported third quarter results on November 13 and gold production in the quarter declined 7.7 percent to 205,000 ounces from 222,000 ounces in the third quarter of 2011. The company cited the poor performance by its joint venture partner as a primary cause for the lower production as the company's chief executive noted "the performance of the mines not operated by us was disappointing and places us at the lower end of our production guidance." The statement is a bit perplexing as the decline in the third quarter was primarily the result of lower grade ore at the Essakane mine, which is operated by the company in addition to the Sadiola mine, which is operated by Anglo Gold Ashanti (NYSE:AU).
Quarterly Production (in thousands of ounces):

Click to enlarge
Third Quarter Production by Mine: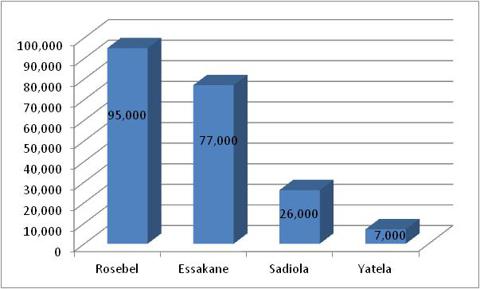 Click to enlarge
The mid-tier gold producer reported that its third quarter revenues decreased 10 percent to $386.8M as a result of a 13 percent decline in gold sales to 201,000 ounces. In addition, total cash costs rose to $710 per ounce, a 5.3 percent increase from $674 per ounce in Q3-2011. The increase in costs was primarily due to the processing of lower grade ore and is a relatively subdued increase as opposed to other miners who posted much larger increases in costs.
With 20 percent of its market capitalization in cash, gold inventory and liquid assets, there is little doubt that IAMGOLD shares are favorably priced relative to its peers. But does the company represent a value proposition, or an investment discounting legitimate investors fear?
Unfortunately the answer is not clear-cut and highly depended on an investor's view of the company's direction and the success of the newly acquired Côté Gold project.
The company is likely to add value through the Westwood project, which is on track to commence gold production in the first quarter of 2013. The project will capitalize on the Doyon open pit infrastructure which will grow the company's production without excessive investment on infrastructure. Additional growth in gold production is also probable on both the Essakane and the Rosebel operations, which could be materialized in early 2014.
More value could be realized by the sale, or spinout of the company's Niobec operation. The production from the mine was flat year-over-year at 1.2M kg of niobium, while sales increased 20 percent to 1.2M kg from 1.0M kg in the third quarter of 2011.
Operating margins at the mine increased to $16 per kg, up 14 percent from Q3-2011 on the back of increasing niobium prices. The company commissioned a feasibility study that focuses on expanding the operation, which is currently expected to be completed in Q3-2013, while the permitting process is expected to be concluded by 2014. If the company decides to eventually spin-out the operation, it will provide its shareholders with a unique pure play on the rising demand and price for niobium.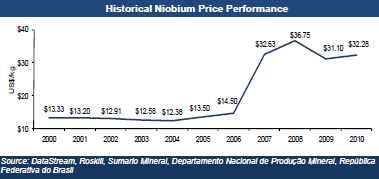 The risk inherent in the company pertains to its acquisition of the Côté Gold project in Northern Ontario, Canada. The large, low grade deposit cost the company $608M and could potentially increase production by 400,000-500,000 ounces per year when it reaches commercial status. However, the low grade operation could be extremely sensitive to small fluctuations in grade and therefore, represents a material risk in cost escalation. Currently the deposit contains an indicated resource of 3.56M ounces at 0.84 grams per tone and an inferred resource of 4.66M ounces at 0.88 grams per tone.
In short, IAMGOLD is favorably priced relative to its peer group,however, investors need a catalyst or further clarification on how the company intends to unlock value. The company has several options, only some of which were described earlier. Other methods such as the disposition of minority interests in West African mines could also add value by de-risking of the company from geopolitical risk.
Disclosure: I have no positions in any stocks mentioned, and no plans to initiate any positions within the next 72 hours. I wrote this article myself, and it expresses my own opinions. I am not receiving compensation for it (other than from Seeking Alpha). I have no business relationship with any company whose stock is mentioned in this article.