Ford (NYSE:F), the American icon needs no introduction. Consumers and investors are often swayed by emotions when talking about Ford. Some love it for its tradition, some hate it because the government loaned $5.9 billion to it in 2009 and the list goes on.
Below are some recent happenings with respect to Ford:
The stock is right now in the middle of its 52 week trading range, at about $11 per share.
The most recent earnings report had mixed messages for investors - the company posted a $1.6 billion profit but the CEO admitted Europe has a long way to go.
The stock went ex-dividend on October 31st for a dividend of 5 cents a share. That completes 4 quarters of dividend payments since Ford re-instated the dividend in December 2011.
The focus of this article is the last point. Will Ford increase its dividend in December again? Since it's easy to be worried and bearish about Ford, this article presents the bullish argument, with main focus on dividend related aspects like payout ratio, cash and earnings.
Valuation: It's hard to find too many stocks trading at cheaper valuation levels than Ford. A PE of 2.49 is beyond depressing. Yes, the December 2011 quarter had a more than usual earnings per share of about $3. Yes, things aren't looking rosy in U.S and Europe for discretionary spending. But even on the forward basis, Ford is trading at a PE of 7 based on 2013 earnings estimate of about $1.50 per share.
Earnings:Talking about estimates, Ford has made a mockery of the watered down estimates the past 3 quarters. No matter how high the pessimism is, the company is still making profits. If the recent history is any indicator, Ford's EPS will come in higher than the expected $1.50 per share for 2013.

(Source: Finance.yahoo.com)
Low Payout: On a forward basis, even if the 2013 EPS just meets the $1.50 mentioned above, the current payout ratio would still be a lowly 13%. In other words, Ford can very well afford a dividend increase without spending too much of its current earnings.
Cash Strength:Ford carries cash and equivalents of about $13.5 billion on its balance sheet. When people take a cursory look at Ford's balance sheet, they see a huge debt pile of about $100 billion. The cash on hand pales in comparison to the debt and people write off the importance of the cash on hand. But most of the debt is attributed to Ford's credit operations. The chart below shows how big Ford's cash reserve is with respect to its market cap.
((Numbers in billions. Click to enlarge)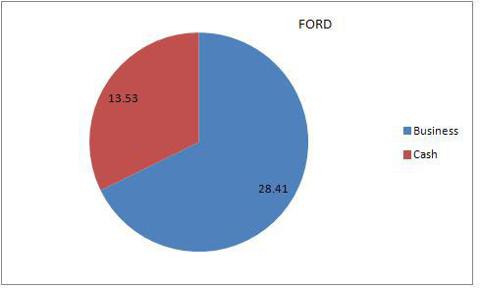 Free Cash Flow: In addition to payout ratio and cash, investors also look at a company's free cash flow to measure its ability to pay dividends, among others. Ford's current free cash flow of $2.1 billion is well above its 5 year average of $1.2 billion as shown below.
(Ford: Click to enlarge)

(Source: YCharts.com)
As a comparison, Ford's closest competitor General Motors (NYSE:GM) has a negative free cash flow.
(General Motors: Click to enlarge)

(Source: YCharts.com)
Conclusion: Ford's new tagline "Go Further" replaced the old taglines "Drive One" and "Feel The Difference" back in May 2012. Do you believe the dividends will go further? We certainly think so, backed up by all the factors mentioned above. And if the macro conditions improve, we might as well see the stock price "Go Further" as well.
Disclosure: I have no positions in any stocks mentioned, and no plans to initiate any positions within the next 72 hours. I wrote this article myself, and it expresses my own opinions. I am not receiving compensation for it (other than from Seeking Alpha). I have no business relationship with any company whose stock is mentioned in this article.