A funny thing happened along the way to testing the Vanguard Dividend Appreciation ETF's (NYSEARCA:VIG) Top Ten Holdings. But I don't want to give away the ending just yet - the journey is just as exciting, right?
Hey, don't you dare hit that down arrow key to see where this article lands. Crap, I knew you'd look.
Welcome back. I had noticed in a Seeking Alpha article on the subject of VIG (The Case Against VIG) that the top ten holdings in Vanguard's Dividend Appreciation ETF looked 'pretty good', and that they'd make a mighty fine Dividend Growth Portfolio on their own.
Now the selection criteria for VIG are to hold high quality companies that have continually raised their Dividend, hence the phrase Dividend Appreciation. The phrase and name Dividend Raisers did not get by the Grammarians at Vanguard. Though if George W. was the Grammarian in Chief, he certainly would have approved it with a chuckle.
The Vanguard Dividend Appreciation Fund was launched in May of 2006.
Here are the original top ten from inception to the end of 2007: Chevron, Exxon Mobil, Procter and Gamble, Coca-Cola, IBM, General Electric, Johnson and Johnson, Wal-Mart, Pepsico and American International Group.
Top Ten end of 2008: Chevron, Exxon Mobil, Procter and Gamble, Coca-Cola, IBM, McDonald's, Johnson and Johnson, Wal-Mart, Pepsico and AT&T.
(AT&T in, McDonald's in, GE out, AIG out)
Top Ten 2009: Chevron, Procteer and Gamble, Coca-Cola, IBM, Johnson and Johnson, Wal-Mart, Pepsico, Abbott Labs, McDonald's and Wells Fargo.
(AT&T and Exxon out, Abbott Labs and Wells Fargo In)
Top Ten 2010: Chevron, Procter and Gamble, Coca-Cola, IBM, McDonald's, Johnson and Johnson, Wal-Mart, Pepsico, United Technologies, Exxon Mobil.
(Exxon in, United Technologies in, Abbott out, Wells Fargo out)
Top Ten 2011: Chevron, Procter and Gamble, Coca-Cola, IBM, McDonald's, Wal-Mart, Pepsico, United Technologies, Exxon Mobil, Conoco Philips. (Conoco Philips in, JNJ out)
And here is our current VIG Top Ten for 2012: Wal-Mart, Coca-Cola, IBM, Chevron, Pepsico, Procter and Gamble, Exxon, United Technologies, McDonald's, 3M.
(From 2011, Conoco Philips out, 3M in).
Here's the criteria from Vanguard for inclusion in VIG:
Vanguard Dividend Appreciation ETF looks for stability and dividend growth by requiring a 10-year track record of increasing dividends. It then market-cap-weights the resulting stocks.
Here are those ten companies with their current yield:
| | |
| --- | --- |
| Company | Yield |
| Wal-Mart (WMT) | 2.10% |
| Coca-Cola (KO) | 2.75% |
| IBM (IBM) | 1.77% |
| Chevron (NYSE:CVX) | 3.24% |
| PepsiCo (PEP) | 3.12% |
| Procter & Gamble (PG) | 3.20% |
| Exxon Mobil (NYSE:XOM) | 2.52% |
| United Technologies (NYSE:UTX) | 2.77% |
| McDonald's (NYSE:MCD) | 3.52% |
| 3M (NYSE:MMM) | 2.69% |
| Average Yield | 2.77 |
Since it's my idea (hey I called it!) and one of my aliases is the Scaredy Cat Investor, I'm going to call this portfolio the Scaredy Cat VIG, or the SCVIG.
So I started my investigation by running the SCVIG tickers (for each year ending) on the incredible portfolio tool at low-risk-investing.com. You can enter tickers, creating your own portfolio, and get almost instant backtest total returns on your portfolio plus other measurements such as comparisons against the S&P 500, volatility and correlation between your companies.
Please note the estimated SCVIG top ten and S&P 500 are calculated by total return (including dividends and their reinvestment).
May 2006 to December 2007 - 30%
Jan-Dec 08 minus 12%
Jan-Dec 09 12%
Jan-Dec 10 13%
Jan-Dec 11 14%
Jan-Oct 12 8%
From Inception: 85% Total Return for SCVIG from May 2006 to October 2012.
Those numbers outperform the VIG Total return of 35% during that period, and the S&P 500's Total return of 6%.
And the bedrock of the SCVIG are seven companies that have been there (mostly) through thick and thin from 2006, but mostly through wonderful returns. Those companies are Chevron, Exxon Mobil, Procter and Gamble, Coca-Cola, IBM, Wal-Mart and Pepsico. Those companies were on the original list, and they are there today.
If we run those seven companies from May 2006 we get a Portfolio Total Return of 91.9%, outperforming the S&P 500's return of 6%.
It's enough to make Cranky, the mostly ETF guy, become a stock picker, or perhaps ETF 'skimmer'.
It appears that if you apply a large cap bias and take the top ten, that enables greater returns over the last several years, compared to the total VIG.
And now please allow me to have some fun with a hypothetical portfolio backtest. If we run those super seven from 2000 and through the tech and US real estate meltdowns we find a total return of 133.4%, outperforming the S&P 500's return of -3.9%. And remember the criteria that automatically kicks out companies from the SCVIG (and hence the inclusions of other companies that make up the other three spots in the SCVIG top ten) delivers results that are quite similar for the top ten.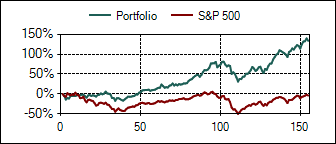 When I saw those portfolios returns it felt like I'd just downed a few generous helpings of catnip and chased 'er back with a couple of shots of tequila.
To say I was feeling kinda frisky would be an understatement. So I thought the SCVIG Portfolio might take a run at the best stock picker (OK, long-term company holder) in the history of the equity markets, the Oracle of Omaha, Mr. Warren Buffett, and his portfolio BRK.A.
I checked in on the Berkshire returns over that same 12 year period back to 2000. I found that BRK delivered nearly the exact same return. Berkshire delivered 136%. Perhaps then, it's also the Scaredy Cat BRK portfolio - SCBRK?
My first thought was that the two portfolios had many of the same holdings. Even Cranky knows that Warren likes Coke - and VIG holds Coke. So I thought I'd also check in on Berkshire's Top Ten.
Here are the Berkshire Hathaway BRK top ten from beta.fool .com:
1) Coca-Cola
The Coca-Cola Company, a beverage company, engages in the manufacture, marketing, and sale of nonalcoholic beverages worldwide.
2) Wells Fargo (NYSE: WFC)
Wells Fargo & Company, through its subsidiaries, provides retail, commercial, and corporate banking services primarily in the United States.
3) International Business Machines
International Business Machines Corporation provides information technology IT products and services worldwide. The company operates in five segments: Global Technology Services, Global Business Services, Software, Systems and Technology, and Global Financing.
4) American Express (NYSE: AXP)
American Express Company provides charge and credit payment card products, and travel-related services to worldwide. The company's product portfolio consists of charge and credit card products; expense management products and services; consumer and business travel services.
5) Procter & Gamble
The Procter & Gamble Company, together with its subsidiaries, engages in the manufacture and sale of a range of branded consumer packaged goods.
6) Wal-Mart Stores
Wal-Mart Stores, Inc. operates retail stores in various formats worldwide. It operates retail stores, restaurants, discount stores, supermarkets, supercenters, hypermarkets, warehouse clubs, apparel stores, Sam's Clubs, and neighborhood markets, as well as walmart.com; and samsclub.com.
7) Kraft Foods (NASDAQ: KRFT)
Kraft Foods Inc., together with its subsidiaries, manufactures and markets packaged food products worldwide.
8) US Bancorp (NYSE: USB)
U.S. Bancorp, a financial services holding company, provides various banking and financial services in the United States.
9) ConocoPhillips (NYSE: COP)
ConocoPhillips explores for, produces, transports, and markets crude oil, natural gas, natural gas liquids, liquefied natural gas and bitumen on a worldwide basis. The company's portfolio includes assets in North America, Europe, Asia, and Australia; growing North American shale and oil sands businesses; various international development projects; and a global exploration program.
10) DirecTV (NASDAQ: DTV)
DIRECTV provides digital television entertainment primarily in the United States and Latin America.
The current two Top Ten Portfolios hold these same four companies: Wal-Mart, Coke, IBM and Procter and Gamble.
Also looking at the two lists, there are some striking similarities between the 'non-matches'. While both portfolios like Coke, the SCVIG is a sugaraholic. It's downing Pepsi and Coke. No wonder it kicks the S&P 500's keister. Both Portfolios are oiled up for the rising global demand for fuel. Warren's going with Conoco Phillips. SCVIG holds the largest energy powerhouse on the plant, Exxon Mobil plus Chevron.
From there, the Portfolios start to go their separate ways. On the theme of mass consumption of things that are not very good for you in large amounts, SCVIG has some Supersize-Me returns from McDonald's. Warren's on the paper trail. He's going with more financials. We all know that Warren is a longtime holder of American Express. He also holds US Bancorp and Wells Fargo (his second largest holding).
United Technologies shows up in SCVGI. Nope Warren's not touching that one; it's got the 'T' word in it. Don't tell Warren that DirecTV uses satellites. I think he's looking at the TV box part. Just kidding Mr. Buffett. You get more about technology than you let on. And you are the smartest guy in the room, and certainly in this article.
So what's an investor to do? You can go out and buy Vanguard's VIG. That is likely to serve you very well as the equity or dividend growth component of your asset mix, and perhaps there's gold in the 'other' VIG holdings that have yet to shine.
Or, you could consider that VIG top ten, the SCVIG. That's a great basket of solid companies with a consistent track record of revenue growth, capital gains and dividend growth. If you are interested solely in total return, you can go out and get the one stock BRK.A or BRK.B, but you will not have control of the reinvestment of the dividends. That said, do we really think we know better than Warren?
Or… an investor could go out and order up the combined top ten holdings of BRK and VIG, they already share four companies, so that makes a sweet 16. The Sweet Sixteen Scaredy Cat Vanguard Dividend Appreciation Berkshire Hathaway Portfolio. Ticker: SSSCVIGBRK.
And as always, please consult a certified financial planner, and conduct your own extensive research.
In the meantime, I'm calling Vanguard about the naming rights to the first portfolio we looked at, the SCVIG. I'm holding off for Scaredy Cat going first in the name. You see, the Vanguard Dividend Growth Scaredy Cat portfolio just doesn't sound right. And the ticker it would produce … VIGSC?
Stay tuned for more on the SCVIG. The above numbers are merely a snapshot and focus on total return. There is no guarantee that those Super Seven will continue to drive VIG and the SCVIG. The large cap outperform is likely due to a more recent rush to larger high quality companies, and the search for consistent dividends. That could change in a heartbeat, due to increasing interest rates, or improving consumer and investor confidence.
I will also conduct some research on the top ten's dividend history and dividend growth moving forward. After all it is a Dividend Growth portfolio at its core. I will provide a public portfolio to review SCVIG and compare it to other Dividend Growth strategies and portfolios.
What's more, I have to admit that I am mostly an ETF holder, of many asset classes. See my article Confessions of a Scaredy Cat Investor for more on that. But this exercise and research has led me to suspect that one can perhaps do very well by stock picking (a handful) of solid companies that meet a well thought out and pre-determined set of criteria.
To that the DGI crowd would crow, "Ya Think?"
Disclosure: I have no positions in any stocks mentioned, and no plans to initiate any positions within the next 72 hours. I wrote this article myself, and it expresses my own opinions. I am not receiving compensation for it (other than from Seeking Alpha). I have no business relationship with any company whose stock is mentioned in this article.
Additional disclosure: Please note that Dale Roberts aka cranky, the crankywriter, the scaredy cat investor is not a licenced investment advisor, and the above opinions should only be factored in to an investor's overall opinion forming process. Consult a licenced investment advisor before making any investment decisions. Please note that Dale Roberts has exposure to some of the companies mentioned in this article through the holding of a DJIA ETF.