Price Target: $35 Recommendation: Sell Short Upside (for short): 32%
Under Armour trades as an embryonic hyper growth company; however, the fact is that it is currently doing business in 61 countries and is available in 25,000 stores worldwide. Additionally, the following factors strongly suggest that all is not well at Under Armour:
Discourse between talk and reality
Poor Quality of Earnings
The future: UA may still grow but not for long and not profitably
DISCOURSE BETWEEN TALK AND REALITY:
Claim No. 1: UA makes premium products and therefore has premium margins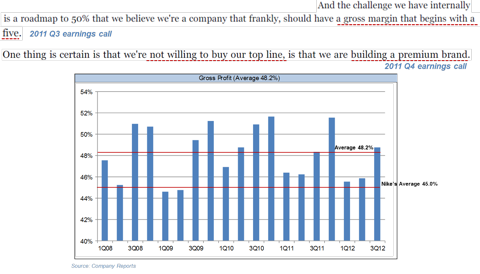 As per 'Company Reports,' Under Armour's gross profit margins are significantly better than competitors, such as Nike (NYSE:NKE), which has gross profit margins of 45%.
Claim No. 2: UA Innovates (Words related to 'innovation' have been used 103 times in the last five earnings calls)

Management wants to propagate the notion that Under Armour constantly seeks to push the envelope when it comes to innovation.
THE CATCH - Outbound Handling Costs
Impact on Gross Profit: In reality, Under Armour does not include 'Outbound Handling' costs in COGS. Its introduction into COGS reveals that UA just had one quarter (out of 19) where Gross Profit was above 50%
Impact on SG&A (company does not specify, therefore unlike COGS, this is an assumption): 'Outbound Handling' costs have a duel effect; it also reduces Innovation and Supply Chain costs. This cost, as a percentage of revenue, contracts by 180 bps (on average).
Under Armour divides SG&A into four buckets:
i. Marketing Costs
ii. Selling costs
iii. Product innovation and supply chain
iv. Corporate Services
Based on how each expenses is defined, it seems reasonable to assume that Outbound Handling Costs is a 'Supply Chain' cost.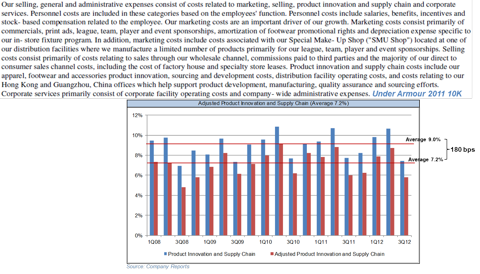 Additional Note on Innovation: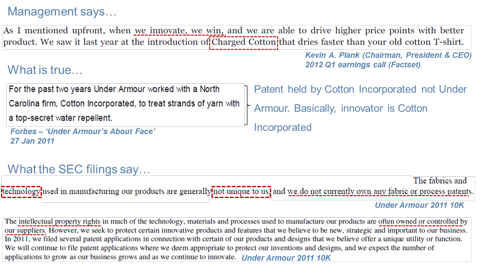 Under Armour does not have any process or product patents to show for the claimed 'innovation' that it undertakes.
POOR QUALITY OF EARNINGS:
Reserves for doubtful accounts do not keep pace with Receivables and Revenues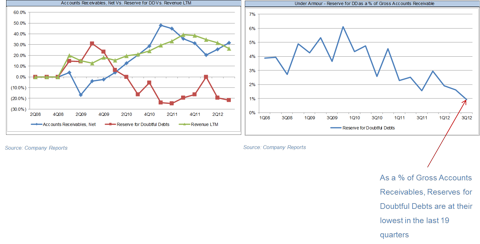 Reserves for doubtful accounts are decreasing while both Accounts Receivables and Revenues are increasing. This implies that EPS is getting boosted by 'unlocking' of reserves.
Under Armour's spread between highest and lowest reserves for doubtful debts (as a percentage of gross receivables) is more than thrice that of Nike's.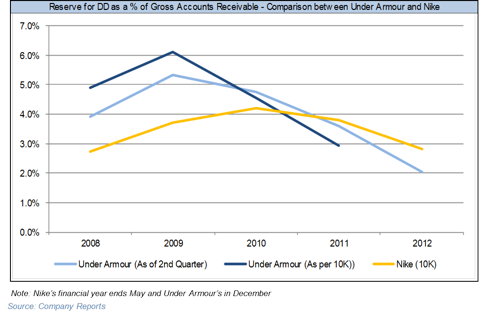 UA, a real estate company? 10Ks are the best and richest source of information (for one they are audited). The last 10K actually revealed that UA is a real estate company as well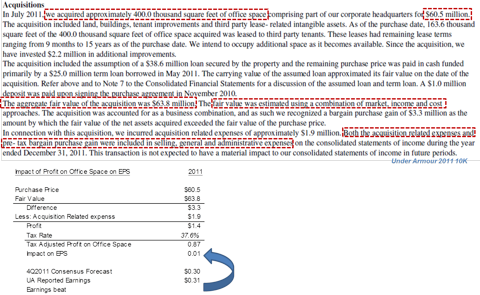 Under Armour not only booked a profit on its office space within five months of acquiring it, but also added the profit to its SG&A, i.e. Operating Income. 'Is Under Armour in the business of buying and selling real estate?'
Earnings for 2011 actually should have come in worse. Without the offsetting reversal of the 2010 valuation allowance, Under Armour would have actually missed (4Q2011) consensus estimates by 2 cents.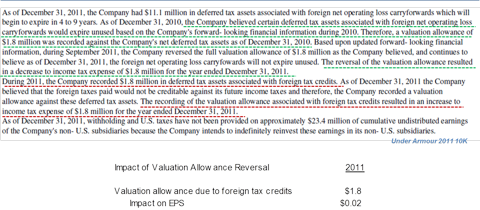 THE FUTURE: UA MAY GROW BUT NOT PROFITABLY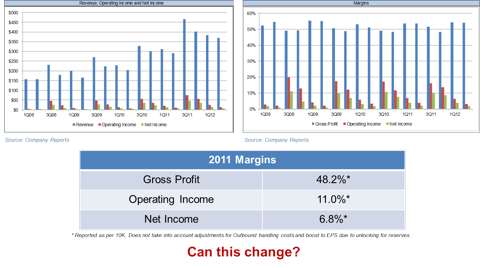 Expectations are high from Under Armour, and the market values UA at a premium at 50x PE [TTM]. This impressive growth needs to be matched with profitability. This is unlikely, as UA is entering into segments where it is neither the lowest cost producer nor the premium player.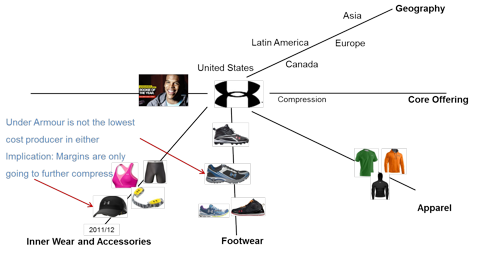 UA does not have a cost or perceived quality advantage in adjacencies that it is transitioning into. I believe that margins are only going to compress because of this.
Why should UA trade at a premium to comparable firms?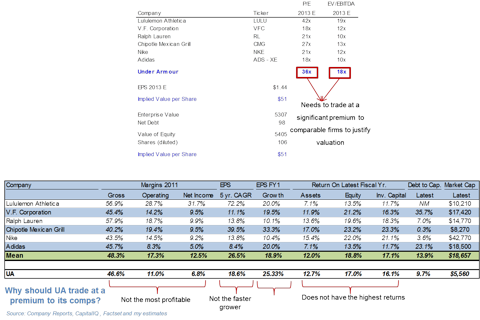 VALUATION:
Residual Income Model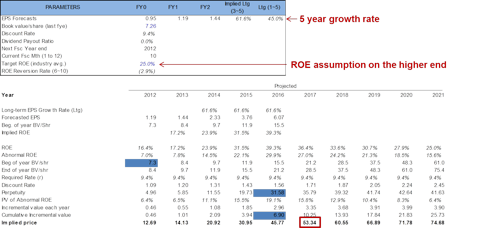 Based on RIM, Under Armour needs to grow at 44% (CAGR over 5 years) to justify current valuation.
The PE spread both LTM and FY2 for Under Armour when compared against the S&P 500 and Nike are near all-time highs. This begs the question: "Is Under Armour going to significantly outperform Nike for the foreseeable future?"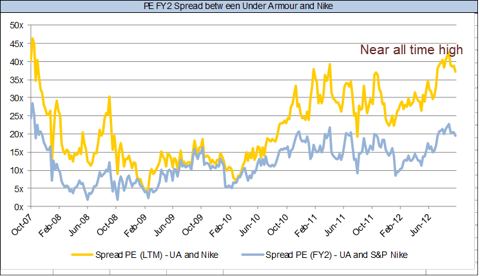 So what should UA trade at?

Base Case assumption is that Under Armour should trade at a multiple that represents the mean of comparable firms.
RISKS TO THESIS:
Valuation shorts do not work - UA is a cocktail of both exuberance and financial shenanigans. I believe that at some point the financial shenanigans will catch up with the company.
Global Expansion - The global market represents a $140B opportunity for Under Armour. However, the fact is that UA is currently doing business in 61 countries and still only draws 6% of its revenues from outside of North America. Under Armour has yet to prove that it can generate revenues abroad. The UA brand does not resonate as well with the international customer as it does with the North American one.
In conclusion, 'the shorts' will have to be patient with this one. At 0.9% of Accounts Receivables, Reserves for Doubtful Accounts cannot get much lower. This in addition to slower growth and compressing margins suggest that UA should be trading at $35.
Disclosure: I have no positions in any stocks mentioned, and no plans to initiate any positions within the next 72 hours. I wrote this article myself, and it expresses my own opinions. I am not receiving compensation for it (other than from Seeking Alpha). I have no business relationship with any company whose stock is mentioned in this article.