"Just because a person is dead does not mean they cannot still be useful." - Mathis (Casino Royale 2006)
Whenever I do a piece on a former tech titan that has gradually morphed into a slow growing value stock I always get a few comments on not investing in "dead money". Such was the case when I did an article on Cisco Systems (NASDAQ:CSCO) earlier this week. (Great earnings beat by CSCO after the bell yesterday, by the way). I think they are missing the point as I mainly use these types of plays as short term trading vehicles when they get near a bottom of a long term trading range. I primarily use slightly out of the money bull market put spreads to generate income and/or get an even lower entry points on these value stocks. I highlighted the put spread I initiated on CSCO at the bottom of the article.
I find this strategy is very useful in hitting a continuous barrage of singles and occasionally stretch out a double. They work best for stocks that are trading near the bottom of an established trading range, that have very cheap valuations, whose revenues are still growing (it helps to eliminate value traps like Dell (NASDAQ:DELL)), that has plenty of liquidity in the options market and has a solid dividend yield which puts a solid floor under the stock as well. Cisco Systems obviously meets these criteria as does Microsoft (NASDAQ:MSFT). Another stock that looks like it has the perfect setup for this strategy right now is Intel (NASDAQ:INTC).
Intel Option Strategy: Sell the April 20 put while simultaneously buying the April 16 put for a net spread of $1.10.
Outcome 1: Intel stays above $20 at the expiration of the option on April 20th and the investor picks up the $1.10 premium for an effective annual return of just over 60%. ($1.10/$4 (the collateral brokerage account will require which is difference in strike prices) *365/157 (days until expiration))
Outcome 2: Intel dips below $20 and the stock gets "put" to the investor for a cost adjusted $18.90 ($20 - $1.10). * If the stock gets assigned, one can easily sell a covered call at $20 to pick up additional premium.
Four reasons INTC is a solid pick for this strategy at just over $20 a share:
First, Intel has a 4.3% dividend yield. The company has raised its dividend payouts at better than a 13% annual clip over the past five years.
The stock is selling at the very bottom of its five year valuation range based on P/B, P/E, P/S and P/CF.
Revenues will come in flat for this fiscal year but should start to grow again in 2013 as it starts to penetrate the mobile market. INTC has a five year projected PEG of under 1 (.81).
The stock has long term technical support at just under $20 a share (See chart).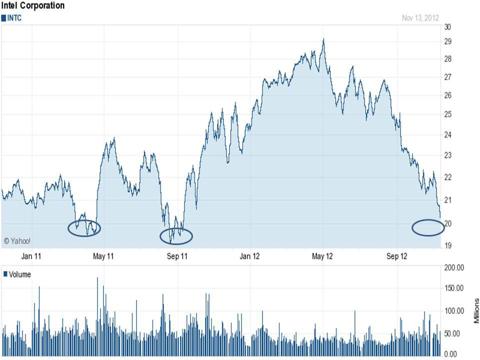 Disclosure: I am long CSCO, INTC. I wrote this article myself, and it expresses my own opinions. I am not receiving compensation for it (other than from Seeking Alpha). I have no business relationship with any company whose stock is mentioned in this article.