November 13, 2012 will go down on my calendar as the day the U.S. finally turned the corner on natural gas transportation. The big guys are finally stepping up to the plate.
The first news flash to catch my eye was Clean Energy Fuels' (NASDAQ:CLNE) press release titled GE and Clean Energy Fuels Partner to Expand
'America's Natural Gas Highway'. The gist of this partnership is:
As part of the collaboration, Clean Energy Fuels will initially purchase two ecomaginationTM-qualified MicroLNG plants from GE Oil & Gas. The plug-and-play modular units, which are designed to rapidly liquefy natural gas while minimizing a site's physical footprint, will support fueling stations along critical transportation corridors that run across the U.S. Further underscoring GE's commitment to expanding natural gas transportation infrastructure, GE Energy Financial Services is providing up to $200 million in financing for the two GE MicroLNG plants.
This is great news for America: General Electric (NYSE:GE) is now entering the natural gas transportation market in earnest. Note my August article Is GE Jumping on the Natural Gas Transportation Bandwagon? suggested that natural gas transportation would be a big win for GE. Sure, two MicroLNG plants is a small step for such a large company, but the gun has just been fired and GE jumped out of the starting blocks. The natural gas transportation revolution is on!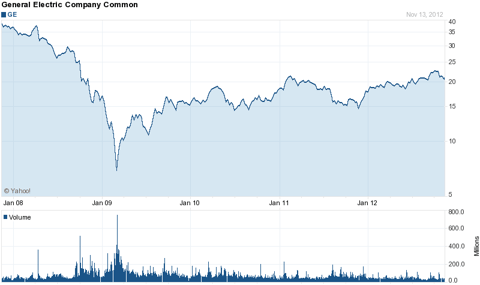 GE = $20.68
Mkt Cap = $216.9 billion
P/E (ttm) = 16.37
EPS (ttm) = $1.26
Div (Yield) = 0.68 (3.2%)
The second big-time article was written by Ben Lefebvre and Jeff Bennett of The Wall Street Journal titled Natural-Gas Cars to Get Home Fueling. Chesapeake Energy Corp (NYSE:CHK) said it is developing a $500 nat gas home refueling appliance along with GE and Whirlpool Corp. (NYSE:WHR). This appliance will easily fit into most garages and will be connected directly to the home's natural gas line. It will compress natural gas (CNG) and refuel your natural gas vehicle (NGV) while you watch TV.
Better yet, General Motors' (NYSE:GM) spokeswoman Sharon Basel said a $500 appliance to refuel NGVs with CNG at home "is just smart thinking. Providing a refueling infrastructure is exactly the kind of thing that needs to happen to expand the use of alternative fuels." This is just the kind of thing that could really jump-start GM, especially if it were to design a natural gas/electric hybrid vehicle to replace the Volt. It would be much cheaper and have better range. It would be just the kind of car Americans need. Imagine if GM bundled the home refueling appliance with the NGV and you could buy both directly from GM and finance them together. Good Action. Keep an eye on GM's progress on delivering factory ready NGVs (no kits or tanks by external companies).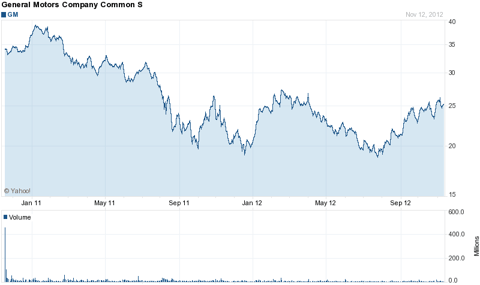 GM = $24.82
Mkt Cap = $38.9 billion
P/E (ttm) = 9.32
EPS (ttm) = $2.66
Div (Yield) = N/A
Could it be the nat gas transportation chicken-n-egg problem (what comes first NGVs or refueling stations?) is finally going to be solved? I mean we've got some big companies on-board now: GE, GM, CHK, and WHP. And of course there is Pickens and CLNE, plugging away at the Natural Gas Highway, which is just about the best energy policy this country has at the moment.
GE is onboard with delivery systems for both liquid natural gas (LNG) for long-haul trucking and compressed natural gas (CNG) for middle class cars and trucks. GM sounds like it is ready to build the NGVs. And of course CHK will be more than happy to supply some natural gas for CLNE's "Natural Gas Highway".
Ironically and somewhat predictably, Exxon Mobil (NYSE:XOM), the #1 producer of natural gas in the United States, yawned at the news. According to The WSJ article:
Exxon doesn't share Chesapeake's enthusiasm. The car market is "an area to watch," but the cost to convert vehicles and infrastructure today outweighs the benefit, said William Colton, Exxon's vice president of corporate strategic planning. "The math looks marginal at best," Mr. Colton said, speaking at a conference in Houston.
Instead, XOM is focusing its efforts on exporting natural gas out of the United States as I wrote about in this article. However, there are many reasons why XOM should support natural gas transportation. In my Seeking Alpha article Why Exxon Mobil Should Support Natural Gas Transportation, I estimated XOM would bring in around $4 million/day from every $1 rise in the price of natural gas. That is about $1.2 billion dollars a year for every one dollar rise in the price of nat gas. Why the company wouldn't want that nat gas going into the fuel tanks of American cars and trucks is beyond me.
Regardless, now that the "Generals" are on-board, the U.S. looks like it is going to give China some competition in the natural gas transportation arena (albeit China is way ahead at the moment). It's looking more and more like Robert Hefner III is going to be vindicated yet again. In his book The Grand Energy Transition, Hef predicted natural gas transportation would reindustrialize this country, create millions of new jobs, clean up our air and water, and create an era of prosperity that few today can even imagine. We are now on our way to making that happen, and the companies listed in this article are on the forefront of the natural gas revolution that will reinvigorate this nation. They might also reinvigorate your portfolio.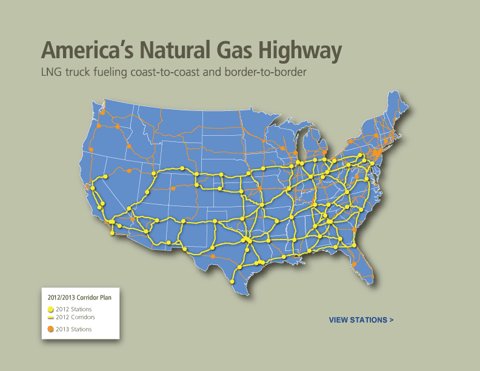 Disclosure: I am long XOM. I wrote this article myself, and it expresses my own opinions. I am not receiving compensation for it (other than from Seeking Alpha). I have no business relationship with any company whose stock is mentioned in this article.