There are some stocks that just prove to be very predictable. Netflix (NASDAQ:NFLX) is a great example of one. The company seems to disappoint at almost every quarterly earnings report, but shares just keep rallying back. The latest rally was spurred by a round of takeover rumors. First, there was a rumor that Microsoft (NASDAQ:MSFT) was looking to acquire Netflix. While those rumors faded fairly quickly, the stock didn't stay down for very long. Only days later it was revealed that Carl Icahn was holding a near 10% stake in Netflix, believing that the company was a bit undervalued. That announcement forced Netflix to adopt a poison pill strategy, which would allow all shareholders the right to acquire more stock if a single shareholder were to hold more than 10%. Icahn has since stated that he has thought about making a hostile bid for Netflix, but believes someone else would probably outbid him.
All of the rumors and Icahn news has Netflix back up in the high $70s. The stock is now about $11 higher than pre-earnings levels, and up about $19 from where it closed the day after reporting a very so-so quarter. It appears again that much of this Netflix news is just noise, but a takeover may be the only hope for Netflix investors looking to make money on the long side. This is still a company with several large question marks, which I'll address today, showing why outside of a buyout, Netflix remains a very attractive short candidate.
The first reason is Netflix's decision to move to a streaming only business. As you can see in the table below, the move to eliminate the DVD business over time has had a tremendous impact on margins. Gross margins have fallen more than 12 full percentage points from their high in the first quarter of 2011. At the same time, operating costs really haven't come down, so operating margins have taken a similar hit. This is a company that is now barely profitable.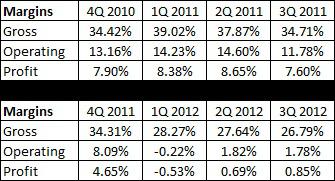 Netflix's domestic operations more than cancel each other out. Over the past three quarters, Netflix's US streaming contribution profit has risen by $39 million, while DVD contribution margin has declined by $63 million. At the same time, Netflix has been working to expand internationally, which has increased international contribution losses by $32 million. In the most recent quarter, Netflix produced $91 million in US streaming contribution margin, while international losses were $92 million. That means all company contribution profits came from DVD, the segment that they are basically killing off.
Looking into the fourth quarter, Netflix doesn't see things getting better, as they are expanding into Scandinavia, at a high cost, for market the size of the state of Texas. For the fourth quarter, Netflix expects US streaming contribution profit to increase by $3 million to $11 million, while DVD contribution profit is expected to fall by $2 million to $14 million. With the international expansion, international contribution losses are expected to accelerate by $15 million to $27 million over Q3's huge loss. All of this includes the fact that DVD margins are expected to rise in Q4, but then fall again in Q1 as a postage rate increase hits.
The profitability issue will linger, according to analysts. Current estimates for Netflix see a profit of just 44 cents in 2013. That compares to a profit of $4.26 in 2011, and this is for a company that's expected to increase revenues by 27.5% over that time! With that earnings estimate for 2013, Netflix is currently trading at 181 times forward earnings. That's a lofty price to pay.
But it's not just the lack of profitability that's an issue. Netflix doesn't exactly have the best balance sheet. The following table shows some key balance sheet metrics in recent quarters.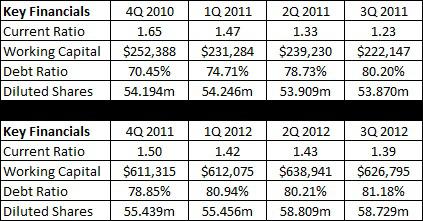 Netflix only saw a huge rise in its working capital when they raised money late last year. Don't forget, some of that money was raised by selling stock at $85 just a handful of months after they were buying back shares well above $200. Netflix has told us that they expect negative free cash flow over the next few quarters as they build up their own original content, as well as other content expenses that will be larger than profits. The company says that their current cash position is fine, and that they have adequate reserves. They said the same thing last year and then raised a bit of money.
Now, the biggest concern seems to be the content obligations (liabilities). The following table shows Netflix's streaming content obligations by due date over the past year and a half.

Now you'll notice a significant rise in Q2 of this year. This is what Netflix had to say about that rise, as per the 10-Q.
"Starting this quarter, streaming content obligations in the table above include the streaming portion of current "Content liabilities" reflected on the Consolidated Balance Sheet. In prior periods, the current "Content liabilities" were presented in a footnote to the table."
Now, investors may have thought that the $4.97 billion total at the end of Q3 was the amount not on the balance sheet. That is not the case, but that's also just a minimum amount. Here is how Netflix describes those nearly $5 billion in liabilities, as per the Q3 10-Q.
"Streaming content obligations include agreements to acquire and license streaming content. As of September 30, 2012 such obligations were comprised of $1.3 billion of current "Content liabilities", $1.0 billion of "Non-current content liabilities" on the Consolidated Balance Sheets and $2.7 billion of obligations that are not reflected on the Consolidated Balance Sheets as they do not yet meet the criteria for asset recognition.

For those agreements with variable terms, we do not estimate what the total obligation may be beyond any minimum quantities and/or pricing as of the reporting date. For those agreements that include renewal provisions that are solely at the option of the content provider, we include the commitments associated with the renewal period to the extent such commitments are fixed or a minimum amount is specified. For these reasons, the amounts presented in the table may not provide a reliable indicator of our expected future cash outflows.

We have entered into certain streaming content license agreements that include an unspecified or a maximum number of titles that we may or may not receive in the future and/or that include pricing contingent upon certain variables, such as theatrical exhibition receipts for the title. As of the reporting date, it is unknown whether we will receive access to these titles or what the ultimate price per title will be. Accordingly such amounts are not reflected in the above contractual obligations table. However, such amounts are expected to be significant and the expected timing of payments for these commitments could range from less than one year to more than five years."
So basically, Netflix has $2.7 billion of liabilities due in the next five years that are not on the balance sheet. Also, there could be substantial other amounts that aren't even included in that $2.7 billion figure. Where are they going to get the money to pay for all of this?
But it just isn't how much Netflix is scheduled to pay that is the issue. It's how much they might need to pay to stay competitive in this space. We know that Amazon (NASDAQ:AMZN) isn't going away, and the recent decision to test Prime subscriptions at $7.99 per month is a good example. Consumers can now test out Prime for a few months without having to pay the $79 upfront. If consumers like Prime, they can always switch to the yearly plan. If they stick on the monthly plan, Amazon will generate more revenue per year.
A stronger Amazon in this space doesn't bode well for Netflix, and it becomes a two-front war. First, Amazon could potentially steal customers, which will definitely hurt Netflix's prospects for revenue growth. We already know that Netflix will fall well short of its goal to add 7 million domestic streaming subscribers this year. But the second front is that as Amazon, Hulu, and others really take aim at Netflix, content prices are pushed higher and higher. While a lot of Netflix's current deals might have some fixed rates to them, they become an issue when they expire. Netflix has been forced to become more conservative with content purchases. We recently saw Netflix dump Epix exclusivity to save some money. That allowed Amazon to pick up Epix content in a flash. Netflix still has a deal with Epix (that ends in 2013), but others are now getting access to that content. Also, what happens when the Epix deal expires? Does Netflix let the content go, or do they agree to a new deal, at substantially higher rates potentially? Netflix is faced with a tough decision. They can keep content, which will be more expensive, or they can let it go, and others will pick it up. Neither is a very appetizing proposition.
Netflix's third quarter results were not great, yet shares have rallied higher because of hopes that someone will buy the company. Buying a stock on the hopes of a buyout is never a good investment strategy, especially when the company's fundamentals are not great. Were it not for this latest round of rumors, Netflix shares most likely would have retested their 52-week lows and probably the $50 mark. Right now, they stand just short of $80. Netflix remains a very attractive short candidate because once the rumors and hype settles down, the stock goes back to trading on the hopes of the business. At the moment, the future for Netflix does not look bright, which is why Netflix investors are hoping for a buyout.
Disclosure: I have no positions in any stocks mentioned, and no plans to initiate any positions within the next 72 hours. I wrote this article myself, and it expresses my own opinions. I am not receiving compensation for it (other than from Seeking Alpha). I have no business relationship with any company whose stock is mentioned in this article.
Additional disclosure: Investors are always reminded that before making any investment, you should do your own proper due diligence on any name directly or indirectly mentioned in this article. Investors should also consider seeking advice from a broker or financial adviser before making any investment decisions. Any material in this article should be considered general information, and not relied on as a formal investment recommendation.