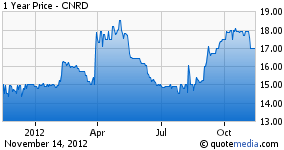 Conrad Industries (OTCPK:CNRD), a Louisiana-based manufacturer and repairer of small and medium-size marine vessels (i.e. barges, liftboats, tugboats, ferries etc.), is a steal at today's price tag of $17.00 per share or a market capitalization of $103 million. I believe CNRD is worth $32 per share or approximately 5x EV/LTM EBITDA, which would imply an 88% premium to the closing price on November 12th. There are three primary reasons why CNRD deserves your attention: 1) an inexpensive valuation 2) management owns a significant stake in the company and 3) an active stock buyback program is in place.
At the current price level, CNRD is trading at 2.1x EV/LTM EBITDA and 1.0x tangible book value. On a last-twelve-months basis, Conrad Industries generated $32.1 million of EBITDA and is currently sitting on $33 million of cash , $5.6 million of recently acquired land (held for investment purposes and(or) future shipyard expansion), and $1.6 million of debt. Over the past decade, the company has invested a great deal in improving its infrastructure and expanding both its geographic footprint (4 shipyards in the Gulf of Mexico) and product/service offerings. Maintenance CAPEX is roughly $2 million annually according to the company, which implies a free cash flow yield [(EBITDA - CAPEX)/Enterprise Value] of roughly 45%.
The company should continue to see strong demand for its products and services as barge fleets are replaced (due to age and new Coast Guard requirements) and as oil and gas activity in the Gulf of Mexico returns to levels seen prior to the Deepwater Horizon rig oil spill (the company is submitting a claim for economic damages). Also, on a precedent transaction basis, CNRD is trading well below the buyout value of Todd Shipyards. In early 2011, Todd Shipyards was acquired by Vigor Industrial for 4.5x EV/LTM EBITDA or 8.9x EV/5-year average EBITDA. At 4.5x EV/LTM EBITDA, CNRD would trade at $30 per share and at 8.9x EV/5-year average EBITDA, CNRD would be worth more than $48 per share. I think it is safe to say that Conrad is worth far more than $17 per share.
The company is controlled by the Conrad family which owns 49% of the company's 6,088,287 outstanding shares. J. Parker Conrad founded the company in 1948 and still serves as Co-Chairman of the board of directors while John P. Conrad, Jr. serves as its CEO and Co-Chairman. Conrad's CFO, Cecil Hernandez, also has a vested interest in seeing the company outperform. He owns 1.5% of the company's outstanding common stock. As an investor, there is nothing I like more than a management team with a large ownership position. It aligns management with shareholders and greatly reduces the risk of agency problems.
During August 2010, Conrad's board authorized the company to repurchase up to $5 million of common stock and on January 17, 2012 the board authorized an additional $5 million for share repurchases. Over the past five years, Conrad Industries has spent over $14 million buying back its common stock, repurchasing more than 1.1 million shares. In my opinion, repurchasing shares at a discount to intrinsic value is the best way (and most tax efficient means) for management to return value to shareholders. I commend the Conrad management team. They have done an excellent job of both growing the business and creating shareholder value.
Disclosure: I am long OTCPK:CNRD. I own shares of CNRD and the accounts that I manage also own shares of CNRD. I wrote this article myself, and it expresses my own opinions. I am not receiving compensation for it (other than from Seeking Alpha). I have no business relationship with any company whose stock is mentioned in this article.