Last week was an interesting week in the energy storage sector. We saw important battery sales contracts announced by Altair Nanotechnologies (NASDAQ:ALTI) and Advanced Battery Technologies (OTCPK:ABAT) and there was an acquisition announcement from Ener1 (NASDAQ:HEV) that eliminated much of the confusion over pricing questions that troubled me in the past.
On balance, I think last week's announcements are good news about alternative energy storage and the potential for regular guy applications of Li-ion technology. 
Last Thursday, Advanced Battery Technologies announced a five-year contract to provide battery packs for a hybrid-electric scooter manufactured by Veken, a China-based manufacturing company that will incorporate an electric motor and a 720 watt-hour (Wh) lithium-manganese (Li-Mn) battery pack in a $2,800 hybrid scooter that will get up to 180 mpg.
ABAT will sell the battery packs to Veken for approximately $225 each ($0.31 per Wh). While there is not enough data available to estimate ABAT's expected margins on the Veken contract, the $27 million increase in expected annual revenue should increase ABAT's top line numbers by about 60%.
I've been a vocal critic of using Li-ion technology for pure EVs, but modestly priced hybrid scooters are a solid regular guy application that should have significant appeal to cost-conscious consumers in both developed and developing economies. 
Also on Thursday, Altair Nanotechnologies announced a contract to develop lithium titanate (Li-Ti) battery packs for hybrid city transit buses made by DesignLine International. Under the contract, Altair will receive $540,000 for four 44 kWh battery packs. Three will be integrated into bus prototypes and the fourth will be used for testing.
This is another solid regular guy application for Li-ion technology. The hybrid transit buses will put far more strain on the Altair battery packs than a personal car ever could and since transit buses typically have a longer service life than cars, my sense is that a hybrid transit bus may well make cost-effective use of the performance capabilities of Altair's Li-Ti technology.
While the initial contract price of $135,000 for a 44 kWh battery pack ($3.06 per Wh) is an order of magnitude higher than the $0.31 per Wh under the ABAT-Veken contract for Li-Mn batteries, it's safe to assume that any follow-on order will be more reasonably priced. In any event, a 44 kWh Li-Ti battery in a hybrid transit bus makes a lot more sense than a 50 kWh Li-Ti battery pack in an electric roadster. 
Finally on Thursday, Ener1 announced plans to acquire an 83% interest in Enertech International in a stock for property transaction. Enertech is an established Korean manufacturer of lithium-polymer (Li-Mn) batteries that has approximately $61 million in annual revenue.
While the acquisition will significantly increase Ener1's production capacity and provide immediate revenue, it will also require $30 to $40 million in expansion capital that Ener1 does not have and may be hard to find or expensive under current market conditions. In previous posts and comments I have expressed more than a little confusion over how Ener1 could talk about selling a 27 kWh battery pack for Th!nk City at a price in the $17,000 range ($0.63 per Wh).
The Enertech acquisition sent me back to Ener1's SEC filings and the Th!nk website where I finally got my answer. While the Ener1's SEC filings focus exclusively on its Li-Ti chemistry, the Th!nk contract calls for a cheaper Li-Mn battery. Now that I understand that Ener1 will sell Li-Mn batteries to Th!nk instead of their flagship Li-Ti product, my pricing questions are answered. 
Overall it was a mixed week for the sector and the markets in general. The following table summarizes last week's closing prices and key market metrics for the principal pure-play U.S. equities in the energy storage sector. Click to enlarge: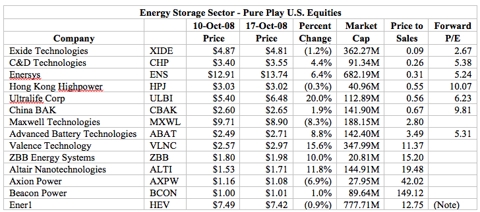 Note:  Pro forma price to sales for Ener1 includes $61 million in Enertech revenue. 
There are still some striking values in the energy storage sector with a half dozen profitable established companies trading at 10% to 67% of annual sales and transition stage developers of disruptive technologies trading at market values under $100 million. It will take a while for the market to clearly separate rainbow stew hype from business reality when it comes to Li-ion manufacturers; but last week's announcements are a good start. 
Disclosure: Author holds a long position in Axion Power International (NASDAQ:AXPW) and is a former director of that company.