We last covered Molycorp, Inc. (MCP) at the end of August and advised investors to avoid the stock. Our stance on the company has not changed since then, but there is another reason to avoid the stock now.
A day after MCP surprised the market by posting better-than-expected results, the company told investors that it is being investigated by the SEC for the accuracy of its public disclosures. The SEC requested information from the company on Aug. 28 in connection with a formal order of investigation pertaining to, among other things, the accuracy of the company's public disclosures.
We are not predicting the eventual outcome of the SEC's investigation. However, there is a lot of uncertainty surrounding the case and it could take quite some time before the investigation's results are made public. We have a neutral rating on the stock. We believe the uncertainty surrounding the investigation will keep the stock price at a significant discount to its net assets value. The stock has lost 23% in value since the company made the disclosure.
MCP maintains that, as a public company, it has disclosure controls and procedures in place in addition to internal controls, and that it has extensive procedures with respect to the documents it files with the SEC. It is quite possible that the case will be dismissed without any penalties. In that case, the stock would represent a buying opportunity for investors. However, the investigation could result in one-time or material fines, which could affect the company's ability to operate and could restrict its access to capital markets. Therefore, until the investigation results are made public, we recommend investors avoid the stock.
Q3 Earnings
The company reported third-quarter earnings of negative $0.05 per share, beating analysts' estimates by 2 cents. Higher-than-expected rare earth sales resulted in the earnings beat. The company's revenue surged to $205.6 million, an increase of 49% year over year. However, higher production costs and lower prices offset the boost in output and the company reported a net loss of $18.9 million, down 58% from the same quarter last year. Inventory writedowns and charges related to the takeover of Molycorp Canada also impacted earnings negatively.
Company Description
Molycorp is involved in the production and sale of rare earth oxides (REO) in the western hemisphere. MCP owns developed rare earth projects outside of China.
The company has three main reporting segments, namely Molycorp Mountain Pass (MMP), Molycorp Tolleson (MT), and Molycorp Sillamäe (MS). MMP accounted for almost two-thirds of the company's revenue in 2011, whereas the Molycorp Tolleson segment accounted for the least (14%) amount of total sales. The company is headquartered in Greenwood Village, Colo.
Click to enlarge images.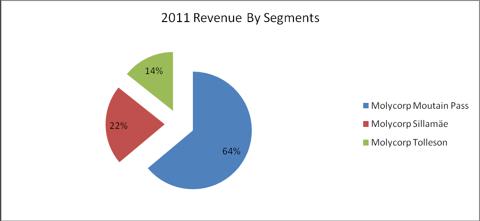 Source: Company Documents and Qineqt calculations.
Financials
MCP's financials are not very impressive. The company is trading at a forward P/E of 16 times. Despite its expected long-term growth rate of 20%, there is a lot of uncertainty regarding future sales. MCP's stock has gone down by more than 70% year to date. The stock is currently trading at ~$7.
| | | | |
| --- | --- | --- | --- |
| Comp. Sheet | MCP | Rare Element Resources Ltd. (NYSEMKT:REE) | Avalon Rare Metals Inc. (NYSEMKT:AVL) |
| Forward P/E (1 year) | 16.3 | N/A | N/A |
| PEG ratio (5 year expected) | 1.8 | N/A | N/A |
| EV/EBITDA (NYSE:TTM) | 425.3 | -3.9 | -8.2 |
| Dividend yield | N/A | N/A | N/A |
| Long-term earnings growth rate | 20.00% | N/A | N/A |
| Share price Performance (YTD) | -71.50% | 5.60% | -44.00% |
Source: Yahoo Finance.

Source: Yahoo Finance.
Disclosure: I have no positions in any stocks mentioned, and no plans to initiate any positions within the next 72 hours.
Business relationship disclosure: The article has been written by Qineqt's Basic Material Analyst. Qineqt is not receiving compensation for it (other than from Seeking Alpha). Qineqt has no business relationship with any company whose stock is mentioned in this article.