Since our last article on Vodafone Group (NASDAQ:VOD), in which we suggested a limited upside potential for its shares, VOD is down 11%. Despite its significant existence in the debt-stricken European markets, the company has produced better results than its peers in the region. However, slowing growth in India and high growth markets are causes for concern, which have reflected in the downward revision of the company's recent free cash flow guidance. We reiterate our previous "limited upside" stance on the stock. However, VOD remains attractive from a dividend perspective, currently yielding 5.8%, backed well by its operating cash flows.
Vodafone Group, a U.K.-based telecom giant with a presence in over 30 countries and serving over 400 million customers worldwide, recently announced its half-yearly results for 2012-13. It reported a net loss of 1.98 billion pounds compared to a profit of 6.68 billion pounds in the same period a year ago, largely due to the deterioration in its southern European operations. The said deterioration led the company to write down the value of its Spanish and Italian businesses by 5.9 billion pounds. The top line remained under pressure as well due to weaker spending in the region, with its service revenue dropping by approximately 1.5% in the second quarter, which also marks the first quarterly decline in 10 straight quarters.
The European region, especially southern Europe, is proving to be very difficult for the company in that it continues to suffer from a decrease in demand for its services. The group derives almost 75% of its revenue from Europe, with Spain, Italy, the U.K., and Germany accounting for the majority of that share. Looking at the results, a common pattern is visible across all these countries, with the contraction in the mobile customer base leading to a higher churn and lower average revenue per user. The group conducted a 4 billion pound writedown last year on its Spanish, Italian, and Portuguese businesses, and in the first half of this year, the company wrote down almost 6 billion pounds on its Spanish and Italian businesses.
With the macro environment not expected to stabilize in the near future, coupled with the group's heavy concentration in the European region, the future looks grim for the company. Moreover, Germany, which accounts for a big chunk of the company's total revenue base and has performed well over the recent quarters, slowed down in terms of revenue generation in the first half of the year. However, Vodafone is better placed strategically, as compared to its peers, largely due to its presence in the fast growing smartphone market of the U.S. through Verizon Wireless (NYSE:VZ). VZ has come up with impressive numbers in its most recent quarter and is a source of growth for the group.
Overall, the slowdown in the company's operations is reflected in the company's recent filings. Almost all key business metrics have shown deterioration. One of the key metrics is the average churn, which is the percentage of customers leaving the group's network. The table below shows how average churn for the company has increased over the most recent quarters, largely due to its business model centered on the prepaid segment of the market. It is clear from the table that emerging market growth, which has offset the European weakness in recent quarters, is slowing down. In the second quarter, churn in India deteriorated to almost 76% compared to 63% in the same quarter a year ago.
| | | | | | |
| --- | --- | --- | --- | --- | --- |
| | Q2 2011 | Q3 2011 | Q4 2011 | Q1 2012 | Q2 2012 |
| Germany | 25.4% | 26.8% | 35.3% | 28.9% | 29.0% |
| UK | 35.4% | 35.9% | 37.2% | 37.5% | 34.9% |
| Turkey | 41.5% | 40.0% | 41.1% | 43.4% | 35.1% |
| Italy | 29.5% | 30.0% | 29.5% | 30.6% | 32.8% |
| Spain | 34.4% | 34.1% | 32.9% | 34.0% | 39.9% |
| India | 63.2% | 69.2% | 77.8% | 73.7% | 75.8% |
Average revenue per user, another key metric for the company, also decreased across all major regions of its operations.
Click to enlarge image.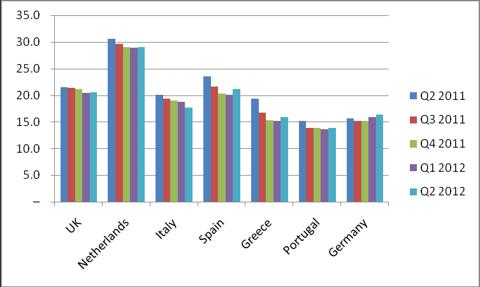 Strong Verizon Results Plus Dividends
Despite weak results in Europe, the company has been helped by the staggering performance of Verizon Wireless, its U.S. partner. Verizon added over 1.5 million postpaid subscribers in the recent quarter, generating record high average revenue per account of $145. Verizon has announced that it will pay Vodafone a dividend of 2.4 billion euros, out of which, 1.5 billion pounds will be utilized by the group in making dividend payments to its shareholders.
Vodafone has declared an interim dividend of 3.27 pence per share. Its management has also reaffirmed that its dividends would stay on track of its predetermined growth target of 7%. This contrasts with other telecom carriers in the region, who have slashed or suspended their payouts due to high debt levels and the overall economic weakness. VOD currently offers a dividend yield of 5.8%.
Full-Year Guidance Revised
Despite the slightly lower-than-expected performance by Vodafone, the company has revised its guidance for operating profits and is now expecting profits to be in the upper range of 11.1 billion to 11.9 billion pounds, largely due to strong numbers posted by Verizon Wireless. However, it is expecting free cash flows to be in the lower half of the range of 5.3 billion pounds to 5.8 billion pounds.
Vodafone is trading at 10 times its forward earnings, a premium of 62% over the multiple of Telefonica (NYSE:TEF), its Spanish rival. On a price to sales basis as well, VOD looks overvalued, trading at a premium of 150% and 250% over Telefonica and France Telecom (FTE), respectively.
Disclosure: I have no positions in any stocks mentioned, and no plans to initiate any positions within the next 72 hours.
Business relationship disclosure: The article has been written by Qineqt's Telecom Analyst. Qineqt is not receiving compensation for it (other than from Seeking Alpha). Qineqt has no business relationship with any company whose stock is mentioned in this article.