Commodity Chart Of The Day
Daily 30-Year Bonds
(click image to enlarge)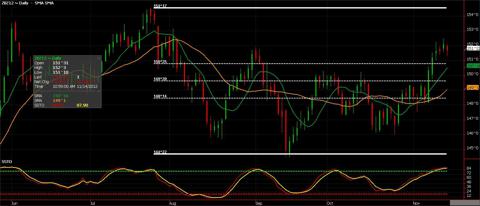 In the last month 30-year bonds have appreciated just better than 4.25%, lifting prices to their highest level in three and a half months. As one can see from the chart above, this has put prices of December futures at overbought status. I am using outside market influences to assist in this trade, as I believe a rally in securities should cause a drop in Treasuries. The inverse relationship and flow of money should cause one sector to move higher as the other moves lower. The question will be if I'm on the right side with clients.
Aggressive traders could be outright short 30-year bonds, but my favored play is NOB spreads, which means that you would buy one (1) 10-year note futures against every sale. The spread has widened to its widest level since the first week of August, and I am looking for it to narrow in the coming weeks. Regarding risk, I do not see more than $1500-2000 of potential risk per spread, with a profit objective of $3000-4000. Regardless of your standing if/when 30-year bonds trade to 148'00-148'16, I would offset the entire position.
Risk Disclaimer: The opinions contained herein are for general information only and not tailored to any specific investor's needs or investment goals. Any opinions expressed in this article are as of the date indicated. Trading futures, options, and Forex involves substantial risk of loss and is not suitable for all investors. Past performance is not necessarily indicative of future results.
Disclosure: I have no positions in any stocks mentioned, and no plans to initiate any positions within the next 72 hours. I wrote this article myself, and it expresses my own opinions. I am not receiving compensation for it. I have no business relationship with any company whose stock is mentioned in this article.