Southern Company (NYSE:SO) has put in a stellar performance since it bottomed out in March of 2009, and the current correction could prove to be a buying opportunity. From its high in July to its current low, it has shed over 12%. Historically, corrections in excess of 10% have generally provided investors with good long term entry points. We are going to examine Southern Company from a technical and fundamental perspective, after we put it through a simple selection process to make sure it fulfils some basic requirements.
The selection process:
Net income and cash flow per share should be trending upwards for the past three years.
Operating margins of 25% or higher
Annual EPS before NRI should be trending upwards for the past three years
A five year dividend growth rate of 4.00 or higher
Consecutively increased the dividend for 10 years or more
An interest coverage ratio of 4.00 or better
Estimated annual growth rate of 5% or higher per annum for the next five years.
Southern Company fulfilled or exceeded the listed requirements.
Reasons to be bullish on Southern Company:
A very nice yield of 4.6

%.

A five year dividend growth rate that is in excess of 4.00

%.

It has consecutively increased its dividend for 11 years in a row.
A good interest coverage rate of 4.

50.

Annual EPS before NRI rose from $2.24 in 2007 to $2.57 in 2011.
A manageable payout ratio of 76

%.

Operating cash flow of $5.3

billion.

Analysts have an estimated growth rate of 5.18% per annum for the next five

years.

Management expects to invest $14 billion between 2012 and 2014. The bulk of this capital will be invested in transmission, distribution and generation facilities and this is expected to boost earnings growth through an increase in efficiency and production.
It generates returns that are among the highest in the industry, and continues to maintain its position as low cost provider of electricity.
A quarterly earnings growth rate of 6.6

%.

A strong upward trending EPS line as indicated below (charts and tables of interest).
It is one of the largest electric utility companies in the United States and the top energy firm servicing the Southeast market.
How does Southern Company fare against the competition?
It will be compared with three competitors using several key metrics such as P/E, quarterly revenue growth, operating margins, PEG, etc. It has gross and operating margins of 0.42 and 0.26 that are far higher than the industry average of 0.36 and 0.15 respectively. It also has a decent quarterly earnings growth rate of 6.6%.
| | | | | | |
| --- | --- | --- | --- | --- | --- |
| | SO | (NYSE:CNP) | (NYSE:ETR) | (NYSE:NEE) | Industry |
| Quarterly revenue growth | -0.07 | -0.09 | -0.13 | -0.12 | 0.06 |
| Revenue | 16.53B | 7.46B | 10.35B | 14.75B | 2.70B |
| Gross Margin | 0.42 | 0.35 | 0.36 | 0.43 | 0.36 |
| EBITDA | 6.34B | 2.26B | 3.25B | 5.46B | 513.34M |
| Operating Margin | 0.26 | 0.17 | 0.16 | 0.25 | 0.15 |
| Net Income | 2.23B | 400.00M | 704.54M | 2.15B | N/A |
| EPS | 2.53 | 0.94 | 3.97 | 5.14 | 0.38 |
| P/E | 16.98 | 21.45 | 16.24 | 13.08 | 14.94 |
| PEG (5 yr expected): | 3.13 | 2.97 | 5.00 | 2.78 | 2.85 |
| P/S | 2.25 | 1.15 | 1.10 | 1.92 | 1.5 |
M= Million B= Billion
Another good long-term play in this sector is Duke Energy (NYSE:DUK). It has been paying dividends since 1926, has a strong quarterly revenue growth rate of 73%, a healthy quarterly earnings growth rate of 25% and a decent interest coverage ratio of 3.10. Lastly it sports a very nice yield of 4.9%. Consider waiting for a test of the $59.00-$60.00 ranges before getting into Duke Energy.
The Technical Picture
The stock has some support in the $42.00 ranges, but as the markets are still in a corrective phase, there is a good chance that will trade below this level. A strong level of support comes into play at $40.00 and $38.00. It would be advisable to divide your money into 2-3 portions and then as it trades down to the suggested ranges, you could utilize one portion at a time. Consider waiting for a test of the $40.00 ranges before you commit new money to this play, and if it should test the $37.00-$38.00 ranges you could deploy one more portion.
A weekly close above $44.00 will signal that the worst is behind it and that the stock is ready to trend higher. A weekly close below $35.50 will indicate that the stock will most likely put in a series of new 52-week lows before a bottom is in place. Investors should consider placing a stop in the $35.00-$35.50 ranges.
Charts and tables of interest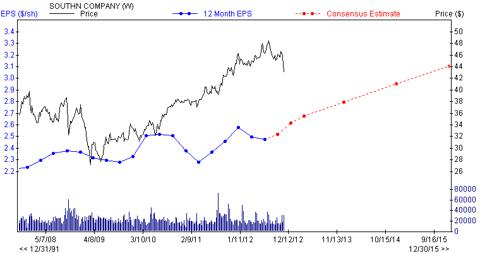 The relationship between the price of a stock and the consensus EPS dictates that when the stock is trading above the consensus EPS line, the stock tends to perform significantly better. As the stock is still trending well above the consensus EPS line, the current pullback could prove to be a good long term buying opportunity.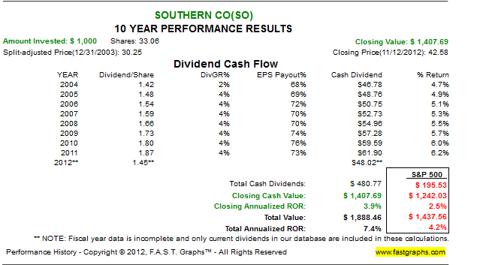 $100K invested 10 years ago would have grown to $188K. We multiplied the result by 100 as the starting figure used in the above table is $1k.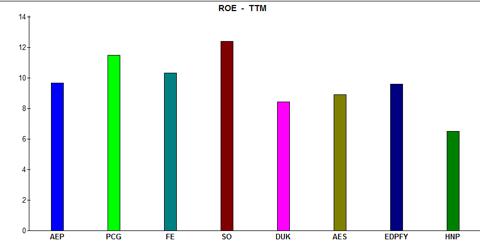 The above chart shows the ROE for Southern Company and some of the key players in the industry.
Conclusion
The long-term trend is still strong, but the short to intermediate trend has weakened, and so there is a decent chance that the stock could test the $39.00-$40.00 ranges before trending higher. The company has been paying dividends for over 60 years and has consecutively raised the dividend for 11 years. It has a top-notch management team and continues to earn returns that are the highest in the industry. Consider waiting for a test of $40 before committing new funds to this play. Another option would be to sell in the money puts when the stock trades down to $40.00. For example, the Feb 2013, 42 puts, which are currently trading in the $1.05-$1.08 should trade in the $2.50-$2.80 ranges if the stock pulls back to $40.00. If the stock is put to your account, your final price per share would range from 39.20-$39.50. If the shares are not put to your account, you will walk away with a gain of roughly 6%.
EPS and ROE charts obtained from zacks.com.
Disclaimer
It is imperative that you do your due diligence and then determine if the above play meets with your risk tolerance levels. The Latin maxim caveat emptor applies - let the buyer beware.
Disclosure: I have no positions in any stocks mentioned, and no plans to initiate any positions within the next 72 hours.
Business relationship disclosure: This article was prepared for Tactical Investor by one of our analysts. We have not received any compensation for expressing the recommendations in this article. We have no business relationships with any of the companies mentioned in this article.