Alnylam Pharmaceuticals (NASDAQ:ALNY) offers one of the most compelling short selling opportunities we have seen this year. The company has a nearly billion dollar market cap despite having no FDA-approved drugs, no Phase III candidates, and no significant recurring revenue streams. In addition, the company has suffered several significant setbacks, most notably when the company's most developed pipeline candidate failed to meet expectations, along with the Tekmira (TKMR) patent litigation settlement.
Now, the company is, at best, four years away from getting any drugs to market, and as we show in this report, there is significant doubt as to whether its RNAi pipeline will end up producing anything of value whatsoever, even in the distant future. Furthermore, as we will detail in Part II of this report, the patent litigation settlement Alnylam reached with Tekmira represents another blow to Alnylam, as it loses a quarter of its cash reserve, along with future milestone payments and significant loss of valuable intellectual property in the RNAi space.
Alnylam's Growing Valuation Gap
The market had been pricing Alnylam shares roughly correctly, more or less, up until May of this year. At that point, the market's perceptions diverged widely from Alnylam's true valuation. This was caused by two factors. The first of these was that Alnylam's most promising drug candidate, ALN-RSV01, failed in its Phase IIb trial, missing its primary endpoint. Oddly enough, Alnylam shares barely slipped on the day that Alnylam released its preliminary disappointing findings in May. The market also barely reacted when the company reported equally disappointing final results in September.
This is a critical mistake on the part of the market. ALN-RSV01 represented Alnylam's only relatively advanced drug prospect. Besides losing the prospect of nearer-term FDA approval and revenue, ALN-RSV01's failure serves as a stark reminder that Alnylam has still failed to prove that any part of its platform actually is effective in treating ailing patients. This is an important thing to note, as Alnylam has made lots of promotional hay out of its Phase I trials, where it is able to show strong results when treating healthy patients with its drug candidates.
This brings us to the second error that has led Alnylam's shares to become grossly overvalued. Despite the market ignoring negative news from Alnylam when it ran a trial treating actual sick patients, the market showed great enthusiasm for nearly meaningless Phase I results. In this case, the stock popped 60 percent in a single day, rising from $12.50 to more than $19 per share following the release of results from the company's ALN-TTR02 Phase I results. In our view, nearly all of this 60 percent pop was unwarranted and will be erased in the near future.
Alnylam's Seemingly Misleading Approach To Drug Development
We have serious concerns about the way Alnylam's management has decided to proceed in developing its RNAi platform. These concerns include the development of ALN-TTR02, a drug for a rare genetic disorder Transthyetin Amyloidosis (frequently called ATTR or FAP). The results for Alnylam's recent Phase I ALN-TTR02 trial caused the stock to soar 60% in a single day. However the trial results are of questionable utility due to the fact that, by all accounts, it seems that Alnylam targeted an incorrect primary endpoint, TTR serum knockdown, for the trial. TTR serum refers to specific undesirable proteins in the patient's blood and TTR serum "knockdown" refers to a decrease in the concentration of those proteins.
ATTR is caused by the body incorrectly depositing proteins, either in the wrong location or in excessive quantities. This can lead to a variety of maladies. Alnylam's logic behind targeting TTR serum knockdown is that if the body produces fewer incorrect proteins, diseases can be slowed or even reversed. However, Alnylam's trial was in healthy patients, and it does not necessarily follow that successful TTR serum knockdown in a healthy volunteer can be replicated in a sick patient. Nor is it a given that reducing TTR serum will successfully slow progression of the disease.
There is one drug, Pfizer's (NYSE:PFE) Vyndaqel, which is further along in development, to treat FAP - in fact, Vyndaqel is approved in Europe, but the FDA has asked for a new trial before approval. Vyndaqel's original Phase III trial did not target TTR knockdown as its endpoint, which makes sense since TTR knockdown in and of itself does not make a sick patient healthier. Instead, Vyndaqel's co-primary endpoints were its responses to treatment as indicated by the Neurologic Impairment Score-Lower Limb (NISLL) score and change from baseline in the total Quality of Life score (Norfolk QOL-DN). These endpoints represent meaningful improvement for patients' quality of life, rather than merely success in lowering a statistical metric. Simply knocking down TTR serum is not proof of drug efficacy and will not suffice to obtain FDA approval.
Similarly, the company's Phase II trial design indicates that the company will not attempt to correlate TTR serum knockdown with clinical results. The Phase II trials are too small to generate statistically significant results in regard to ALN-TTR02's clinical response. It appears there will only be four clinical sites for the trial. Given the extreme rarity of the disease in the general population and the limited number of clinical sites, it seems as though Alnylam has little chance of obtaining much useful data from this trial. Alnylam seems to be doing the bare minimum necessary to attempt to get this drug to Phase III and/or generate partnerships.
Why Alnylam May Not Be Targeting Near-Term Clinical Results
There are several potential reasons why Alnylam seems more focused on a metric of questionable utility, TTR serum knockdown, rather than on clinical results. For one, it is important to remember that RNAi is still an unproven technology. The RNAi/antisense phenomenon was first discussed in scientific publications in 1998 and the two scientists who discovered it were awarded a Nobel Prize in 2006. Despite that, there are still no FDA-approved drugs using RNAi technology. Alnylam likes to tout itself as a leader in RNAi technology, but that is a dubious distinction, as RNAi thus far in its more than decade-long history has produced little that can actually be commercialized.
We previously profiled a number of stem cell stocks, ACTC.OB, BTX, GERN, OSIR, and STEM, in an article that reminded investors that stem cell therapy remains an emerging technology that has been burning early investors because the science is still at too embryonic of a stage for viable commercial drug development. The RNAi technology segment is not too dissimilar.
While antisense molecules (i.e. RNA) have successfully proven that they can reduce and downregulate specific proteins, no company has as of now been able to use that ability to create a drug that has been both effective and safe enough to earn FDA approval. Because of the inability to convert protein knockdown into effective safe drugs, the RNAi field remains wholly unproven. We have significant doubts about the entire field of RNAi therapeutics given the lack of any successful drugs thus far.
The closest anyone has come to success with RNAi is Isis Pharmaceuticals (ISIS) which has a drug that has gone through Phase III but has, as of yet, failed to gain FDA approval. Isis's drug, Kynamro is an antisense therapeutic that targets RNA to lower high cholesterol. It successfully met all its endpoints in its Phase III trial, but the FDA advisory committee vote was mixed and the FDA has not yet decided whether or not to approve the drug.
The Kynamro situation highlights the significant safety concerns associated with RNAi therapies. In one extension study in Phase III where Isis treated 141 patients, 62 of the enrollees - nearly half - discontinued treatment due to adverse effects! Only 40 patients (28%) agreed to continue with an additional two years of treatment. Kynamro causes significant issue with liver toxicity and fat buildup in the liver, along with injection site rashes.
We find it extremely interesting, and troubling, that Alnylam continues to focus only on protein knockdown instead of focusing on safety and clinical results. It is already widely established that antisense molecules can knockdown specific proteins. Alnylam's Phase I results for TTR-02 are in no way groundbreaking. What remains to be seen is whether protein knockdown can be converted into a safe and effective drug - and with TTR-02, Alnylam does not appear to be even attempting to prove that at this point.
Safety Concerns
Given the significant problems with Isis's Kynamro that have blocked it from getting FDA approval, we highlight the lack of concern Alnylam investors have had over reaching a similar outcome. Alnylam and Isis are using an extremely similar technology and method of action to target different indications. Isis's and Alnylam's approaches to drug development are closely related (so closely, in fact, that they launched a separate RNA biotech company, Regulus Therapeutics (NASDAQ:RGLS), together in a joint venture). We can't help but suspect that both companies will face similar safety issues as they continue to develop RNAi drugs.
Our concerns are magnified when we take into account the fact that Alnylam seems intent on running Phase I trials that consist of a single dose of the development drug. Again, this shows a strong preference toward trying to generate protein knockdown - a dubious metric - rather than truly testing the drugs for clinical efficacy or safety. Would Alnylam's drugs create similar adverse effects to those that have derailed Isis's Kynamro? We simply don't know, in part because Alnylam is so keen on doing single dose trials. By doing single dose trials, Alnylam minimizes the risk of adverse side effects that would result from a longer trial. Given Kynamro's struggles, we understand Alnylam's hesitancy to run longer trials, but it strikes us as a bad omen for Alnylam's pipeline development in the longer run.
We've Been Down This Road Before
It is instructive to review how Alnylam handled the development of its previous lead candidate, ALN-RSV01, which attempts to target the Respiratory syncytial virus (RSV) that causes more than 300,000 hospitalizations a year. In early 2008, investors were excited after Alnylam announced results of an RSV study that seemed to show significant efficacy for the drug.
The company, as Seeking Alpha contributor Fredric Cohen M.D. reported, ran a trial in which they purposely infected healthy volunteers with RSV viral particles, quarantined them for twelve days, and then tested to see how much viral load the treated volunteers drug had as compared with the placebo group. Note that the company did not find a pattern of less symptoms from RSV in either group, but rather they set (and achieved) endpoints of having fewer viral infections and less viral load in the treated patients.
From this initial apparent success, it would be more than four years before the company's trials in humans progressed far enough to make it apparent that the drug doesn't seem to reach its endpoints in actual clinical situations with patients who naturally became sick rather than being purposely infected. Just as Alnylam has done presently with its TTR-02 program, where it achieves an endpoint of dubious utility in healthy patients, Alnylam pulled this very same maneuver off in 2008 with RSV.
If Alnylam follows the same course as it did previously, it may be many years before investors discover whether TTR has any statistically significant effect in actual ATTR patients rather than the healthy patients it has tested so far. Given that Alnylam's current Phase II trial of TTR-02 involves only a couple dozen patients and is not designed to measure clinical efficacy of the drug, investors will be waiting for years before they get to see any meaningful data.
Alnylam's (Narrow) Pipeline
Since Alnylam has an extremely thin pipeline, it is hard to understand why investors have assigned the company such a large valuation. The company's only program within a couple years of potentially heading for FDA approval, the RSV program, appears to have floundered and may never even see a Phase III trial after its poor results in Phase II earlier this year.
Meanwhile the TTR program has only demonstrated results in healthy patients, and the demonstrated results thus far have only been for a non-meaningful endpoint that will not help the company achieve FDA approval. Alnylam has, after years and years of effort, still failed to prove that its RNAi approach has any statistically significant clinical benefit in human patients. None whatsoever. And other companies, particularly ISIS, while getting closer to the mark, have still been unable to create any RNAi products that are effective that also have an acceptable safety profile. RNAi as a field has a whole lot to prove, and Alnylam lags even its RNAi competitors as it has not been able to demonstrate statistically significant efficacy in non-healthy patients, let alone efficacy and safety together.
The rest of Alnylam's much-hyped 5x15 pipeline, which was supposed to bring five RNAi therapeutic programs to "advanced clinical development" by 2015 appears to be floundering. The company announced its 5x15 initiative in January 2011. It has now been almost two years, and only the TTR program has successfully left Phase I. The Hypercholesterolemia program is in Phase I, and the other three 5x15 programs are still in development and have yet to even enter Phase I. Furthermore, the Hypercholesterolemia program appears to be dead in the water, as it has no partner, and both Amgen (NASDAQ:AMGN) and Sanofi (NYSE:SNY) in partnership with Regeneron (NASDAQ:REGN) have drug candidates much further into clinical development than Alnylam's.
Here is the company's pipeline, according to its website.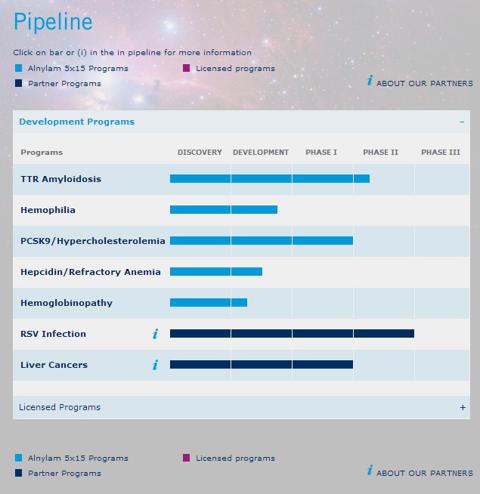 This is what the market has assigned $700 million of enterprise value. For that $700 million, you get a struggling RSV program, a partnered liver cancer program that has a small trial in China upcoming (i.e. don't expect anything significant from it anytime soon), the TTR program, a stalled out Hypercholesterolemia program, and three other programs still in development that are little more than a gleam in the eye of management at this point.
Alnylam's decision to lay off 33 percent of its workforce in January of this year (just barely a year after the previous 30 percent headcount reduction) makes one wonder exactly what business model Alnylam's management is aiming for. From last year's excitement over five drugs heading for advanced clinical development, we are down to two seemingly viable candidates.
And as we'll thoroughly explain in our next article, Alnylam just spent an entire year's worth of normal cash burn in one fell swoop to resolve the Tekmira patent litigation, and it has lost a significant chunk of its intellectual property. Alnylam's prospects are fading, and as it loses ground to rivals such as ISIS and Tekmira in the still unproven field of RNAi technology, it is hard to imagine that Alnylam's near billion dollar valuation can be sustained. Shares could fall sharply in coming weeks as investors come to grips with Alnylam's darkening prospects.
Disclosure: I am short ALNY, BTX.
Business relationship disclosure: My research firm provides research services to clients and manages funds for compensation, and I therefore benefit to the extent shares in ALNY and BTX decline.