We analyzed and evaluated Duke Energy (NYSE:DUK) versus Southern Company (NYSE:SO) in August because those two utilities were the two largest investor-owned utilities in the US and two of the largest in the world. We were able to conclude that Duke Energy had a slightly higher dividend yield and dividend growth record than Southern and Duke Energy was a larger company than Southern. However, we concluded that Southern offered investors greater potential total returns going forward since Southern hasn't made any blockbuster acquisitions since its 1945 formation while Duke has engaged in multiple transformative deals over the last 30 years. In recent years, Duke had acquired the Cincinnati multi-utility holding company Cinergy in 2006 and Progress Energy in 2012. In order to win approval to acquire Progress, Duke had to offer regulators $875M in concessions to seal the deal and has to deal with the complex intricacies of merging Progress Energy into Duke Energy.
Duke's acquisition of Cinergy is important to note because that is how its current CEO James Rogers came to Duke. James Rogers was previously the Chairman and CEO of Cinergy for nearly 11.5 years before selling it to Duke in 2006. Prior to serving as Cinergy's Chairman and CEO, Rogers was CEO of PSI Energy in Indiana from 1988-1994 before selling it to Cincinnati Gas & Electric to form Cinergy. James Rogers has been Duke's CEO since its 2006 purchase of Cinergy and executed the spin-off of its gas business as Spectra Energy (NYSE:SE) in 2007. Despite the fact that Jimmy Rogers has been rivaling Exelon's (NYSE:EXC) retired CEO John W. Rowe for the title of most media liveshots of a utility industry CEO, Duke's EPS has been inconsistent since 2007. Despite earning plaudits from the media for embracing the Waxman-Markey cap and trade bill, Duke's financial performance has been muddled in a mucky morass of mediocrity under the management of the Rogers regime. The fact that Duke's EPS has been inconsistent since 2007 while Southern's EPS has steadily inched forward during that time proves our thesis.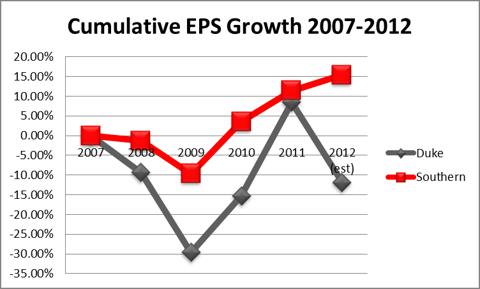 Source: Morningstar Direct
In this installment of our report series we will revisit our original thesis that Duke Energy is losing momentum versus Southern Company. In the three months since our first installment was published, the share prices of both companies have sold off as utility shares are seeing a pullback due to rich valuations. Regardless of how the companies have performed financially over the short and intermediate term period and regardless of the fact that Duke's dividend yield of 4.9% is slightly higher than Southern Company's 4.6%, we believe that Southern Company offers dividend-seeking investors better short and intermediate return prospects, as well as potentially long-term return prospects than Duke Energy because Southern has a stable management situation and isn't bogged down in integrating a complex acquisition. Also, we believe that Southern Company's financial and operating performance has at least been comparable to or better than Duke's.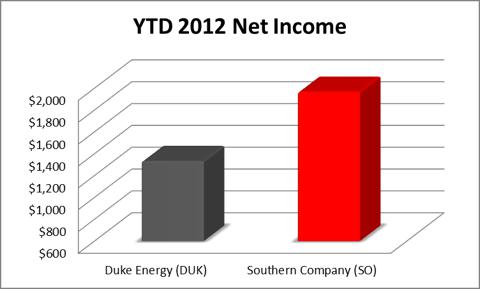 Source: Duke Energy and Southern Company Q3 Earnings Releases
Our Comparative Evaluation of Company Business Segments
Utility Subsidiaries: We were surprised that although Duke Energy and Southern Company are large and diversified utility behemoths, both companies have a small presence in the non-regulated energy sector. We were surprised that both companies generate over 85% of each firm's revenue from traditional regulated utility operations. We would have thought that both companies would be bigger players in the non-regulated markets.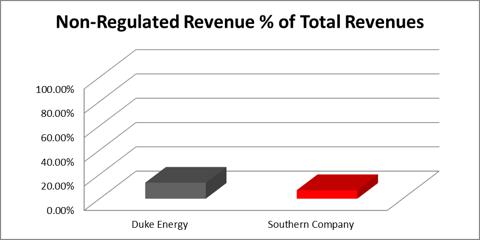 Source: Duke Energy and Southern Company Q3 Earnings Releases
Duke U.S. Franchised Electric and Gas represents Duke's traditional utility operations businesses. Duke USFE&G saw its Q3 2012 revenues jump 100% with the inclusion of Progress Energy's performance in 2012. On a pro forma basis that assumes that Progress was included at the start of the Q3 2011 period, Duke USFE&G's revenue increased by 3%. We were surprised to see that the company had generated pro forma year-over-year operating income growth of 9.35% in the quarter considering all the scaremongering that we have heard about Progress being a potential deal-from-hell. Duke's revenue growth was due to an increase in rates that took effect in Q2 2012 was partially offset by increased depreciation expenses, less favorable weather and higher interest costs. Duke Energy Carolinas saw a 23bp decline in GWH Sales while Duke Energy Ohio saw its GWH Sales decline by 3.57% and Duke Energy Indiana checked in with a 1.63% decline.
Southern Company's Utility Subsidiaries: Southern Company saw its four utility subsidiaries register a collective 7.44% decline in Q3 2012 versus Q3 2011 levels primarily due to lower fuel costs, partially offset by incremental price increases granted by the regulators. Southern Company was able to increase its gross margin for its utility subsidiaries by 52bp year-over-year. Net income grew by 5% due to net income growth at all four of its utility subsidiaries. The strongest growth was at its Gulf Power and Mississippi Power while Alabama Power grew by over 6% and the softest growth was at Georgia Power (1%). Southern also saw a 4.9% decline in its KWH sales in Q3 2012 versus Q3 2011 due to the slightly cooler summer in 2012.
Power Generation and Unregulated Activities:
Duke Commercial Power and International Energy: Each of Duke Energy's power generation and unregulated operations (Commercial Power and International Energy) generate more revenue than Southern Power Company. Southern is more profitable than Duke Commercial Power however Duke International Energy is more profitable than both organizations. Collectively, Duke's unregulated operating subsidiaries saw a 12.6% decline in Q3 2012 revenue versus Q3 2011 levels. Duke's unregulated operations did not see a material benefit from the Progress Energy acquisition as Progress was a regulated utility. Duke's unregulated operations collectively reduced operating expenses by 8.8%, primarily from fuel and other purchased power. This was not enough to avoid a 17.25% decline in business segment income.
Southern Power Company: Southern Power Company generated $355M in revenue and $202M in gross profit in Q3 2012, which compares to the $362.6M in revenue and $184M in gross profit in Q3 2011. Revenue declined because fuel and purchased power declined and we believe that utility stakeholders should also focus on gross profit growth in the utility sector rather than merely tracking revenues. Gross profit grew by nearly 10% year-over-year and operating income grew by 9.7%, as the increase in gross profit and slight increases in operating expenses and excise tax expenses were partially offset by larger increases in depreciation and amortization. Business segment net income grew by 22% as the operating growth was compounded by reduced interest costs and a lower corporate tax rate.
Dividend Yield and Growth
Southern Company has increased its dividend every year since 2002 and in 32 out of the last 40 years. Southern's split-adjusted annual dividend has nearly tripled from $.65 per share in 1972 to $1.9425 in 2012. Duke has increased its split-adjusted, spin-off adjusted dividend since 2005. Duke had increased its dividend annually from 1983 to 1997 and froze it for eight years in the wake of its merger with PanEnergy in 1997. While neither company has explosive dividend growth despite primarily serving the fast-growing Southern United States, we found that both companies can be counted on for a stable dividend, a relatively high-yielding dividend and incremental dividend growth rates that could be used in a Gordon Dividend Growth Model. Duke has a dividend yield of 4.9% and Southern has a yield of 4.6% and this is in excess of the 3.88% for the SPDR S&P 500 Utilities Sector ETF (NYSEARCA:XLU).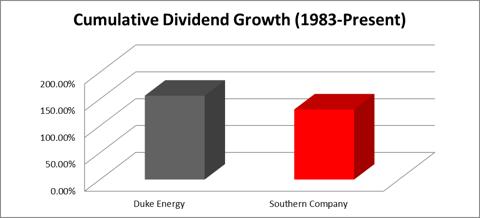 Source: Bloomberg LP
While these world-class utility powerhouses offer significantly higher dividend yields than what you'd find on bonds and bank deposits, we would like investors to take note of the fact that utilities strongly outperformed the S&P 500 since 1998 (as represented by the XLU versus the SPY) but we don't expect this to happen again from 2013-2027. Still, we take note that there are a number of people who will always have a strong interest in high-quality utility companies and we believe that Southern and Duke are two of the best utility companies in the industry. We would expect both of these companies to at least meet or slightly exceed the XLU ETF, especially because both companies are in the fast-growing Sun Belt region. When we were evaluating our position in Wisconsin Energy, we specifically chose to compare it against Southern and Duke because we had a longtime respect for these companies, and we felt that those two were the two best companies we could compare WEC against.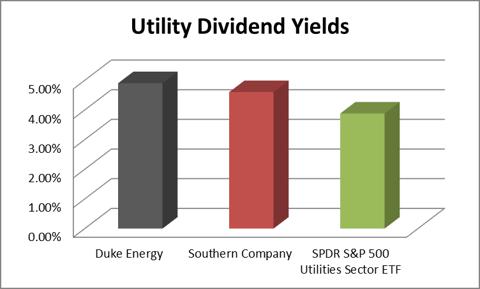 Source: Morningstar Direct
Conclusion
In conclusion, we believe that our thesis of Southern Company offering better relative risk/return prospects than Duke Energy is coming to fruition. Although the share price for both companies has pulled back recently due to the combination of rich valuations and the fiscal cliff threatening to raise the rates on shareholder dividends, we believe that investors who insist on including Duke or Southern in their portfolio should dispose of Duke and stick with Southern. Duke only has a 30bp higher yield than Southern and we don't believe that is sufficient to account for the execution risks that it faces as it integrates its merger with Progress. We would come to this conclusion even if it didn't have to offer $875M in concessions to the regulators in order to seal the deal with the regulators. Furthermore, we believe that the contretemps that took place in Duke Energy's C-Suite with regards to the Bill Johnson affair showed that despite James Roger's mediocre performance as CEO, he's going to be hanging on until he joins the forgotten-but-not-gone club. We were surprised that although Southern and Duke had power generation and other unregulated operations, these subsidiaries were small in comparison to the regulated utility subsidiaries of DUK and SO. The reason why we believe that Southern offers better risk/return prospects is because it isn't involved in integrating a complex merger deal, it didn't have to offer $875M in concessions to win approval for a complex merger deal and because it didn't have any management succession issues.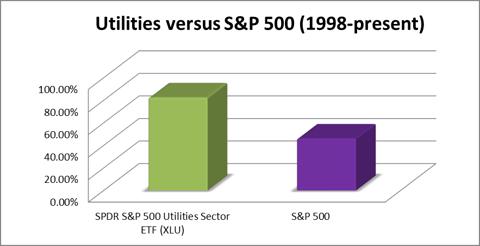 Source: Morningstar Direct
Disclosure: I am long WEC. I wrote this article myself, and it expresses my own opinions. I am not receiving compensation for it (other than from Seeking Alpha). I have no business relationship with any company whose stock is mentioned in this article.
Additional disclosure: This article was written by an analyst at Saibus Research. Saibus Research has not received compensation directly or indirectly for expressing the recommendation in this article. We have no commercial or pecuniary relationship with any company whose stock is mentioned in this article. Under no circumstances must this report be considered an offer to buy, sell, subscribe for or trade securities or other instruments.