Pengrowth Energy Corporation (NYSE:PGH) is a Canadian energy company primarily located in western Canada. Pengrowth was previously a Canadian Royalty Trust with a historically high monthly dividend. In 2011 Pengrowth converted its corporate structure from an energy trust to a corporation.
Below is the company description provided by Reuters:
Pengrowth Energy Corporation (Pengrowth) is engaged in the development, production and acquisition of, and the exploration for, oil and natural gas reserves in the provinces of Alberta, British Columbia, Saskatchewan and Nova Scotia. The Company's producing properties include Swan Hills Area, Olds Area and Groundbirch, Weyburn. During the year ended December 31, 2011, it drilled and completed four new horizontal wells and completed four others previously drilled. In February 2012, the Company commenced the injection of steam at the Company's Lindbergh pilot project. On January 1, 2011, the Company completed the arrangement, pursuant to which the Trust converted into a corporate structure. During 2011, minor asset acquisitions were made at Carson Creek, Deer Mountain, Judy Creek and Virginia Hills.
Pengrowth Energy has had a rough 2012, with its stock down 51%. On July 6, Pengrowth announced that it would cut its monthly dividend from $0.07 to $0.04. As of November 14, 2012, Pengrowth currently trades at $5.12. The dividend yield is currently 9.4%.
I believe Pengrowth is currently oversold at these levels. The dividend is covered by operating cash flow, and the company has hedges in place to protect itself from further energy price declines.
NAL Integration
In the third quarter of 2012, Pengrowth successfully completed its integration of NAL assets. The acquisition provides Pengrowth with an improved balance sheet, an expanded, high quality inventory of drill-ready, light oil locations and reinforces Pengrowth's conservative reserve profile. The result is a stronger Pengrowth, with an inventory comprising over 700 drillable oil and liquids locations.
With the successful completion of the NAL transaction, Pengrowth now has a significant land position in the Deep Basin fairway, extending from Cochrane to Sylvan Lake. The Deep Basin is characterized by stacked productive horizons and limited water production. The anchor play for this area is the Cardium, a 40 degree API light oil play with over 300 drilling locations in the Lochend and Garrington areas, providing Pengrowth with a multi-year development program that will continue to attract significant capital investment.
2012 Guidance
Pengrowth expects average Q4 2012 production to be between 93,000 and 96,000 boe/d, compared to previous guidance of 96,000 to 100,000 boe/d. The reduction in fourth quarter guidance results from the continued impact of shut-in gas volumes and extended maintenance outages at Swan Hills and SOEP.
Pengrowth now anticipates 2012 average operating costs per boe to be about $14.60 per boe, up from prior guidance of $13.75 per boe, due to subsurface and surface maintenance costs, power costs and lower than expected volumes.
On Termination of Premium Dividend Plan
Pengrowth Energy Corporation announced that it is suspending its Premium Dividend program, effective with the December 17, 2012 payment. There was some confusion on this matter, which Pengrowth clarified with this statement:
Clarification on monthly dividends and Premium Dividend Program

Pengrowth Energy Corporation confirms that its regular monthly dividend remains unchanged at CAD $0.04 per month. Pengrowth pays a regular, monthly cash dividend on or about the 15th day of each month. Currently, this amount is CAD $0.04 per share per month. The dividend is reviewed on a monthly basis by the board of directors.
Subsequent to Pengrowth's announcement on November 1st, 2012 that it is suspending its Premium Dividend Reinvestment Program as a result of its current low share price. The Premium Dividend Reinvestment Program is one part of Pengrowth's Dividend Reinvestment Program (NYSEARCA:DRIP) and was available only to eligible Canadian shareholders. The DRIP and our monthly cash dividend remain unchanged by this announcement.
Fellow SA contributor Zvi Bar noted "While it is always unclear whether a equity or asset is truly being undervalued by the market, the decision to cut this program would appear to indicate that at least Pengrowth's management is of the opinion that it is undervalued.."
I agree with management that issuing shares at current valuation undervalues PGH.
Operating Cash Flow and Dividend Payments
As shown on the chart below, PGH needed to reduce its dividend due to sharp drop in operating cash flow per share starting Q2 2012.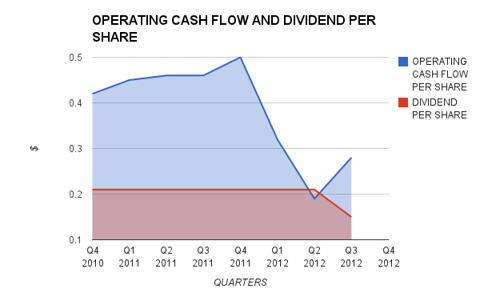 However, due to a large number of shares participating in the company's DRIP, the dividend payout to operating cash flow is more stable.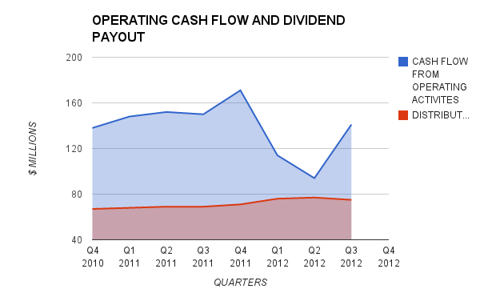 Revenue
Combined oil and gas sales for Q3 2012 averaged $45.18 per boe. This is a decrease from $53.48 in Q3 2011.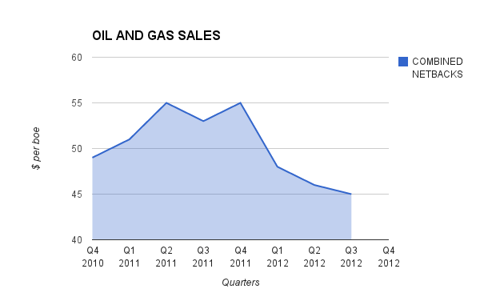 Light oil sales for Q3 2012 averaged $83.44 per bbl. This is a decrease from $92.44 in Q3 2011.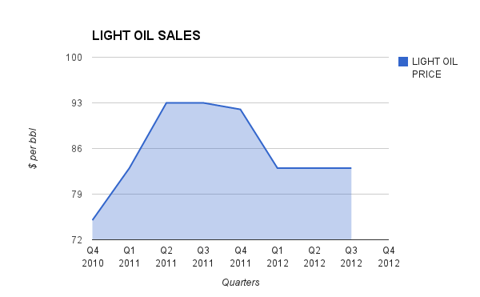 Heavy oil sales for Q3 2012 averaged $63.98 per bbl. This is a decrease from $64.57 in Q3 2011.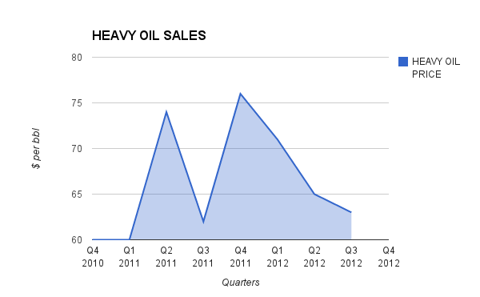 Natural gas liquid sales for Q3 2012 averaged $51.45 per bbl. This is a decrease from $66.58 in Q3 2011.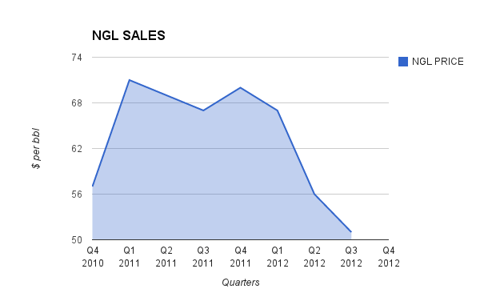 Natural gas sales for Q3 2012 averaged $2.52 per Mcf. This is a decrease from $4.23 in Q3 2011.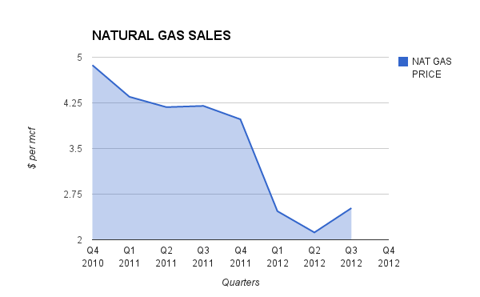 Hedging
Pengrowth has expanded its hedging program in order to manage its exposure to commodity price fluctuations. Increased hedging activity should provide a measure of stability and predictability to monthly cash flows. Pengrowth recently received Board of Directors approval to hedge up to 65 percent of its production out two years, 30 percent in the third year and up to a maximum of 25 percent in the fourth and fifth years.
Current Hedging Contracts
| | |
| --- | --- |
| Natural Gas | |
| Q4, 2012 | 40,441 MMBtu per day at an average price of Cdn $3.52 per MMBtu |
| 2013 | 133,782 MMBtu per day at an average price of Cdn $3.30 per MMBtu |
| 2014 | 38,173 MMBtu per day at an average price of Cdn $3.81 per MMBtu |
| 2015 | 9,478 MMBtu per day at an average price of Cdn $3.97 per MMBtu |
| Oil & Liquids | |
| Q4, 2012 | 25,000 bbls per day at an average price of Cdn $93.96 per bbl |
| 2013 | 16,500 bbls per day at an average price of Cdn $94.24 to $100.07 per bbl |
| 2014 | 2,500 bbls per day at an average price of Cdn $92.74 per bb |
Recent News
Acquisition of Additional Lochend Cardium Assets
Pengrowth Energy Corporation announced that it has acquired additional Lochend Cardium assets with production capability of approximately 650 boe/d, weighted 95 percent to light oil. The assets acquired complement and consolidate Pengrowth's position in the Alberta Lochend Cardium light oil resource play, bringing the company's Lochend Cardium land holdings to 44 net sections. The assets will provide Pengrowth with high-netback oil production and solidify the company's dominant position within the play and increase its inventory of drill ready locations to approximately 105.
Lindbergh Pilot
In light of the success achieved thus far at the Lindbergh pilot, Pengrowth is encouraged and is evaluating ways to advance the timing and increase the scope of the project. In addition, management will continue to seek opportunities to expand Pengrowth's thermal project inventory. Management expects to be able to release a 2013 capital expenditure budget early in 2013, as well as detailed plans for Lindbergh once that project is sanctioned for commercial development.
Pengrowth Energy Corporation announced on November 5, 2012 that its Board of Directors has approved a commitment of $55 million for critical path related, long lead time equipment for the Lindbergh thermal bitumen project. Approximately $20 million of this amount will be committed by year end 2012, with the balance to be spent in 2013.
Conclusion
Pengrowth offers you high yielding monthly dividend stock with upside if energy prices were to increase. Pengrowth via its hedging has made attempts to stabilize cash flows to secure the distribution.
Disclosure: I am long PGH. I wrote this article myself, and it expresses my own opinions. I am not receiving compensation for it (other than from Seeking Alpha). I have no business relationship with any company whose stock is mentioned in this article.