In our November 2nd report on Teva Pharmaceuticals Industries (NYSE:TEVA), we were pleased that it was recognized for the highly level of quality research and independent, objective analysis that we at Saibus Research are pleased to provide to the investment community. Although Teva had come down with a whole menagerie of ailments under its former CEO and longtime army apparatchik Shlomo Yanai, we believe that Dr. Jeremy Levin will be able to diagnose these illnesses as well as proscribe a cure that will restore this patient to health. We're optimistic about Teva's potential under Levin because Levin was one of the most 25 influential people in the biopharma industry. While serving as a Senior VP for External Science, Technology and Licensing in Research and Development for Bristol Myers Squibb (NYSE:BMY) he was responsible for Bristol Myers Squibb's "String of Pearls" strategy to help it counteract the effects of generic competition on its Plavix blood thinner treatment.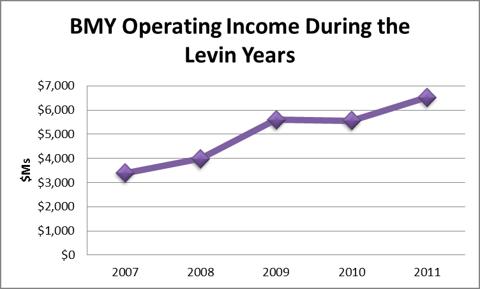 Source: Morningstar Direct
Although we are disappointed that Teva isn't as strong a performer as diabetes care specialist Novo-Nordisk (NYSE:NVO), we were pleased that we were able to conclude in our August 14th report on Teva that it was still a stronger performer than Merck (NYSE:MRK), Bristol Myers Squibb, Johnson & Johnson (NYSE:JNJ) and Pfizer (NYSE:PFE). In addition to revisiting our thesis that Teva is a better value than its four largest U.S. based pharmaceutical competitors for this period, we are going to add large European-based diversified pharmaceutical giants like GlaxoSmithKline (NYSE:GSK), AstraZeneca (NYSE:AZN), Novartis (NYSE:NVS) and Sanofi (NYSE:SNY) to see if Teva stacks up well against these European drug makers.
The first metric we are going to compare TEVA against its peers is the dividend yield. We can see that while TEVA has a decent dividend yield of nearly 2.4%, it is much smaller than that of its competitors. Our eight company pharmaceutical peer group had a Median Dividend Yield of 3.77% and an average dividend yield of 4.02%, which is 60%-70% higher than TEVA's dividend yield. However, TEVA has a smaller dividend yield than its competitors because TEVA has been a historically smaller firm than its peers. Teva has a much lower payout ratio than its competition because the competition is at a more mature stage and has found less profitable capital investment opportunities for its free cash flows whereas Teva is still seeing opportunities to profitably reinvest its free cash flows.
The second metric we will evaluate is dividend growth. We can see that TEVA significantly exceeds its peers in dividend growth. Because TEVA has grown rapidly up until last year and is still expecting above-average growth long-term, the company can provide strong growth in dividend payments through increasing its payout ratio, which is still significantly less than that of the larger drug makers. Bristol Myers pays over 70% of its net income as a dividend to shareholders; GlaxoSmithKline pays 56% and the rest of Teva's competition have payout ratios between 37-50%. Teva's payout ratio at 17.4% is much lower than the larger firms and we believe that Teva has greater capacity to substantially increase its per share dividend distributions.
The third metric we will evaluate is EPS growth rates for FY 2012 and projected long-term growth rates. All these companies have seen significant slowdown from the growth heyday of the 1990s and in TEVA's case the 2000s and are now projecting single digit growth in EPS growth rates. TEVA's growth rates for FY 2012 and over the long term significantly exceed its peers. Pfizer and Bristol-Myers Squibb both have negative EPS growth rates expected for 2012 while Johnson & Johnson and Merck check in with a robust 2012 EPS growth rate of 1%. While TEVA's growth rate is more downbeat than in the past, at least it is still at 8%. Long-Term growth rates see a low growth of 1.8% for BMY, below 3% for Merck and Pfizer, 6.7% for JNJ and 9.2% for TEVA.
The fourth metric we will compare Teva against its peers is its adjusted PE ratio based on FY 2013 adjusted EPS. It is apropos to use adjusted EPS to evaluate TEVA and its peers since all of these companies have engaged in a series of blockbuster acquisitions over the last 10 years. Teva has the lowest PE ratio (7.28X Adjusted 2013 EPS) versus its peers even though it has the highest estimated Long-Term Growth Rates and it has the highest dividend growth rate over the last 10 years. We believe that while investors should not be sanguine about Copaxone's future prospects, we don't believe that investors need to be riddled with anxiety about it. While the company has a strong dependence on the revenues and profits from its Copaxone drug, we believe that investors should take into account the fact that it doesn't go off patent until 2015. Furthermore, Copaxone has very specific chemical properties that are hard to replicate and would require separate clinical trials before receiving approval.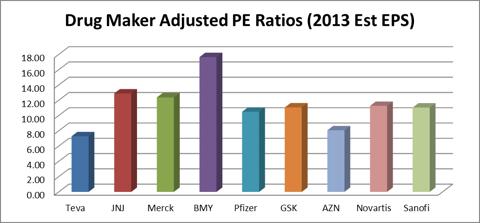 Source: Bloomberg LP
In conclusion, we at Saibus Research are bullish on TEVA. We are stunned that TEVA's adjusted price-to-earnings ratio is less than that of its peers. We are amazed that TEVA's stock price has declined rapidly and seems to be stuck in the mud despite its continued growth and ability to generate $3B in free cash flows annually. We are also amazed at the mediocre performance of the Big Four Big Pharma firms (whether it is the US based Big Four of Merck, Johnson & Johnson, Pfizer and Bristol Myers Squibb or the European Big Four of Sanofi, GlaxoSmithKline, AstraZeneca and Novartis) from 2000-2012 because we remember those companies used to be fast-growing innovators in health care during the 1990s. This mediocre performance is a shock because we would have expected the Medicare Part D reform passed in 2003 to have helped give the Big Pharma firms a revenue and profit boost. Our shock is compounded by the fact that TEVA is still expecting to grow its EPS at a faster rate than the Big Four Big Pharma firms. We believe that even if ObamaCare is repealed, we expect to see faster growth in the generic drug sector versus the innovative blockbuster new drugs segment because the rising cost of health care will push third-party healthcare payer institutions like Medicare, Medicaid, the VA and Private Health Insurers to steer their patients towards lower cost drug treatments rather than the high cost brand name drugs.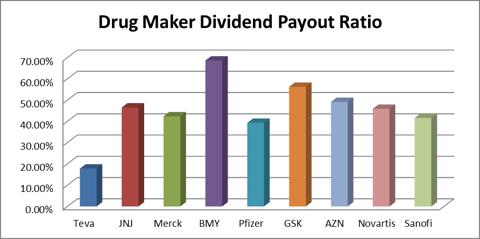 Source: Bloomberg LP
Disclosure: I am long TEVA, NVO. I wrote this article myself, and it expresses my own opinions. I am not receiving compensation for it (other than from Seeking Alpha). I have no business relationship with any company whose stock is mentioned in this article.
Additional disclosure: This article was written by an analyst at Saibus Research. Saibus Research has not received compensation directly or indirectly for expressing the recommendation in this article. We have no business relationship with any company whose stock is mentioned in this article. Under no circumstances must this report be considered an offer to buy, sell, subscribe for or trade securities or other instruments.