On October 1st, Kraft Foods Inc executed its long awaited spin-off of its North American Grocery business as Kraft Foods Group (KRFT) and changed its name to Mondelēz International (NASDAQ:MDLZ). When Kraft Foods Inc. announced it was renaming itself as Mondelēz, we were vexed that the company chose that name as its new corporate identity especially because we felt it to be a compressed word thought up by a committee. We weren't the only ones who were scratching our heads as to Kraft Foods Inc.'s new name. According to a friend of ours, we were able to confirm that Mondelēz in Russian refers to a vulgar slang term. However, we applauded the move because we saw that the separation of the two companies would provide greater clarity to investors, eliminate the "conglomerate discount" associated with such a large organization and create two leading consumer foods companies that are able to pursue the appropriate strategic and operating decisions necessary to maximize shareholder value for each firm. We believe that the new Mondelēz will continue to grow its core operations thanks to the strong growth potential associated with the international markets that it operates in. Although it is primarily focused on international markets, it retained the U.S. Snacks business which will account for almost 20% of its revenue.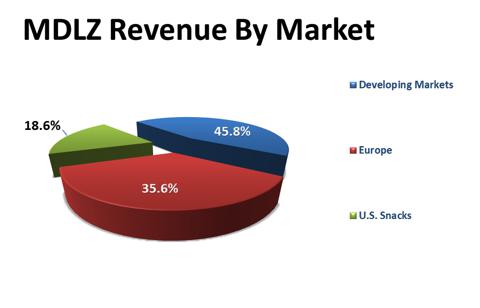 Source: Kraft Foods's Q3 2012 Report
Because Mondelēz's operations are primarily focused on emerging markets and Europe yet it's reporting currency is the US Dollar, it will be facing the same currency issues that its multinational consumer product peers are facing. And right now, Mondelēz and its peers are seeing revenues and profits sag due to the negative impact of translating its operational currencies into a strong US Dollar. At least the companies make it easy for analysts to see how the companies perform on a constant currency basis. The U.S. Snacks business generated 2.9% revenue growth in the first nine months of 2012 and 2.7% in Q3 2012 versus the comparable periods in 2011. The European and Developing Markets divisions had better organic revenue growth rates in H1 2012 than in Q3 2012. Organic revenue growth for Europe was 3.1% in the first nine months of 2012 but only 70bp in Q3 2012. Mondelēz's Developing Markets division had 6.8% organic revenue growth in the first nine months of 2012 but only 1.8% in Q3 2012. The European and Developing Markets Businesses endured revenue declines on a reported basis in Q3 2012 and YTD 2012 due to currency headwinds from the stronger US Dollar.
The company's organic revenue growth rate was down during the quarter due to three factors: First, the company was up against some tough performance comparisons as it delivered exceptionally strong growth in the third quarter last year and generated organic revenue growth of nearly 9.5%. Second, pricing contributed less this quarter as MDLZ passed through the impact of lower Green Coffee costs. Arabica, for example, has dropped by nearly 1/3 in the past 12 months. And finally, MDLZ had some short-term executional issues in a few key markets like Brazil and Russia. Management already took actions to address these missteps, such that this negative impact will be largely confined to the third quarter. As a result, we will give management a pass and expect that organic revenue growth will rebound to mid-single-digit levels in the fourth quarter.
Currency had a negative impact on its operating income. The company's operating income only grew by 1.4% year-over-year in the first nine months of 2012 due to negative currency headwinds and increased non-recurring expenses relating to the restructuring and spin-off of Kraft Foods Group. On an adjusted basis, the company's operating income grew by 4.8% and by 9.3% excluding the impact of the stronger US Dollar. We're looking forward to Q4 2012 as the company will be recasting its financial statements to account for Kraft Foods Group as a discontinued operation.
MDLZ's Biscuits revenue is up 7%, with strong growth in both developed and Developing Markets. In North America, Biscuits increased mid-single digits, and Europe is also posting solid growth. In Developing Markets, Biscuits grew low-double digits, led by China, Russia, the Middle East and Africa. MDLZ's Biscuits power brands rose 13% year-to-date, with Oreo continuing to grow in the mid-teens. MDLZ's belVita innovation platform has been another star, up more than 45% this year as it expands across markets in Europe and the Americas and is on track to exceed $300 million in revenue this year.
Global Chocolate revenue increased 6% year-to-date. In Developed Markets, Chocolate grew mid-single digits behind successful innovation with the company's snacks, small bites platform and activities around the London Olympics. In Developing Markets, continued strength in India and Brazil drove growth of mid- to high-single digits. MDLZ's Chocolate power brands have increased 10% this year. Cadbury Dairy Milk, Milka and Lacta had each posted strong growth.
Gum and Candy remains a sub-par performer as its revenues were down 1%. Candy delivered a solid performance with Halls up to low-single digits behind new marketing campaigns, and Eclairs up 20%, driven by strong growth in China, South Africa and India. But the key challenge remains Gum, especially Trident, whose revenue declined to the low-single digits. Although the brand grew in Developing Markets, it was more than offset by weakness in developed markets.
In conclusion we are optimistic about MDLZ's future. We believe that the company will be winding down its "non-recurring charges" for its various restructuring programs, which will not only help the bottom line but also increase the quality of the company's earnings. We also believe that the company is more nimble and able to seize on potential competitive opportunities versus its old, unwieldy corporate structure. We like that the company counts large institutional shareholders like Berkshire Hathaway (5% Warren Buffett) and Trian Fund Management (1% Nelson Peltz). And finally, we like that the company is focused on high-potential growth markets as well as having a more focused portfolio.
Disclosure: I am long KRFT, MDLZ. I wrote this article myself, and it expresses my own opinions. I am not receiving compensation for it (other than from Seeking Alpha). I have no business relationship with any company whose stock is mentioned in this article.
Additional disclosure: This article was written by an analyst at Saibus Research. Saibus Research has not received compensation directly or indirectly for expressing the recommendation in this article. We have no business relationship with any company whose stock is mentioned in this article. Under no circumstances must this report be considered an offer to buy, sell, subscribe for or trade securities or other instruments.