Last week, The Wall Street Journal reported that bond yields of Exxon Mobil (NYSE:XOM) and Johnson & Johnson (NYSE:JNJ) were trading below Treasuries. In effect, investors feel that these AAA-rated companies are more secure than U.S. government debt. Exxon and Johnson & Johnson may not be alone for much longer.
Over the past several months, corporate bond yields across the investment spectrum have fallen precipitously, as investment firms have increasingly allocated more into the corporate bond space in search of higher yield.
The concern is that the drop in yields, especially when they fall below comparable Treasuries, is a sign of a bubble ballooning in corporate bonds.
Fortunately, the data suggest the drop in yield is due to normal market functions, and not a bubble. That is good news for investment grade bond funds such as Fidelity (MUTF:FBNDX), PIMCO (MUTF:PBDAX), and Wells Fargo (MUTF:WTRZX) and for insurance companies that hold large amounts of corporate debt like MetLife (NYSE:MET), Prudential Financial (NYSE:PRU), Manulife Financial (NYSE:MFC), American International Group (NYSE:AIG) and Hartford Life (NYSE:HIG).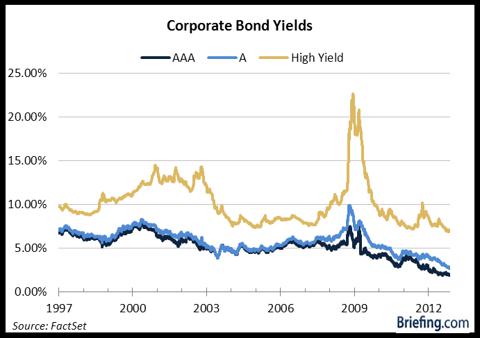 Not a Supply Issue
Typically, such a sharp drop in yields would be a reflection of high demand chasing low supply. Yet, corporations have actually been fueling the demand by issuing more debt.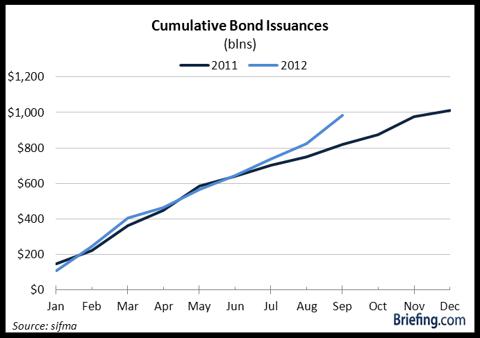 Corporate issuance is currently running 20% higher, year-to-date, in 2012 than in 2011. That has led nearly to more volume through September 2012 than what was issued for all of 2011.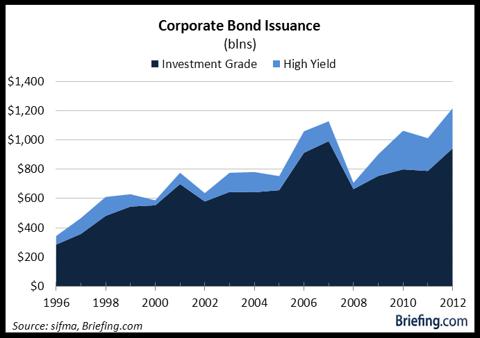 The drastic increase in bond issuance is not a result of a poor yearly comparables. Total volume in 2011 was only slightly below that in 2010 (-4.8%) and was in-line with pre-recession levels.
Assuming that current trends continue for the rest of the year, total bond issuance in 2012 will surpass $1.216 tln, which is 7.9% higher than the record peak in 2007.
Is it a Bubble?
With the extreme amount of debt issuance coupled with low yields, the corporate bond market has all the signs of a bubble in the making. Yet, the fundamentals behind the yields are not necessarily out of line with current economic conditions.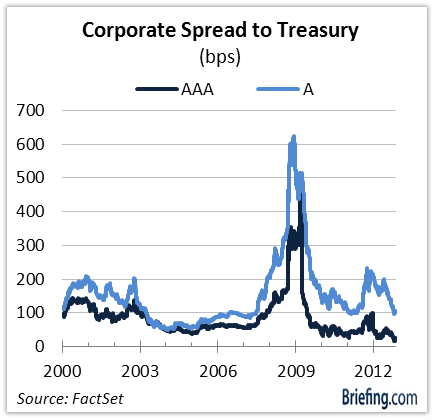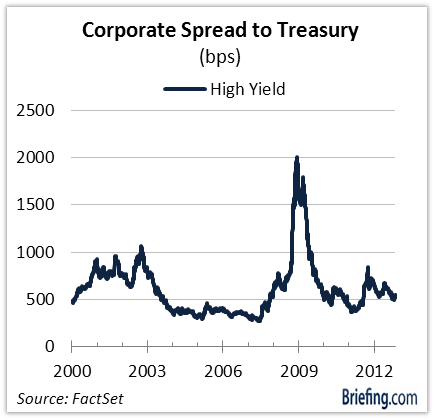 With the exception of AAA-rated corporate bonds -- which likely suffer from supply shortages that artificially shrink credit spreads - 10-year corporate bond spreads to comparable Treasuries remain above their pre-recession levels. This is indicative that bond investors believe the default risks are relatively higher today than they were in 2007.
It is possible that, even though spreads are above pre-recession levels, investors are underestimating the risk of a default. The underlying economic trends, however, do not point to a sudden increase in defaults anytime soon.
Macroeconomic Fundamentals
The Chicago Fed National Activity Index -- a measure of current economic conditions that accurately project recessions -- is below 0. However, that only means that the economy is not currently growing at the historical trend (3.0%), which the last several GDP reports have already confirmed.
When the index falls below -0.7, a recession is imminent. The underlying economic conditions are currently well above that level.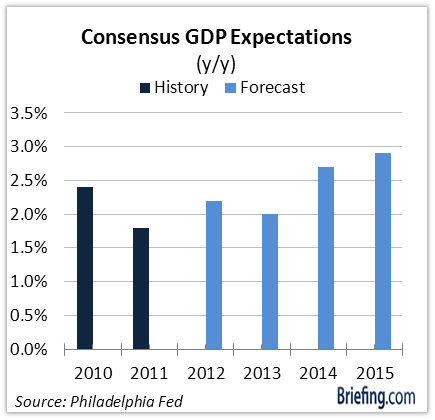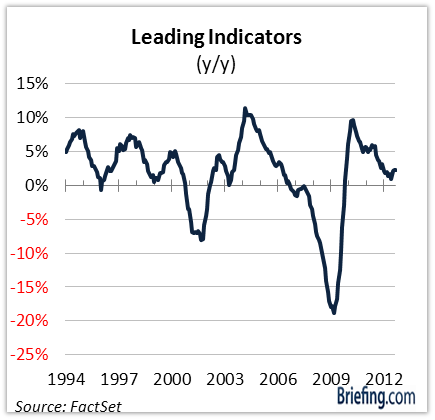 The latest consensus GDP projections from the Q4 2012 Philadelphia Fed's Survey of Professional Forecasters also show no sign of economic weakness. The Conference Board's Leading Indicators Index confirms these results.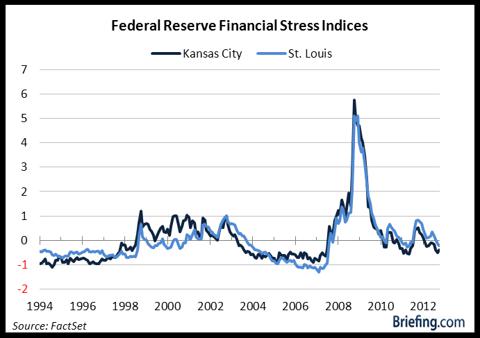 Furthermore, the drop in yields is not a result of concerns about financial liquidity. Both the Kansas City and St. Louis Federal Reserve Stress Indices are below 0, which implies that financial stress is currently less than this historical trend.
That means that investors are not seeking corporate bonds in an effort to maintain liquidity in lieu of investing in other fixed-income assets. Financial constraints are not causing the safe-haven status of corporate bonds nor are they artificially depressing corporate yields.
Conclusion
Corporate bond yields have fallen significantly over the past few months, even as bond issuance has spiked. Normally, these factors suggest a developing asset bubble in the corporate bond market.
Yet, the underlying data do not point toward a bubble. Instead, the data provide solid evidence that the drop in yields is due to normal macroeconomic fundamentals.
Corporate bond spreads to Treasuries remain above pre-recession levels. Investors are not pricing in extraordinary low -- or bubble level -- default risks. In fact, the assumed default risk is in-line with current macroeconomic factors and expectations. These factors suggest that corporate bonds are not currently in a bubble.
Disclosure: I have no positions in any stocks mentioned, and no plans to initiate any positions within the next 72 hours. I wrote this article myself, and it expresses my own opinions. I am not receiving compensation for it. I have no business relationship with any company whose stock is mentioned in this article.