I have been working in the medical field in radiology for the past 12 years. I have treated both patients with spinal injuries and also with neurological disorders, namely multiple sclerosis. In my experience, many patients with low back pain are usually sent to get an Magnetic Resonance Image (MRI). In most cases, the patient lies on his back and the machine takes an image of their low back. Unfortunately, many of these images come back negative as the discs that one views on an MRI cannot be seen in a lying position, as patients are not functional in this position. This is where FONR upright MRI (NYSE:R) comes in. It allows the patient to sit or stand and thus the doctor or physiotherapist can get an exact view of the spine in a functional position.
Financial Highlights
FONR has reported record revenues in 2012. This bodes well for the future as it means they have been selling their equipment and are seeing some signs of growth. Revenues in 2012 were reported to be $18.7 million, an increase of 5% compared to 2011. FONR recognized revenues of $6.3 million from the sale of their Upright MRI scanners in fiscal 2012, while in fiscal 2011, FONR recognized revenues of $5.3 million from the sale of Upright MRI scanners. They also have Cash provided by operating activities for fiscal 2012 that approximated $7.4 million. Of note is the increased income. Total net income for the year ended June 30, 2012, more than doubled, an increase of 108% to $6.9 million, from $3.3 million for the year ended June 30, 2011. Total revenues for the HMCA subsidiary, the STAND-UP® MRI center management segment increased 35% to $20.7 million for the year ended June 30, 2012 as compared to $15.3 million for the year ended June 30, 2011.
From the annual report
FONR also collaborates with HCMA-Imperial. At the physician and diagnostic services management segment, HMCA-IMPERIAL, revenues increased from $15.3 in fiscal 2011 to $20.7 million in fiscal 2012. This is primarily attributable to increased revenue received by HMCA-IMPERIAL from its contracts with its clients. The MRI facilities owned by Dr. Diamond are charged a flat fee, pursuant to contracts executed in connection with the sale of the MRI facilities at the end of fiscal 2007. The fees are reviewed and if appropriate, adjusted on an annual basis by mutual agreement. During fiscal 2012, these fees ranged from $100,000 per month to $241,000 per month".
Key points
$30 million in market cap
0 debt
PE 5.48
Revenues of $20.7 million ending june 2012
$5 million float
Total sites offering services in US is 11.
In addition, another recent sale is being installed in central California and expects to be operating in October 2012.
I like FONR both from a technical and fundamental view.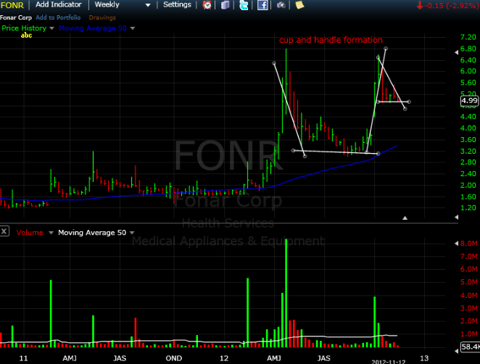 Technically, you can see the cup and handle being formed over the last few months. Look at the volume when the stock exploded, meaning buyers are stepping in.
If we look at the monthly chart, observe how the trend might be changing here...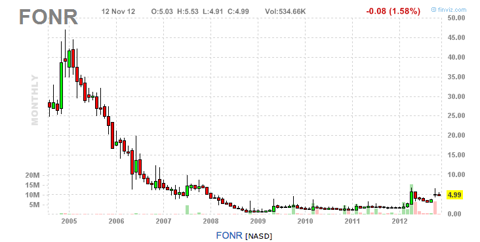 Note that the CEO had an offer to sell at $5 and didn't, so he definitely believes in his company and his long term plan can work here.
The medical field has had good things to say too. The Chairman of Spine Surgery at St. Maartenskliniek expressed the view that for their hospital to continue to engage in spine surgery without FONR's Upright MRI technology, now that it was available was "unacceptable" and that owning the scanner "was not optional, but mandatory." He further stated that "once our active research program has discovered the benefits of this new FONR technology for patients, we intend to publish the results in a lot of peer reviewed scientific journals."
Conclusion:
I maintain a target of FONR of $12-15 provided revenues can increase to $40 million by middle of 2013. With President Obama being re-elected and healthcare stocks continuing to do well, this stock remains cheap at these levels.
Disclosure: I am long FONR. I wrote this article myself, and it expresses my own opinions. I am not receiving compensation for it (other than from Seeking Alpha). I have no business relationship with any company whose stock is mentioned in this article.