The current market turmoil, while painful, has also produced a number of attractive opportunities. The small cap area in particular has resulted in a number of valuations that one could read about in Ben Graham books but are rarely expected to be seen in a modern, electronic-based "efficient" market.
However, when reviewing a number of small caps to invest in, I came across Lifeway Foods Inc. (LWAY or the "Company") and found what appears to be a good short sell candidate. While the stock is close to its 52 week low, I was still baffled by its seemingly absurd valuation and believe it has significant downside risk given the frothy valuation multiples it commands, irrespective of a bull or bear market.

LWAY was founded in 1986 and is a manufacturer of probiotic, cultured, functional dairy and non-dairy health food products. The Company's primary product is kefir, a drinkable fermented dairy beverage similar to yogurt. Kefir contains live microorganisms and nutrients, is highly digestible, and can be considered one of the most favorable dairy products for people suffering from genetically-based lactose intolerance. This could be in part due to its low curd tension, meaning the curd breaks up very easily into smaller particles which aids in the digestion process.
The Company sells its kefir products in a variety of flavors under the LWAY and Helios Nutrition Organic Kefir brands. Products include traditional kefir drinks, kefir drinks for children under the ProBugs line, soy-based kefir beverages sold under the SoyTreat line, various cheeses, and even vegetable seasoning under LWAY's Golden Zesta brand. The Company manufactures its products at LWAY-owned facilities and its products are distributed in the U.S. LWAY owns 12 trucks that distribute products in Chicago, Philadelphia, and the Tri State area, while third party distributors sell LWAY products in other regions. The Company's products are sold in over 1,200 stores including grocers such as Jewel Food Stores, Dominick's Finer Foods, Treasure Island Food Marts, Whole Foods (WFMI), and other independent food stores.
LWAY does have some good things going for it and those are important to note before discussing the short case. One positive about LWAY is that nearly 50% of the Company is held by the founding family. In addition, LWAY has a strategic investor present with Groupe Danone owning about 20% of the Company. The Board of Directors is not excessively compensated by any means and the Company maintains a diverse customer base with no customer representing over 10% of sales.
The Company maintains a decent balance sheet and is in the growing functional food segment. According to SRI Consulting, U.S. sales of probiotic foods will grow from $698MM in 2007 to $1.1B in 2012, representing a 10% annualized growth rate. The U.S. probiotic dairy market's estimated size is roughly $400MM with Groupe Danone controlling about 80% of the market. The Company has also started working on its Starfruit Cafe concept, which will be a franchise program that will offer several flavors of frozen kefir. This concept was launched in April 2008 in Chicago and could ultimately be another growth driver for LWAY.
Given the positives, one may question why LWAY would be an attractive short sell candidate. The primary reason comes down to valuation on both a relative and absolute basis. Across a variety of niche food companies, LWAY's valuation metrics are incredibly high. As Table I illustrates, many publicly traded niche food companies (dairy focus and/or health focus) trade for valuation multiples that are basically one third to one quarter of LWAY's current valuation.
TABLE I: DAIRY AND HEALTH/FUNCTIONAL FOOD PUBLIC COMPARABLES [click to enlarge]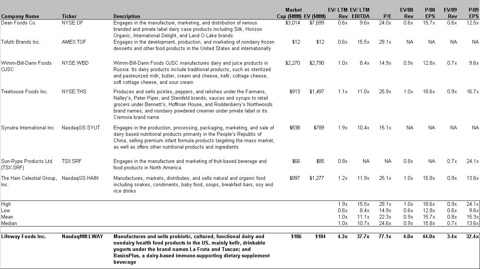 Click to enlarge
TABLE II: LWAY CAPITAL RETURNS [click to enlarge]
Premium valuations can be justified by high sales growth and/or high capital return metrics such as return on invested capital ("ROIC") and return on equity ("ROE").  While LWAY has a good brand, there's been little evidence that the Company has generated the types of ROIC and ROE figures that would warrant much of a premium against its public comparables. In fact, ROIC and ROE have been declining on an annual basis. Sales growth appears to be coming at the expense of additional operating expenses, such as marketing, as EBITDA margins have been in a steady decline. In addition, net income growth and EBITDA growth have both been relatively unimpressive given LWAY's heady valuation. Given the relatively mundane operating performance of LWAY and moderating income growth, the Company's valuation does not appear to be justified. Insiders may also feel the same given the steady selling over the past few months.
Based on LWAY's latest PR, sales for Q3 have grown at just about 15%, reflecting a marked slowdown from historical growth rates. While dairy input prices are on the decline and could benefit LWAY's margins, the Company's focus on growth means any incremental savings will be driven into marketing  - meaning the bottom line may not change much. It's also important to note that increases in marketing have not led to a commensurate increase in sales, as Q3 '08 sales growth would suggest.
This means there's very little to drive ROIC and ROE, so it's very difficult to see much upside for LWAY in the coming year to justify its valuation. More importantly, the Company's valuation would suggest that LWAY will have to drive sales growth well above 20% while improving margins to grow into its valuation, and that seems unlikely to occur in the coming 12-18 months. Given the Company's lofty valuation and dull capital return metrics, LWAY needs to experience a considerable correction before it is attractively valued for longs.
DISCLOSURE: AUTHOR MANAGES A HEDGE FUND THAT IS SHORT LWAY.