By Brendan Gilmartin
Dell (DELL) is scheduled to report 3Q 2013 earnings after the close of trading on Thursday, November 15. The results are typically released immediately after the closing bell with a conference call slated to follow at 5:00 p.m. EST. Dell has made great strides in recent quarters, transforming itself by expanding into the enterprise market, delivering high-end server capability in the data center, along with cloud-computing and virtualization solutions, while the consumer PC business faces ongoing challenges.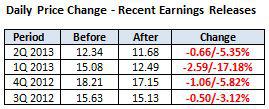 Dell is expected to earn $0.40 per share (range is $0.36 to $0.44) on revenues of $13.90 bln, down 9.5% from the year-ago period. (Source: Yahoo! Finance).
Revenues tend to track close to consensus estimates. For the third quarter, Dell told investors last August it expects revenue to show a sequential increase of 2% - 5%, or $13.775 bln - $14.210 bln.
Gross Margin: This is a critical measure for Dell. The "knee-jerk" reaction does not often take into account gross margins. As the results are digested, this measure typically gets close scrutiny. The estimate is 22.33%.
In August, Dell cautioned that it faces an "uncertain economic environment, competitive dynamics and soft Consumer business."
Recent News
11/13: Sterne Agee reportedly has a Neutral rating on Dell and expects the firm to deliver EPS of $0.39, below consensus, according to a post on StreetInsider.com. The firm suggested that, while channel checks in the consumer PC segment are expectedly weak, expectations are quite low, and a tepid quarter may be priced in.
10/10: According to a post on Barron's Online, UBS reiterated a Neutral rating on Dell and suggested avoiding the shares near-term as results come under pressure. However, the longer-term prospects appear brighter, particularly in the enterprise segment.
10/08: Citigroup initiated coverage on Dell with a Sell rating, based on weakness in the PC sector, according to a post on Benzinga.com. The firm cited high consensus estimates for 2013 & 2014, slower emerging market PC growth, and competition.
09/06: Dell announced a quarterly cash dividend of $0.08 per common share. The shares are now yielding 3.40%.

Technical Review
Dell shares are down more than 23% in the last quarter, off over 35% YTD and just off the lowest levels since February, 2009. Should earnings disappoint and earnings extend the recent selloff, look for downside risk to the recent low of $9.11. Conversely, resistance is at $10.00 in the event that the earnings release sparks a reversal. (Chart courtesy of StockCharts.com)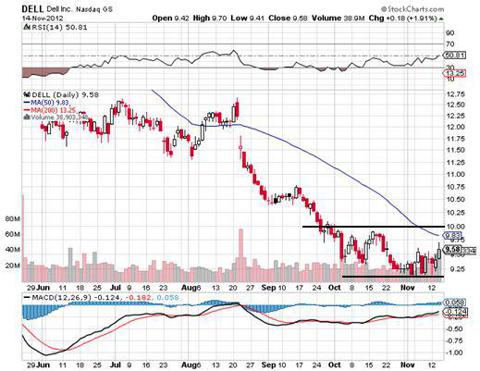 Summary
Dell shares have come under heavy selling pressure in recent months, tracking the declines in rival Hewlett-Packard (HPQ), given the weakness in the consumer PC business both domestically and abroad. With the shares now trading at a mere 0.27x sales and a 3.40% dividend yield, many are quick to suggest Dell is oversold near-term and could see a nice bounce, barring a surprisingly weak earnings report. The more diversified model that now includes high-end server capability in the data center, along with cloud-computing and virtualization solutions could also help shield Dell from the issues plaguing the PC business.
Disclosure: I have no positions in any stocks mentioned, and no plans to initiate any positions within the next 72 hours. I wrote this article myself, and it expresses my own opinions. I am not receiving compensation for it (other than from Seeking Alpha). I have no business relationship with any company whose stock is mentioned in this article.
Disclaimer: By using this report, you acknowledge that Selerity, Inc. is in no way liable for losses or gains arising out of commentary, analysis, and or data in this report. Your investment decisions and recommendations are made entirely at your discretion. Selerity does not own securities in companies that they write about, is not an investment adviser, and the content contained herein is not an endorsement to buy or sell any securities. No content published as part of this report constitutes a recommendation that any particular investment, security, portfolio of securities, transaction or investment strategy is suitable for any specific person.