Dell (NASDAQ:DELL) shareholders certainly have had a difficult year, with the share price being cut in half, from a high of $18.36 in February, to the mid-$9's where it currently stands. In fact, Dell is uncomfortably close to its March 2009 low of $7.84, which was reached in the midst of an overall market free-fall.
Dell's 5-year Chart: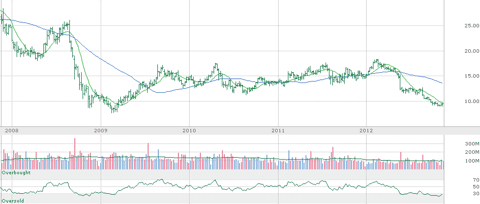 Dell has experienced weakness in its PC business lately, which may be a result of several factors. For starters, the overall macroeconomic environment is not great for PC sales in general. Lower-end PC's are selling very well, but unfortunately Dell has not been emphasizing this area of the business. In addition, the overall PC market has cooled off a bit, as consumers have been holding off on new purchases in anticipation of Microsoft's (NASDAQ:MSFT) Windows 8 release. Also, increased presence of tablet PC's and smartphones, especially from Apple (NASDAQ:AAPL), are robbing precious market share from everyone.
As a result, Dell has not done very well earnings-wise recently. The last three earnings releases were major disappointments, and the stock has reacted accordingly. When the company reported earnings on February 21st, the stock went down from $18.21 to $16.98 overnight, a 7.2% drop.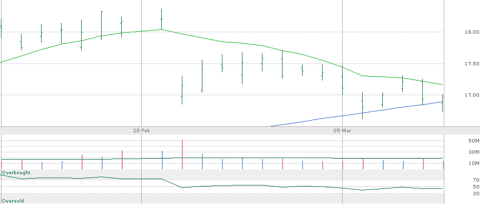 On May 22, the disappointment that followed the announcement caused the stock to plummet from $15.08 to $12.87, a terrible 17.2% overnight loss.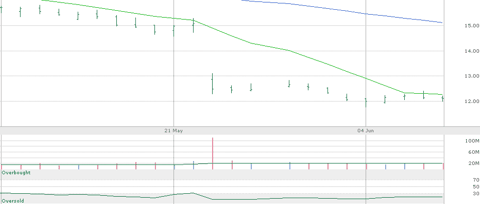 A similar scenario occurred, although with less magnitude, after Dell's most recent announcement on August 21st. The stock reacted to the bad news by "only" dropping from $12.34 to $11.63, a 6.1% move.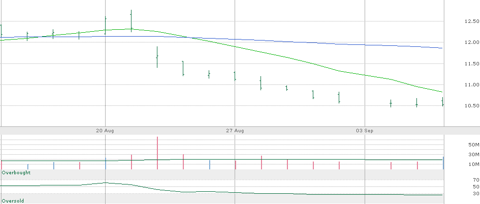 This time, I'm going against the grain. I believe that not only is all of the potential bad news priced into the stock, but that this company is extremely undervalued at current levels. Dell currently trades at a ridiculously low 5.56 times TTM earnings, a tremendous discount to historical multiples, as well as the hardware industry average of 12.3 times earnings.
Analysts project very slow growth over the next few years, anticipating earning of $1.77 in 2013, growing slightly to $1.79 in 2014. Nonetheless, this means that the company trades at only 5.4 times forward earnings. I believe Dell is a bargain at current levels and still has a bright future ahead.
The Trade
Although I am leaning bullish on this one, I'm going to play it a little cautious with a call spread consisting of buying an in the money call and selling an out of the money call. Looking at the December options, I want to buy the $9 contract for $0.84 and sell the $10 contract for $0.34, for a net cost of $0.50. The reason I'm buying the December contracts, and not the November options expiring Friday is that the cost of putting on this spread is almost exactly the same for the two expirations (48 cents vs. 50 cents), and I want to have the longer time until expiration to maximize my chances of the trade going my way.
Maximum profit on this trade is achieved if Dell is over $10.00 before expiration, which I believe to be very possible. This scenario would produce a 100% gain on the position. The breakeven point on this trade is $9.50, which is slightly below where it is trading the night before the announcement. Given the low valuation of Dell, and the pre-expectation of bad news, I believe that the reward potential greatly outweighs the risk on this trade.
Disclosure: I am long AAPL. I wrote this article myself, and it expresses my own opinions. I am not receiving compensation for it (other than from Seeking Alpha). I have no business relationship with any company whose stock is mentioned in this article.