SanDisk (SNDK) reported revenue of 822MM (+1% Q/Q), above consensus expectations but non-GAAP per share loss of $(0.59) was worse. The wider losses were due to non-GAAP product GM of -17.5%, well below consensus and even worse than our Street low estimate of negative 3.5%. Weak GM was primarily due to severe price competition as SNDK had to match price cuts instituted by competitors' in order to move its products, particularly within the retail channel. 
Management is guiding to Q4 total rev in a wider than normal range of $725-875MM (mid-point down 3% Q/Q). We believe that results in Q4 will continue to be dominated by heavy emphasis on price promotion, particularly as we approach the holiday selling period, as card vendors (including SNDK) try their best to stimulate consumer demand to drive product sales and clear inventories. We are making adjustments to our estimates to reflect this view. For Q4, we are modifying our street low estimates to $765MM (-7% Q/Q)/loss of $(0.60).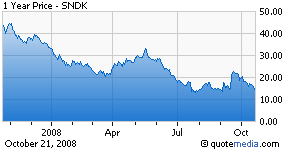 For CY:08 and CY:09, our estimates are at $3.25B (-17% Y/Y)/loss of $(1.07) and $3.07B (-6% Y/Y)/loss of $(0.81), respectively with the changes primarily coming from lowered GM assumptions (we are conservatively modeling product GM to average 4% in CY:09), partially offset by tighter opex controls.
While we continue to like SNDK long-term it's difficult to be positive on the stock near-term given the bleak NAND environment faced by all players. However we remain in our belief that once we get past this cycle, SNDK will succeed in a leadership position in an environment where there is not going to be capacity add for a while. With SNDK shares currently trading at about 1.1x our CY:08 sales, well below prior trough levels of 1.4x, valuation remains attractive. That said, we admit that industry conditions have to show signs of improvements before negative trends will reverse.
Disclosure: Avian Securities, LLC, its officers and employees may from time to time acquire, hold or sell a position in the securities mentioned herein in this report.