Cisco Systems (NASDAQ:CSCO) delivered a strong Q1 with both revenue and EPS beating consensus estimates. The company also announced a slightly higher revenue growth and EPS guidance for the current quarter. In the following day, CSCO shares have gained 4.8%. I believe the market has overly discounted CSCO's growth concern and the stock represents a quality long-term investment given its solid fundamentals, cheap valuations, and decent dividend yield. In this article, I will elaborate on the value analysis that supports my bullish view on CSCO.
CSCO's valuations are cheap based on the company's solid financial performance relative to its peers'. Comparing with a peer group consisting of CSCO's primary competitors in the network equipment field (see comparable analysis table below), the growth potential appears to be the firm's sole weakness. Analysts on average predict CSCO's revenue, EBITDA, and EPS to rise by 2-year CAGRs of 5.6%, 12.3%, and 9.7%, respectively, over the current and next fiscal years. Those growth estimates are largely below the peer averages of 8.9%, 30.1%, and 13.9%, respectively. In addition, CSCO's EBITDA margin is forecasted to expand by just 3.7% over the same period, compared to the peer average of 8.5%. However, CSCO has an industry-leading margin performance as most of the company's profitability margins and capital return measures are considerably higher than the peer averages. The firm carries a relatively higher level of debt as reflected by the above-average debt to capitalization and debt to EBITDA ratios. In terms of liquidity, CSCO's trailing free cash flow margin of 20.0% is slightly better than the peer average of 18.9%. Due to the strong profitability, the firm was able to maintain a healthy interest coverage ratio. Both CSCO's current and quick ratios are markedly above the par, reflecting a fortress-like balance sheet.
click to enlarge images

To summarize the financial comparisons, CSCO's lackluster growth prospects would be the primary drag in the stock's valuations. But given the firm's robust profitability and liquid balance sheet, the valuation should not be far off from the peer-average level. Nevertheless, the current stock valuations at 4.7x forward EV/EBITDA, 6.7x trailing EV/FCF, 8.9x forward P/E, and 0.89x PEG represent an average valuation discount of 35% to the peer-average trading multiples, suggesting that the market is likely over-discounting CSCO's sub-par growth potential (see comparable analysis table above).
If comparing CSCO's financials with those of some large-cap technology companies, one would draw a similar valuation conclusion (see comparable analysis table below). CSCO's estimated growth rates are generally better than the averages of the large-cap group. Although many of the firm's profitability metrics are below the par, the differences are mostly marginal. CSCO's free cash flow margin, current ratio, and quick ratio remain above the peer averages. Despite the overall stronger financial performance, the stock's valuation multiples are on average 25% below the same average multiples of the large-cap group.

Moreover, CSCO's trailing EV/EBITDA and P/E multiples are trading at steep discounts of 60.2% and 50.3%, respectively, to their 10-year historical averages (see chart below). Those two valuation ratios are also 39.8% and 25.3%, respectively, below the same multiples of the S&P 500 Index (see chart below). I believe CSCO's significant valuation discounts to the market is exaggerated provided that 1) the company's long-term estimated earnings growth rate of 9.8% is largely higher than the average estimate of 7.9% for the S&P 500 companies; 2) CSCO has an industry-leading performance in profitability and cash flow generation; and 3) the stock offers an attractive 3.3% dividend yield, which is considerably higher than the average dividend yield of 2.2% for the S&P 500 Index.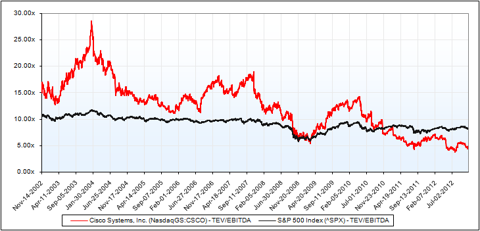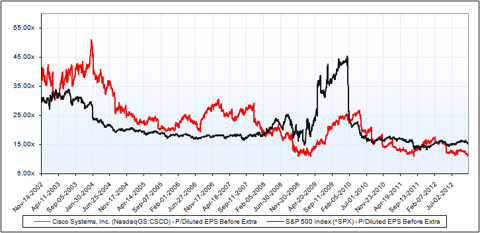 On top of the cheap valuations, I believe the stock's high dividend yield and solid dividend growth prospect would provide a strong downside protection. Given CSCO's robust and stable free cash flow, the annual dividend payment in the past few years only represented a very small portion of the annual free cash flow, meaning that the company has an ample capacity to sustain a fairly high dividend growth rate at least in the near to medium term (see chart below).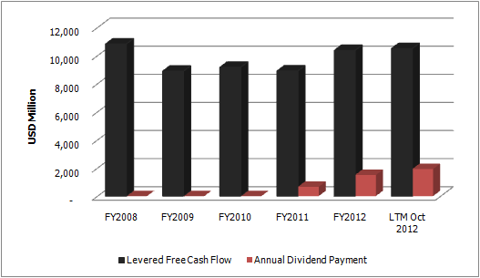 RBC Capital Markets' research analyst, Mark Sue, shared his view on the company's cash flow prospects in his recent research note (according to Thomson One, Equity Research):
"Cisco's core businesses of switching (31%) and routing (18%) make up close to half of the entire business. In contrast to other technology companies exposed to the decline in PCs, Cisco's core end markets remain steady growth businesses. Routing in particular has high correlation to GDP growth at 91% and switching, while lower, is still highly correlated to GDP growth at 69%. With data center growth and carriers building out wireless networks around the world, we don't view these core businesses as challenged any time soon. Rather, we think that these businesses can generate steady earnings and cash flow for the company to fund other initiatives that have the potential for more growth and margin improvement for Cisco."
Due to the strong cash position, CSCO's quarterly dividend per share was raised by 175% from $0.08 to $0.14 in October. Assuming a target dividend yield range between 3.5% and 4.0%, which I believe is conservative given the current low-interest market environment, and supposing that the annualized dividend per share would be raised by only 20% from the current level at $0.56 to $0.67 in the next year, this conservative scenario would imply a stock value range between $16.80 and $19.20, suggesting that CSCO's downside is limited.
Based on CSCO's estimated long-term earnings growth rate of 9.8%, I believe the stock should at least trade in a forward P/E range between 10.0x and 11.0x, which is fairly in line with the average valuation of the large-cap group but is still significantly below the mean P/E multiple of the network equipment group. Assuming the current analysts' estimated FY2014 EPS of $2.09 can be maintained, my target P/E multiples would imply a stock price range between $20.90 and $22.99, representing an average upside of 24% from the current market price. As such, I strongly recommend acquiring the shares now in the light of CSCO's tempting risk/reward profile.
The comparable analysis tables are created by author, all other charts are sourced from Capital IQ, and all financial data is sourced from Capital IQ.
Disclosure: I am long CSCO. I wrote this article myself, and it expresses my own opinions. I am not receiving compensation for it (other than from Seeking Alpha). I have no business relationship with any company whose stock is mentioned in this article.