SLM Corp. (NYSE:SLM) is expected to report Q3 earnings after the close Wednesday with a conference call scheduled for 8:00 am on Thursday, October 23.
Guidance
Analysts are looking for EPS of 36c on revenue of $862.99M. The consensus range for EPS is 34c to 37c, while the consensus range for revenue is $839M to $891M, according to First Call.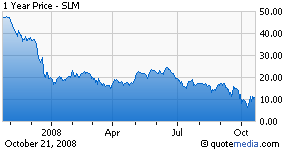 SLM wrote in an October 2 letter to its shareholders that the "fundamentals of (its) business are strong," and said it expects to meet or exceed consensus Q3 estimates. The company added that its private loan portfolio is "performing well." Furthermore, SLM noted that 82% of its loans carry an explicit government guarantee, and the company reported that it is "liquid and well-capitalized." SLM added that the charge-offs of its private loan portfolio are 11% lower than it had previously forecast.
Analyst Views
Meanwhile, Friedman Billings Ramsey recently wrote that the company presents a buying opportunity. Some investors are worried about the company's liquidity levels, but Friedman Billings thinks the company has sufficient liquidity to meet its obligations while continuing to fund profitable new loans. In addition, the firm also reported that the Bush administration is considering using its authority to buy back student loans at a price equal to principal plus interest and origination fees. The firm, which reiterated its Outperform rating on SLM, believes such a move by the government would reduce the company's uncertainty.