We have held a long position in Whole Foods Market (NASDAQ:WFM) since 1999. We have also kept our eye on Starbucks (NASDAQ:SBUX) for a similar period of time. While both companies operate in different industries, both companies have been game-changers in each firm's respective industry market and both firms have been able to generate strong revenue and profit growth for at least a generation. In our mind, we consider Starbucks and Whole Foods Market to share a common bond in that both companies had John Moore as a former long-time marketing executive and both companies enjoyed strong growth while Moore was leading the marketing efforts. Both companies have also generated strong returns for shareholders since 1999 even though both firms stumbled a bit during the mid-2000s due to over-expansion.
click to enlarge images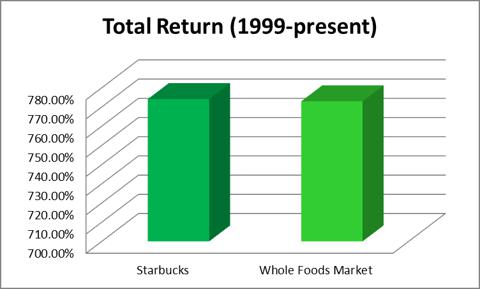 Source: Morningstar Direct
Although we are wishing that we had taken a stake in Starbucks before it released its recent EPS beat, we are pleased that it is off 10% from when we revisited the company in June. Starbucks reached an all-time high of $62 in April before it declined to a near-term low of $43.04 in August. The company's share price has gone up by 11% in November thanks in part to its better than expected EPS recently. The company beat consensus EPS estimates by $.01 and generated adjusted EPS growth of 24% year-over-year in Q4 2012. The company generated 11% revenue growth for the quarter and 13.7% for FY 2012. Operating income increased by 16% in both years as the company was able to benefit from position operating leverage. Company-operated stores accounted for 79.2% of its revenues during the quarter and fiscal year and saw revenue growth in the high single digits for both periods. The company's Licensed Stores accounted for 9.1% of the company's revenues and saw 14.4% growth during the quarter and 20% growth during the year. Starbucks's CPG, foodservices and other products accounted for 11.7% of its revenues and generated 33.4% growth in Q4 2012 and 46.6% growth during the year on the strength of its rapid sales growth for Starbucks and Tazo-branded K-Cup® portion packs.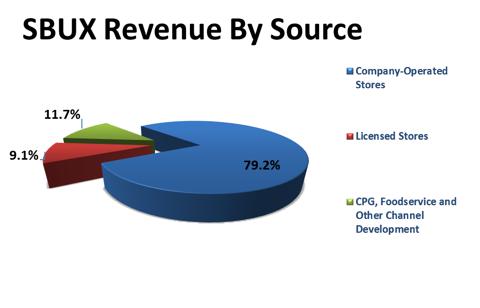 Source: Starbucks Q4 2012 Financial Report
The company generated $1.72B in operating cash flows for FY 2012 and spent $980M on net CapEx and acquisitions. SBUX generated $720M in free cash flows in 2012 and spent $549M on dividends and $166M on share repurchases. The company initiated a dividend in 2010 ($.10/share) and has boosted it to $.21/share as of the most recent quarter. This new per share dividend distribution level is nearly 50% of the company's FY 2012 EPS and represents a compounded annual growth rate of over 28% since 2010. The company has $550M in long-term debt and its debt is offset by its $2.5B in cash and marketable investments. Starbucks generated return on equity of 31.5%, which shows us that the company is able to earn profits in excess of its cost of capital and its dividend and share repurchase program shows us that the company realizes that it knows when to return cash flows to shareholders rather than engaging in breakneck growth for the sake of growth.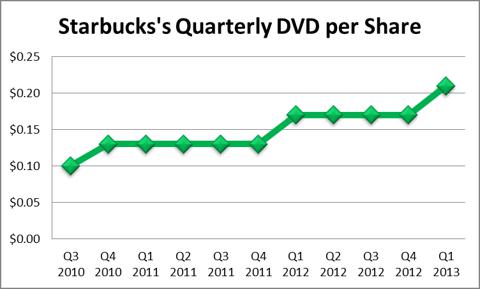 Source: Starbucks's Investor Relations Dividend History
An important statistic to take into consideration in the retail business (especially for specialty retailers like Starbucks and Whole Foods Market) is comparable store sales growth. Starbucks had generated 6% global comps for Q4 2012 based on 5% increase in traffic and a 1% increase in the average ticket price. For FY 2012, SBUX's comps were 7% based on 5% average customer growth and a 2% increase in average ticket. SBUX's America's region saw Q4 2012 comps of 7% and FY 2012 comps of 8%. The China/Asia Pacific region generated 10% comps in Q4 2012 and 15% comps in FY 2012. The Europe, Middle East and Africa regions saw flat comps throughout 2012 due to the eurozone economic weakness caused by the European sovereign debt crisis. For its part, Whole Foods enjoys strong comps as well. The company had 8% or greater comps for 10 out of its last 11 quarters and is has generated 7.3% in comparable in the first five weeks of FY 2013 even though it had to deal with blowback from Hurricane Sandy. The achievement that impresses us the most about Whole Foods Market's comps is that its 72 stores that are over 15 years old have generated comps of 6.4% in the most recent quarter.
We won't pretend that Starbucks is a value stock like it was in the 2008-2009 time periods. Whole Foods is trading at 23.7X consensus 2013 EPS estimates. We're not surprised at its high PE ratio since it has grown its EPS at an average rate of 18% for the last 9 years, which included the 2007-2009 period in which its EPS stumbled by 40% over the two year period. Starbucks recently opened its first 3 Starbucks stores in India in partnership with Tata Global Beverages Limited. The company recently announced a partnership with Square, Inc. in order to provide enhancements to its mobile payment platform. SBUX targets 10-13% revenue growth based on mid-single-digit comp store sales growth, approximately 1300 net new stores and continued growth in its Channel Development (NYSE:CPG) business.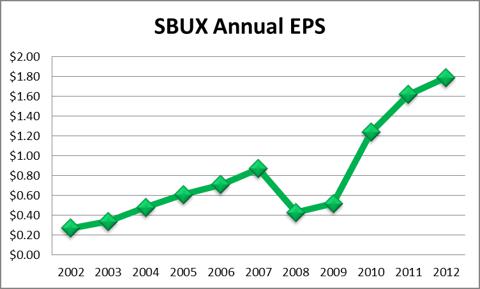 Source: Morningstar Direct
In conclusion, we can see why Starbucks is the world's leader in coffee. The company has literally reinvented the way we think about coffee and other caffeinated beverages. Since Howard Schultz regained his position as CEO of Starbucks after an eight-year hiatus and two years after he sold the Seattle Supersonics professional basketball team to Clay Bennett, the company has regained its previous caffeinated performance results. We think that the founders of Starbucks are wishing that they didn't sell Starbucks in order to purchase Peet's Coffee & Tea (NASDAQ:PEET). Although PEET's has had respectable growth over the last 10 years, its growth and performance pales in comparison to the growth of Starbucks. Starbucks's FY 2012 profits were nearly four times as much as the revenues generated by Peet's during that same period. Although Starbucks isn't necessarily a traditional dividend payer, its 1.65% yield is comparable to the 1.63% SEC Yield on the iShares Barclays U.S. Aggregate Bond ETF (NYSEARCA:AGG) and unlike the AGG, Starbucks's dividend is expected to increase annually.
Disclosure: I am long WFM. I wrote this article myself, and it expresses my own opinions. I am not receiving compensation for it (other than from Seeking Alpha). I have no business relationship with any company whose stock is mentioned in this article.
Disclaimer: This article was written by an analyst at Saibus Research. Saibus Research has not received compensation directly or indirectly for expressing the recommendation in this article. We have no business relationship with any company whose stock is mentioned in this article. Under no circumstances must this report be considered an offer to buy, sell, subscribe for or trade securities or other instruments.