A handful of SA contributors and "commenters" have recently suggested that they do have currency protection through their U.S. equity holdings. Large U.S. multinationals are increasingly generating earnings from their foreign operations, which in turn are generating revenues and income in various countries and currencies. That is certainly true. These multinationals now generate 40% of their profits from overseas. They are successful in nations such as China, India, Latin America and much of South Asia and Europe. This is a great long-term event, generating revenues in fast-growing nations and regions.
"The S&P 500 is not U.S. GDP," says David Bianco, head of U.S. equity strategy for Bank of America Merrill Lynch. "The S&P 500 continues to outgrow the U.S. economy. Earnings power is decoupled from U.S. GDP."
Here are a few examples. Wal-Mart (NYSE:WMT): Total revenue: $420 billion. Portion from overseas: 26%; Exxon-Mobil (NYSE:XOM), $342 billion in revenue, 45% from overseas; General Electric (NYSE:GE), $149 billion in revenue, 54% from overseas; Bank of America (NYSE:BAC), $134 billion in revenue, 20% from overseas; Ford (NYSE:F), $129 billion in revenue, 51% from overseas; IBM (NYSE:IBM), $100 billion in revenue, 64% from overseas; Amazon (NASDAQ:AMZN), $34 billion in revenue, 45% from overseas; McDonald's (NYSE:MCD), $24 billion in revenue, 66% from overseas; Nike (NYSE:NKE), $21 billion in revenue, 50% from overseas.
Impressive earnings power yes. But does it provide a currency hedge? The short answer is - the hedge appears to be quite modest.
The hurdle is that U.S. companies cannot repatriate those earnings without facing significant taxes. To be more precise, U.S. companies cannot return those funds to shareholders, buy another U.S. company, invest in new domestic plants and buildings and equipment without facing (potentially) the top corporate tax rate of 35%. Ironically (or horribly), they can repatriate those profits absolutely tax free if they invest in U.S. "assets" such as U.S. Treasuries. Huh? Say it ain't so, Joe.
Multinationals can also bring home those profits to the U.S. (absolutely tax free) thanks to federal tax code, specifically Section 956(c)(2), if they invest those funds in other U.S. "assets" such as U.S. stocks other than their own, U.S. bonds, or U.S. mutual funds. The company must then pay taxes on any profit and income from those investments.
On the flip side (of the ocean), if that same corporation uses foreign earnings to purchase a foreign business, no repatriation is required and no U.S. tax is due. As we know, many of the foreign countries in which these companies operate offer very attractive tax rates and other incentives. Cheap labour, low tax rates. What's not to like for U.S. multinationals?
This from tax.com:
More recently -- say, over the last decade -- it has become increasingly apparent that flaws in our international tax rules also play a significant role in hindering corporate distributions. As multinationals book an increasing share of their profits outside the United States, and the foreign effective tax rate on those profits drops, corporations cannot get large portions of their retained earnings into the country without paying large amounts of U.S. tax. If they do not return those profits to the U.S. parent, they cannot pay dividends to their shareholders.
A Dharmapala, Foley, and Forbes study showed that when corporations were able to repatriate profits during a tax holiday in 2004, most of those monies were returned to shareholders in the form of dividends and buybacks. That study reported estimates of between 60% and 92% of all repatriated profits being used for shareholder payouts. That's a frustrating fact for shareholders, knowing that the profits are there, and the money would likely end up in their pockets, if only more of it could find its way home, and the tax code did not discriminate against dividend distributions.
It appears that almost half of U.S. multinationals' profits are finding their way home. But they have no incentive to return those earnings to shareholders, or to create jobs at home by building new facilities or upgrading existing operations. In another horrible twist, those repatriated funds are sitting in Treasuries, or used to buy stock potentially in other multinationals. Yes the tax system sometimes delivers "unintended consequences."
Let's do some quick math. For every dollar invested in the "average" multinational, 40% of profits are derived from foreign operations. We're at .4. Half of those are funds are repatriated. We're at .2. If those foreign profits are repatriated and face the 35% tax rate we're now at .13, or a potential 13% direct currency hedge or exposure. Even if there was a tax holiday and the funds in total were redistributed as dividends and reinvested in domestic operations, the maximum would be a 20% portion of profits would end up in shareholder hands, or utilized to grow the domestic business.
But foreign profits can certainly effect the companies' valuations and result in stock price appreciation. But it gets even more complicated.
IRS data suggests that, globally, U.S. nonfinancial companies hold at least three times more cash and other liquid assets than the Federal Reserve reports. Multinationals create CFCs (Controlled Foreign Corporations), which are legally separate entities, incorporated in host countries and are more than 50% owned by U.S. shareholders. That suggests that U.S. shareholders do not necessarily own the entire foreign operation and their profits. You can find the answer on that for each individual company on their financial reports.
The Fed's latest Flow of Funds report showed that U.S. nonfinancial companies held $1.7 trillion in liquid assets at the end of March. But newly released IRS figures show that in 2009 these companies held $4.8 trillion in liquid assets. Accounting gets messy when the trillions are thousands of miles away. Not only that, U.S. assets (such as patents, software and intellectual property) and profits from such assets can flow freely out of the U.S. into foreign operations.
All said, having this potential currency hedge embedded into your U.S. holdings seems a bit "mushy." An investor is not able to separate or access the currency gains in a period when the U.S. dollar might be falling. If the currency hedge is isolated as its own asset class or holding, an investor can then take some profits/gains off the top and reinvest or rebalance into other asset classes. Or in their retirement, they can spend some currency-generated gains eliminating the need to draw down against some U.S. assets that might have fallen.
If U.S. investors are concerned about the U.S. dollar, and the effects of deficits and debts and prolific money printing on their spending power, they would perhaps be better served by a more pure currency hedge.
Investors could purchase a foreign equity ETF such as Vanguard's Emerging Markets ETF (MUTF:VMMSX). The fund invests in emerging market countries, including Brazil, Russia, India, and China.
There is also currency exposure available in iShares series of foreign equity ETFs such as iShares MCSI Australia Index Fund (NYSEARCA:EWA), iShares FTSE China 25 Index Fund (NYSEARCA:FXI), iShares MCSI Hong Kong Index Fund (NYSEARCA:EWH), iShares MCSI Brazil Index Fund (NYSEARCA:EWZ) and iShares MCSI Canada Index Fund (NYSEARCA:EWC).
This from the iShares site:
The funds do not expect to engage in currency transaction for the purpose of hedging against declines in the value of the funds' assets that are denominated in non-U.S. currency.
And looking north, U.S. self-directed investors who select their own equities may want to consider a basket of stable Canadian dividend growers such as Royal Bank of Canada (NYSE:RY), Scotiabank (NYSE:BNS) and Toronto-Dominion Bank (NYSE:TD), plus pipeline/utilities such as TransCanada Pipelines (NYSE:TRP) and Enbridge (NYSE:EEP) (which currently delivers the majority of Canadian oil to the U.S.), and Telco's such as BCE (NYSE:BCE), Telus (NYSE:TU) and Rogers (NYSE:RCI).
And to keep it even more simple (and pure), you can virtually hold most currencies with Currency Share ETFs. You can purchase currency share ETFs in countries not plagued by high deficits and debt levels. Harry Browne who created the Permanent Portfolio recommended holding Swiss Francs. Other candidates would also include Australia and again, Canada, and potentially a basket of developing nations' currencies.
And you could also hold the world's oldest and most trusted currency, gold. That is available in the ETF (NYSEARCA:GLD).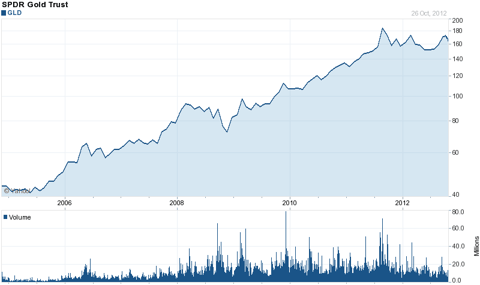 And what may even be the simplest currency hedge available, you could simply short the U.S. dollar via the ETF (NYSEARCA:UDN) - PowerShares U.S. Dollar Bearish ETF.
One should certainly consult a Certified Financial Planner before undertaking any currency hedging strategy. And of course, do your own (and very extensive) research. There's a whole world of options available.
But given the times, it might be a prudent idea to have your portfolio fluent in a few languages. Si?
Disclosure: I have no positions in any stocks mentioned, and no plans to initiate any positions within the next 72 hours. I wrote this article myself, and it expresses my own opinions. I am not receiving compensation for it (other than from Seeking Alpha). I have no business relationship with any company whose stock is mentioned in this article.
Additional disclosure: Please note that Dale Roberts aka cranky, the crankywriter, the scaredy cat investor is not a licenced investment advisor, and the above opinions should only be factored in to an investor's overall opinion forming process. Consult a licensed investment advisor before making any investment decisions. Please. Dale Roberts has exposure to developing markets through the ETF cbq.to, and gold equities through the ETF xma.to listed on the Toronto Stock Exchange. Dale Roberts also has exposure to gold through the fund Sprott Canadian Equity.