It is an experience I am not used to - looking at my stock-market tracker and seeing my portfolio down by at least 4% for the (as yet, only four-hour-old) trading day. Was I still asleep and having a particularly intense nightmare? Did the entire economy tank in just one night? Had the world ended without letting me know?
No.
The market was down, to be sure: at 1:00PM on November 14, 2012, the Dow was down 0.61%; the S&P 500 was down 0.47%; NASDAQ was down 0.34%; and the NYSE Composite was down 0.65%. Everything was pretty much the way things have been since the election on November 6.
For the time being, down is normal. And we haven't even gone over the fiscal cliff yet.
I pretty much did what any investor would do in my situation: I pulled out all my hair.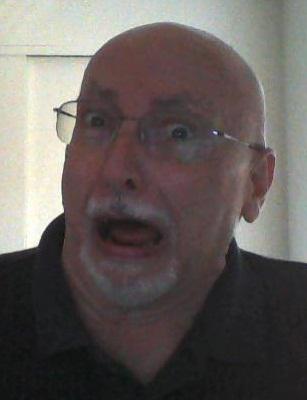 I can't tell if my screaming was from the enormity of the loss I was suffering, or if it was from all the hair-pulling. It all pretty much amounts to the same thing in the end.
Then I sat back, regained my composure, and did what any responsible contributor to Seeking Alpha would do: try to find a way to milk this for all it was worth.
No . . . really, I set out to find what was going on. Why was I suffering so disproportionately from losses everyone else seemed to be touched by?
I looked into my portfolio, and there - staring me in the face - was the culprit: Triangle Capital Corporation (NYSE:TCAP). It was down.
Again.
But this time, the sheer magnitude of the loss was something I had never experienced before - it was down by $3.07/share - a more than 12% drop in value. I realize that I am not the only person to see their stock go down by $3.00 per share - Apple stockholders have lost six times the amount I have invested in TCAP - per share, that is. It's just completely mind-boggling, though, to see that kind of loss in one's own portfolio, attributable to just one holding. I can now get a feeling for what people went through when they bought into the FaceBook IPO.
<Shudder>
I've been through losses before, and when something seems strange about a loss I go through a series of "re-evaluations." Did I make a mistake in choosing that particular stock? Did I overlook something? Did I miss a signal that should have warned me that something bad was on the horizon?
So here I go again - second-guessing myself.
Here is a thumbnail sketch of the first things I look at when I consider a stock: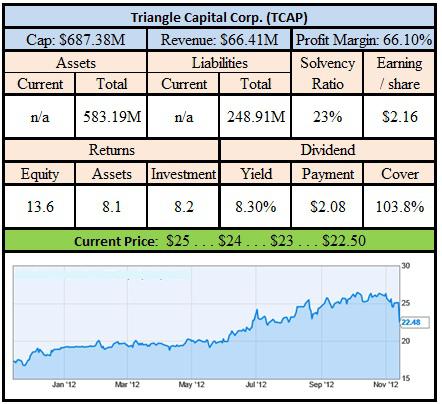 TCAP is a business-development company (BDC) that made its IPO in February, 2007. As one can see from the thumbnail, TCAP is a strong small-cap company whose total assets are more than double its total liabilities, and it maintains a solvency ratio of 23%. Currently, their liquidity is approximately $300 million; as of September 30, 2012, TCAP had $60.1 million in cash and cash equivalents. Its net profit margin is a very healthy 66.1%, and its returns on equity, assets and investment all indicate a management that is using its resources efficiently.
During the 3rd quarter, 2012, TCAP's total investment income year-over-year was up 50% - $24.3 million in 2012, up from $16.2 million in the 3rd quarter, 2011. Net investment income was up 52.8% over last year - $15.9 million for 3rd quarter 2012 up from $10.4 million for 3rd quarter 2011. Net asset value (NAV) per share for 3rd quarter 2012 was $15.33, up from $14.68 per share in December, 2011. TCAP also prepaid $30.4 million in Small-Business-Administration-guaranteed debentures that carried a 6.5% interest rate, thus decreasing its long-term debt and saving interest costs.
Since its IPO up to and including the 3rd quarter, 2012, TCAP has made 23 consecutive quarterly dividends, and has increased dividends 13 times. Most recently, it declared a $0.52 per share dividend for Q3, 2012, up 4.0% over the Q2, 2012 dividend, and up 18.2% year-over-year. Dividends are normally handled through the company's DRIP, although investors may opt out of the DRIP and receive dividends in cash. The table below shows the gradual growth of TCAP's dividend payments on an annual basis (NOTE: in 2009 and 2010 a fifth dividend payment was made).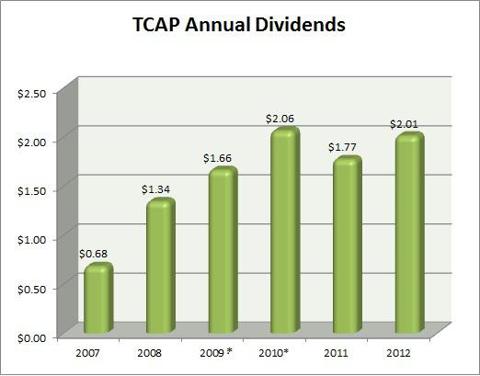 The company maintains an active posture in pursuing new investments. While some BDCs may focus on particular market sectors, TCAP is one of those companies that maintain a broadly diversified portfolio of investments. It focuses its investments in mezzanine loans, which have the advantage of allowing them to charge higher-than-average interest rates, and avails them the opportunity to acquire ownership from debtor companies in the event of default. Mezzanine loans do, however, have a lower priority than senior loans in terms of repayment, leaving the lender with the risk of losing its investment. During the 3rd quarter of 2012, TCAP invested in eight new companies for a total of $71.9 million.
From all of the above information, I can conclude that my investment in Triangle Capital Corporation was based on solid data. To be sure, BDCs, like mREITs, are vulnerable to a variety of market conditions that make them particularly volatile investments. This would be particularly true in an economic environment that is uncertain, or situations where debtors were able to prepay all - or even a substantial part - of their loans. Where mezzanine loans are involved, there is always the risk that, in the event of a business failure, by the time the company holding the mezzanine loan has their claims addressed, the borrower's assets have been drained by other, more senior loans.
Next, I asked myself if there was a systemic problem involved here - one that affected not only TCAP, but other BDCs as well. After looking at the BDC market, I realized that this was, indeed, a distinct possibility. Of 21 companies examined, all had suffered one degree of loss or another. These are some of those 21 companies - specifically, ones that lost at least 2% of their share value on this date:
Capital Southwest (NASDAQ:CSWC) -2.4%
Fifth Street Finance (NYSE:FSC) -2%
Gladstone Capital (NASDAQ:GLAD) -5.6%
Gladstone Investment (NASDAQ:GAIN) -3.2%
Kayne Anderson Energy Development (NYSE:KED) -3.9%
Kohlberg Capital (Kcap Financial) (NASDAQ:KCAP) -6.7%
Main Street Capital (NYSE:MAIN) -10.4%
NGP Capital Resources (NGPC) -3.3%
PennantPark Investment (NASDAQ:PNNT) -3.5%
Prospect Capital (NASDAQ:PSEC) -3.6%
Solar Capital (NASDAQ:SLRC) -4.6%
THL Credit (NASDAQ:TCRD) -4.6%
Medallion Financial (TAXI) -2.1%
Triangle Capital -10.6%
I take no comfort in noticing that TCAP was the biggest loser of the day from this group; Main Street Capital was the closest at -10.4%, but this wasn't supposed to be a race to see who could lose the most.
If pressed to come up with a reason for such significant losses on the day, I would have to cite investor panic over the prospect of the "fiscal cliff" many seem to believe is inevitable. Panic is the one risk factor one can never fully predict or understand. Warren Buffett has commented that even if a fiscal cliff were to become reality, the effects would not be an instantaneously disastrous blow to the economy, and there is much to take faith in in that observation.
But fear is a powerful force. No doubt the differing economic beliefs between Barack Obama and Mitt Romney played a role in influencing voter expectations, and with Obama's re-election, there was bound to be some measure of disappointment with respect to those expectations. Continued panic reactions such as today's, however, do not bode well for the health of the economy by virtue of the losses they inflict on the investing public at large.
And we haven't even reached a fiscal cliff.
There is a bright side to this, however. Just think of all the bargains that are out there waiting for those of us who are willing to listen to Buffett's advice: buy when everyone else is selling.
In the end, I lost $2.66/share on my TCAP - -10.6%. Overall, I dropped 3.88% of my portfolio value today, Wednesday, November 14, 2012. The Dow ended up -1.45%, the S&P was -1.39%, NASDAQ ended the day -1.29%, and the NYSE Composite was -1.49%. But who knows? Maybe I'll make some of mine back tomorrow, and so will others.
You just need a little sense of humor.
And, hey. I think I look good bald.
SOURCES: As usual, thanks to YCharts for the chart. Much of my data was obtained through Motely Fool; 3rd quarter data for TCAP was obtained in their Triangle Capital Corporation Reports Third Quarter 2012 Results. Data on dividend history was acquired from their website.
Disclosure: I am long TCAP. I wrote this article myself, and it expresses my own opinions. I am not receiving compensation for it (other than from Seeking Alpha). I have no business relationship with any company whose stock is mentioned in this article.