With all of the hype surrounding sales of the Samsung's (OTC:SSNLF) Galaxy S3 and Apple's (NASDAQ:AAPL) iPhone 5, investors may want to consider investing in the guts of both of these smartphone brands. Qualcomm (NASDAQ:QCOM) is a play on both high-profile smartphones as its chips are used in the Galaxy and the iPhone.
The Galaxy S3 had sales of 18 million units last quarter as compared to iPhone 4S sales of 16.2 million units. However, Apple's new iPhone 5 has the likely potential to top Galaxy S3 sales in the current quarter. The Galaxy S3 uses Qualcomm's Snapdragon S4 Plus processor, while the iPhone5 uses its own A6 chip but also contains Qualcomm's CDMA-LTE chip.
Qualcomm's chips are also used in other smartphone brands such as Google's (NASDAQ:GOOG) Nexus 4, the various DROID phones, Microsoft's (NASDAQ:MSFT) Windows Phone 8, the Nokia (NYSE:NOK) Lumia, and others.
As Qualcomm is the common denominator in the world of smartphones, the company should benefit from above average revenue and earnings growth for the future. The company has multiple upward earnings revisions for 2012 and 2013, which should act as a catalyst for the stock in the near term. It is expected to grow earnings annually at 14.22% for the next five years. This will provide sufficient growth to allow the stock to outperform the market.
Qualcomm pays a dividend of 1.6%. Although a modest yield, the company has increased the dividend annually for nine consecutive years.
In addition to dividend payments, the company plans to create value for shareholders by continuing its stock repurchase plan which has no expiration date. As more shares are retired, the supply is reduced, which creates a more favorable condition for a rising stock price.
The company looks fairly valued on the low end of the scale with a forward P/E ratio of 13.93, a PEG of 1.01, and a price to book ratio of 3.14. Qualcomm enjoys a wide profit margin of 31.95%. For the past twelve years, it has achieved an operating cash flow of $6 billion and free cash flow $4.57 billion.
The balance sheet also looks great with $12.37 billion in total cash and only $60 million in total debt. The current ratio of 2.95 also reinforces the strength of the balance sheet.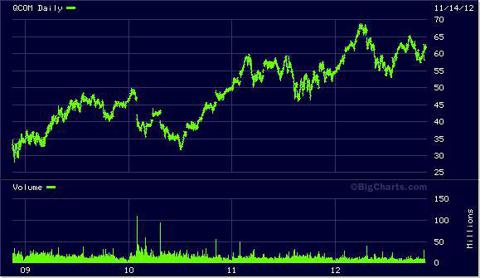 Future Outlook:
The worldwide transition of 2G to 3G and 3G/4G networks is expected to continue. This includes the expansion of 3G in China, India, and other emerging regions. The increase of lower-end smartphones will help to contribute to this expansion.
Consumer demand for advanced 3G and 3G/4G networks for smartphones and other devices is expected to remain strong.
The company continues to invest in the development of technologies and products for voice and data communication. This includes advancements to 3G and 4G LTE, wireless baseband chips, and Snapdragon chips.
With smartphones flooding the market throughout the world, Qualcomm stands to benefit as its chips are essential to the wireless environment. Investors in Qualcomm will benefit from its good valuation, dividend payments, and above average earnings growth. When dividends are reinvested, investors can expect to double their money in approximately five years.
Disclosure: I am long AAPL. I wrote this article myself, and it expresses my own opinions. I am not receiving compensation for it (other than from Seeking Alpha). I have no business relationship with any company whose stock is mentioned in this article.