Immersion Corporation (NASDAQ:IMMR) has experienced an unusual trading pattern in the last 4/5 weeks, although the share price remained relatively stable if we just look at the historical closing prices on October 9th ($5.44) and November 13th ($5.76).
Here is a quick look at what happened in between these two dates, with some added commentary: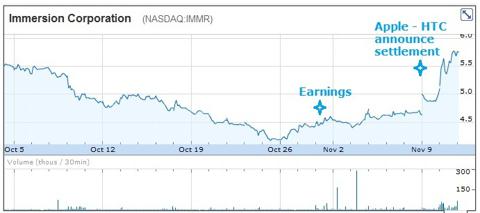 Click to enlarge
Chart from Google Finance - click to enlarge
As you can see, the share price experienced a steep decline getting into earnings, probably reflecting investors negativity about Q3 results, a relatively flat reaction to earnings, and a couple of trading days characterized by outstanding double-digit gains (+10.2% on Monday and +12.9% on Tuesday).
What happened?
Absent company's news, it is only possible to speculate as to what might have caused this sudden price appreciation. We'll try to avoid mentioning unsubstantiated facts like buy out rumors, to concentrate on searching external events which might have had an indirect effect on the company.
As you might have noticed, we've put some emphasis on the chart on an apparently unrelated news that was released during the weekend. Here is how Apple (NASDAQ:AAPL) announced its out-of-court agreement with HTC:
HTC and Apple® have reached a global settlement that includes the dismissal of all current lawsuits and a ten-year license agreement. The license extends to current and future patents held by both parties. The terms of the settlement are confidential.

"HTC is pleased to have resolved its dispute with Apple, so HTC can focus on innovation instead of litigation," said Peter Chou, CEO of HTC.

"We are glad to have reached a settlement with HTC," said Tim Cook, CEO of Apple. "We will continue to stay laser focused on product innovation."
Immersion and HTC are also involved in a litigation
On February 8, 2012 Immersion announced that it had sued Motorola for patent infringement related to its "basic haptics" technology. HTC was added as a defendant in the same case at a later stage. In April, The U.S. International Trade Commission (USITC) voted to institute an investigation, as requested by Immersion, which is now nearing the completion of its discovery phase, and expected to last until October 2013.
Although the first deadlines for potential settlements have already expired, during the last conference call Immersion's CEO remained optimistic about the possibility to sign licensees for basic haptics by year's end, which obviously might also include settling with either HTC or Motorola:
In the mean time, we continue to engage in discussions with current and new customers to license basic haptics. The final result and timing of these discussions remains unknown. However, we continue to believe there is potential for Immersion to monetize unrealized opportunities for basic haptics in the current fiscal year.
HTC's agreement with Apple, and the company's comments about the desire to focus on innovation rather than litigation might have sounded to some investors as a change of policy which might also lead to positive repercussions for similar cases, including Immersion's ongoing litigation with HTC.
Immersion isn't new to strong stock movement on speculations
As Seeking Alpha Market Currents noticed, Immersion has a past history of strong price increases mostly related to speculations about the implementation of haptic technology into either the iPhone or the iPad, sometimes fueled by interesting patents filed by Apple in this field. These movements are usually short lived, as these speculations end up being nothing more than wishful thinking.
Time will obviously tell if we're connecting the right dots to explain a stock movement which sounds a lot like in anticipation of a future, positive event, and, more important, if Immersions investors, often used to going from euphoria to disillusion in just a few trading days, might finally get a chance to say "this time it's different".
Disclosure: I am long IMMR. I wrote this article myself, and it expresses my own opinions. I am not receiving compensation for it (other than from Seeking Alpha). I have no business relationship with any company whose stock is mentioned in this article.