On September 12th, I recommended that investors steer clear of shares of Annaly Capital Management (NYSE:NLY) and that holders of their common shares sell them immediately.
Specifically, I wrote that:
mREITs will have to face reality sooner rather than later. I strongly suspect that what keeps the share prices floating for the time being is a desperate clinging on to anything that resembles yield, together with adages such as "the share price has risen and is likely to keep rising. I believe that dividend cuts in the mREITs sector are imminent. These, in turn, will lead to a strong wave of selling by unsuspecting shareholders."
This is what happened to the share price of Annaly Capital since the time of writing: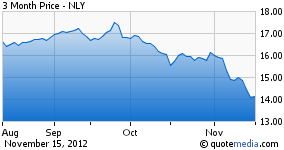 At the time we first urged investors to sell their holdings in this company, shares closed at $17.75. After only 3 months and a steep decline, they are now trading at $14.08. That is a whopping 20% decline in a stock that is perceived by many to be a harbor of safety and a steady stream of income.
What has happened in the past 2 months
Management: On October 22nd, the company announced the untimely death of Mr. Michael Farris, the company's founder and CEO. The main reason why Annaly's management has always been perceived as extremely capable is the presence of this founder, Mr. Farris. It is still highly unclear whether current management will be able to navigate the ship the same way.
A Downgrade: analysts have finally woken up and gave this stock an "underperform" with a lowered price target of $13.5. The reason for this downgrade is mounting concerns regarding the future profitability of the mortgage segment.
An acquisition: Annaly announced its bid to buy Crexus, a commercial- mortgage investor, as part of a broadening of its strategy. After this acquisition is completed, Annaly will allocate as much as 25 percent of shareholder equity to other investments besides mortgages.
But not all is gloom and doom. One positive signal for the company came on October 16th when the company announced an aggressive share buy-back program. According to the announcement, the board of directors authorized to acquire as much as $1.5BL worth of its common shares in the next 12 months. I believe that initiating such a move is bound to provide some 'floor price' for the stock in the future.
Suffering across the board
Let's take a look at some of Annaly's peers in the sector and try and figure it whether this current storm is unique to Annaly or whether the mREIT sector, as a whole, is under fire. We shall look at Chimera Investments (NYSE:CIM), American Capital Agency (NASDAQ:AGNC), Invesco Mortgage Capital (IVR), American Capital Mortgage (NASDAQ:MTGE).
| | | | |
| --- | --- | --- | --- |
| | Market Cap | P/B (2 months ago) | P/B (current) |
| NLY | 13.6BL | 0.99 | 0.87 |
| CIM | 2.65BL | 0.79 | 0.83 |
| AGNC | 9.7BL | 1.11 | 0.91 |
| IVR | 2.1BL | 1.13 | 0.92 |
| MTGE | 0.8BL | 1.11 | 0.92 |
The most important gauge to consider when analyzing mREITs is the book value. Since most of mREIT's profits return to shareholders in the form of dividends, shares tend to trade near book value. We can observe that The recent pullback in the mREIT sector has hit almost all players and not just Annaly. Shares of all mREITS are currently trading at a discount to their book value.
And now, what?
I recommend NOT to buy into this sector just yet. I like to see a steep discount to book value prior to any purchase. I believe that a 25% discount to book value will provide us with a proper margin of safety. Do not settle for anything less than that.
Disclosure: I have no positions in any stocks mentioned, and no plans to initiate any positions within the next 72 hours. I wrote this article myself, and it expresses my own opinions. I am not receiving compensation for it (other than from Seeking Alpha). I have no business relationship with any company whose stock is mentioned in this article.