By Mitchell Hall
Russia's state-owned natural gas giant Gazprom (OTCPK:OGXPY) will take over natural gas trading and storage businesses it jointly owns with the world's largest chemical company, Germany's BASF (OTCQX:BASFY), as part of an asset swap meant to avoid further winter supply disruptions to Europe that have occurred in recent years.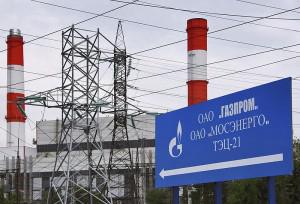 The companies Gazprom is acquiring generated $10.93 billion in sales in total last year.
No cash will change hands in the deal.
BASF will receive about 25% of two blocks in the Urengoy gasfield in western Siberia, with an option to increase its stake to 50%. The blocks have an expected production capacity of 8 billion cubic meters of natural gas and production is expected to start in 2016.
The Financial Times highlights analyst Andrew Benson at Citi Research, who says the deal might help BASF, a big energy consumer, to renegotiate gas supply contracts.
"The European gas market is evolving," he told clients. "The trend in Europe is towards spot prices . . . Gazprom appears to be playing a long-term game of accepting lower gas prices now but agreeing asset swaps for increasing its engagement and influence in European gas markets for its long-term benefit."
For Gazprom, the most valuable part of the deal is storage, which should help it meet its peak demand in Europe.
Gazprom supplies more than a quarter of Europe's gas needs, and is also under pressure thanks to the U.S. shale gas boom, which has freed up gas supplies for European consumers.
The company has been forced to renegotiate long-term, oil-linked gas contracts in Europe as spot-market gas prices have fallen below the price of those contracts, reports Bloomberg.
"Gazprom appears to be playing a long-term game of accepting lower gas prices now but agreeing asset swaps for increasing its engagement and influence in European gas markets," Citigroup said in a research note. "BASF may be taking the view that selling Wingas is a price worth paying to help facilitate lower gas and energy costs now."
Gazprom will take 100% ownership of the gas trading and storage joint venture in Germany and Austria it has operated with BASF unit Wintershall since 1993. Gazprom will also receive a 50% stake in North Sea gas and oil exploration and production company Wintershall Noordzee BV.
The deal isn't done yet. It's subject to approval by German authorities, who will have plenty of concerns to bring up given previous fights between Gazprom and Ukraine in 2006 and 2009 which severely disrupted European gas supplies.
The European Commission has also launched a recent probe into whether Gazprom abused its dominant position in the gas market to thwart competitors and push up prices in central and eastern Europe.
The Wall Street Journal reports that full control of the trading and storage venture will give Gazprom more flexibility in maintaining supplies into Western Europe by adjusting to spikes in demand that can occur in sudden cold spells, analysts said.
"Increasing our stake in gas trading and storage enterprises will allow us to continue our successful efforts to ensure a reliable supply of gas to Europe," said Gazprom Chief Executive Alexei Miller.
Sberbank Investment Research's Valery Nesterov says the deal will "make the market more stable."
Subject to approval, the deal will be completed by the end of next year and financially retroactive to April 1, 2013. If it goes through it will definitely help Gazprom's operations, but regardless, you have to be worried about the effects of North America's burgeoning shale gas deposits pressuring natural prices over the long term.