I set up my laid-back portfolio (LBP) on Feb. 23, 2012. Here I outline how I chose BreitBurn Energy Partners (BBEP), my last entry, which I fictitiously purchased on Sept. 25, 2012, at $19.49, including transaction fees.
Today, I will review the portfolio performance and also add a share.
Portfolio Performance Review
The table below shows portfolio performance since inception and comparison with the major indices.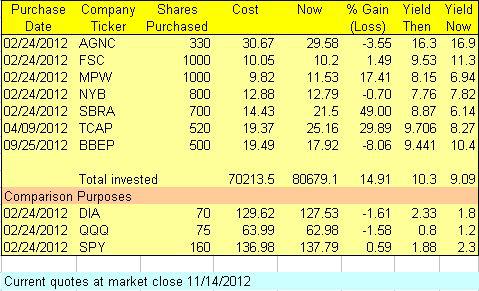 (Cost is comprehensive of $20 commissions.)
We can see that the portfolio is doing well. Both weighted-average yield of investment securities held and capital appreciation are outperforming the market.
A focus on dividend yield shows the following: With the 10-year Treasury at 1.59% and the portfolio average yield at 9.09%, the spread is quite wide. More good news is that the two latest entries, Triangle Captial (NYSE:TCAP) and BBEP, raised their dividends since portfolio inception.
Quest for Yield
Laid-back dividend investing means that I don't want to spend too much time researching dividend-paying companies. I look for sustainability of dividends. But I also want to have some sector diversification.
To date, the LBP includes one mREIT, American Capital Agency Corp. (NASDAQ:AGNC); two BDCs, Fifth Street Finance Corporation (NYSE:FSC) and Triangle Capital Corporation; two REITs, Medical Properties Trust (NYSE:MPW) and Sabra Healthcare (NASDAQ:SBRA); a bank, New York Community Bancorp (NYB); and an energy MLP, BreitBurn Energy Partners.
I'm about to introduce you to a company whose units I've actually owned (just a few, in fact) since late 2010.
Enter StoneMor Partners L.P.
StoneMor Partners L.P. (NASDAQ:STON) is an MLP. An MLP, or master limited partnership, is a limited partnership that is publicly traded on a securities exchange. It combines the tax benefits of a limited partnership with the liquidity of publicly traded securities (source: Wikipedia). It pays distributions instead of dividends, and shares of ownership are referred to as units.
STON is the second-largest owner and operator of cemeteries in the United States. The company operates 274 cemeteries in 26 states and Puerto Rico. STON also operates 69 funeral homes, 26 of which are on the grounds of its cemeteries. The cemetery products include burial lots, lawn and mausoleum crypts, burial vaults, caskets, memorials, and services to provide for the installation of the cemetery merchandise (source: company website).
STON Controversy
I'm aware that its accounting is difficult to follow. Even analysts themselves are confused. You can dip your toe in the question-and-answer session of this earnings call transcript (it relates to Q2 2012) to see an example of what I mean.
Then there are bearish Seeking Alpha articles as well, that go as far as to compare STON accounting to Ponzi schemes:
While not illegal, attracting new buyers by offering a (non-earnings supported) high yield is Ponzi-like in its methodology.
StoneMor Partners recently answered those articles, here. I provide just an excerpt:
Were StoneMor to satisfy all of its liabilities as of March 31, 2012, the company would still have more than $128 million in cash, 12,800 acres in cemetery land, perpetual care trusts with a value in excess of $250 million and 272 cemeteries and 76 funeral homes.
To put things in perspective, at current levels, STON has a $450 million market capitalization value.
What I Like
STON is a business that has several characteristics that I like.
It is a business that is recession resistant. People are going to die and need to be buried or cremated whether the economy is good or bad.
It is a business that is not subject to obsolescence. This industry has existed in various forms since the beginning of time and will be here well after we are all long gone.
It is a business that has high barriers to entry. Warren Buffett would say that it has a wide moat (hat tip judgejoe).
Distributions are on the rise, albeit slowly. Since its initial public offering in 2004, StoneMor has increased its distribution by more than 27.5% (source: company press release). At current market prices, STON yields 10.20%.
Barriers to Entry
The following list comes from a company presentation. There are substantial industry and financial barriers to entry for STON:
Scarcity and cost of real estate near densely populated areas
Zoning restrictions
Initial capital requirements
Strength of family tradition and heritage
Administratively complex business for new entrants
Deferred revenue accounting (SAB 101) makes cemetery acquisitions unattractive to "C-corps" valued on Earnings Per Share (NYSEARCA:EPS) and EBIDTA, keeping consolidators out of the market
Because of the barriers to entry, there are few new cemeteries built; the only way to enter the industry is to buy an existing cemetery
Conclusion
STON is thus my next selection for my Laid-Back Portfolio. As usual, I'll (fictitiously) buy $10,000 worth of STON units one day after publication on Seeking Alpha at mid-day prices so that I don't have an unfair advantage over you, the reader. Please be aware that STON is thinly traded. I wonder whether this article might be able to move the stock price.
Disclosure: I am long STON, TCAP and will not alter my position within 72 hours of the time of publication of this article. I wrote this article myself, and it expresses my own opinions. I am not receiving compensation for it (other than from Seeking Alpha). I have no business relationship with any company whose stock is mentioned in this article.
Disclaimer: Material presented here is for teaching and entertaining purposes only. It is not intended to be taken as financial advice, a recommendation to buy or sell the stocks mentioned above. Investing includes risks, including loss of principal.