Unlimited Money Printing
There is one Japanese politician who has really drunk deeply from the Western Kool-Aid that our vaunted central planners have imbibed in such generous quantities as well.
Liberal Democratic Party leader Shinzo Abe, currently in opposition, is said to be the likely winner of the upcoming election in Japan. He also believes that the BoJ must engage in money printing on a truly grand scale ("unlimited" certainly sounds grand enough) in order to "cure" Japan's alleged economic ills. We're not sure what he really wants the BoJ to cure though. The 4.2% unemployment rate? Everyday cheap prices for consumers? What?
In any case, the man is obviously the greatest living threat to the BoJ's continued independence and to the serene decline management it has so surprisingly well managed thus far. Moreover, he wants to "step up public spending" in the face of a public debt approaching 230% of GDP. Brilliant idea.
"Japan's main opposition leader Shinzo Abe, seen as the most likely next premier if a snap election is held next month, called on the central bank to print "unlimited yen" to achieve a new inflation target.

In comments on Wednesday, he didn't spell out what the inflation target should be. But in recent weeks he has called for the Bank of Japan to achieve 3 percent inflation, three times higher than the current target, after years of deflation pressures.

[…]

"The BOJ must set a (new) inflation target and print unlimited yen to achieve it. That's something similar to what the Fed and the ECB are doing. Only then would BOJ steps have a big impact on markets," Abe told a news conference.

"If we take power, we'd like to do our utmost to beat deflation," Abe said. "In doing so, monetary policy would be key."

He made the comments after incumbent Prime Minister Yoshihiko Noda said he was ready to dissolve the lower house of parliament on Friday and hold elections next month.

"There must be policy coordination" between the government and the central bank, Abe said, adding that if he were to take power, he could consider revising the BOJ law guaranteeing its independence from political interference.

Abe also said that following an election, the new government should compile a big supplementary budget and increase public works spending, suggesting that he would prioritise steps to boost growth over measures to put Japan's fiscal house in order."
(emphasis added)
If it is really true that this fiscal and monetary quack (if not to say terrorist) is about to grab the reins of power in Japan, it is presumably just about the worst thing that could possibly happen to the country.
He seems intent on proving that it is really possible to destroy the currency and create a fiscal crisis as long as one puts enough effort into the endeavor, and we believe him. Yes, it can be done. However, we wonder why on earth he would want to do that?
Needless to say, there is no deflation in Japan and there never has been. Japan's money supply has grown every year since the end of the bubble, albeit slowly. So there really is nothing for the BoJ to fight. Japan has many problems to be sure, but they have mainly to do with its demographics and the massive accumulated public debt that is the result of the willy-nilly deficit spending orgies of the past. None of them are amenable to even more deficit spending, not to mention "unlimited money printing." This is just nuts.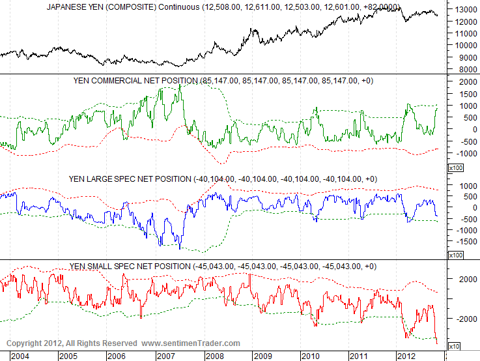 Click to enlarge
Net speculative positions in yen futures: small traders have never before held such a huge net short position. The market may be getting ready to deliver a helping of "anti-Abe" moves in the yen – via Sentimentrader