We reiterated our bearish stance on Trina Solar (NYSE:TSL) two days back and from that point on, the stock has shown a decline of 19 percent. We maintain our negative stance on the stock after looking at the cut in the company's third quarter guidance for profit margins and shipments. The company cut its guidance due to duties worth billions of dollars on the imports of solar equipment from China to the U.S. The company's high inventory level, imbalance in demand and supply and continuously decreasing profitability are growing concerns for investors. According to 17 analysts' estimates, its sales will further decrease by 16 percent in the next quarter.
Trina Solar has cut down its next quarter's solar shipment guidance to 375-385 Mega Watts from the previous guidance of between 450 Mega Watts and 480 Mega Watts due to the pilling up of inventory. It has estimated that its gross margin will be between 0 and 1.5 percent in the third quarter, in comparison to the previous guidance of between 5 and 6 percent. Moreover, as we can see in the graph below, the company is generating around 70 percent of its revenue from United States and European markets. In our opinion, its high exposure in the protectionist markets of United States and Europe would further decrease the company's profitability going forward.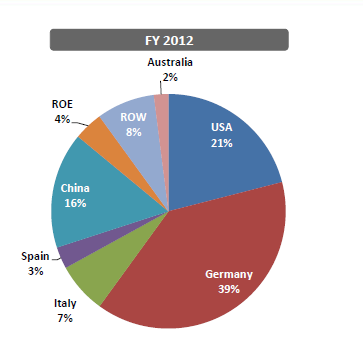 Source: Company Website
Obama is a big supporter of renewable energy and his victory in the recent elections is a positive sign for the Solar Industry. However, the benefits are limited to domestic solar manufacturers as the government has imposed high duties on Chinese solar imports. In response, the Chinese government has started giving subsidies in order to maintain its export position in the market. The United States government has further increased duties on Chinese solar imports for the next five years, after domestic manufacturers pressurized the government for protection. The United States commerce department has imposed high duties, ranging from 18.3% to 250%. Domestic manufacturers also complained that the Chinese companies are constantly selling solar panels below the market price after getting subsidies from the Chinese government. In our opinion, it is really hard for Chinese solar companies to revitalize their position in United States and European markets.
Stock Price Movement:
The stock has shown a significant decline of 63 percent over the course of last 6 months, after the U.S anti-dumping policies were implemented. The sudden decrease in the third quarter's guidance just a week before the announcement of results has created mistrust among investors. The stock is trading at 50-days and 200-days moving averages of $4.21 and $5.31, respectively. In our opinion, the stock will show a further downward trend, considering its weak future prospects.

Source: Google Finance
Valuation:
TSL is trading at a high price to sales valuation of 0.12x, at a premium when compared to its peers-Suntech Power (NYSE:STP), JA Solar (NASDAQ:JASO) and Yingli Green Energy (NYSE:YGE), with price to sales of 0.06x, 0.11x and 0.11, respectively. It is trading at a discount when compared to First Solar's (NASDAQ:FSLR) P/S of 0.69x. The company has a high debt to equity ratio of 127%. The stock is also burning cash. We do not see any plans from the company to cope with the regulatory threats and diversify its business to other emerging markets. Therefore, we advise investors not to take long position in the stock.
Comp Sheet.

 

Trina Solar

Suntech Power

JA Solar

Yingli Green Energy

First Solar

P/S

0.12x

0.06x

0.11x

0.11x

0.69x

P/B

0.18x

0.19x

0.16x

0.33x

0.59x

Enterprise Value/Revenue

0.54x

0.74x

0.5x

1x

0.63x

Enterprise Value/EBITDA

-7.69x

-16.78x

-19.64x

-20.19x

3.91x
Source: Yahoo Finance
Disclosure: I have no positions in any stocks mentioned, and no plans to initiate any positions within the next 72 hours.
Business relationship disclosure: The article has been written by Qineqt's Energy Analyst. Qineqt is not receiving compensation for it (other than from Seeking Alpha). Qineqt has no business relationship with any company whose stock is mentioned in this article.