Armour Residential REIT Inc (NYSE:ARR) recently announced its quarterly results. While Armour is not going to be confused with American Capital's mREIT offerings and we had to carefully analyze and evaluate Armour's management, we can take comfort in the fact that Armour at least generated better operating performance than the mREIT industry heavyweight Annaly Capital Management (NYSE:NLY). Both companies were burned badly in the mREIT massacre that took place from October 5th to October 15th and both have seen weak performance in the ensuing weeks. However, we believe that Armour is at least a better mREIT offering for investors than Annaly and we believe this not because Armour's yield is at least 200bp higher than Annaly's.
Although Armour had a 25% dividend cut over the last 18 months, Annaly also cut its dividends by a similar amount during the same time period. Although Armour's prepayments have picked up in the last quarter and a half, we can see that Armour's prepayments are well below Annaly's. We believe that even with the doom and gloom facing the mREIT industry due to the Federal Reserve's QE Infinity Program, well run mREITs can still harvest 10% annual yields to shareholders. While this is a noticeable drop from the 15% plus capital appreciation that investors have experienced in the golden era of mREITs that took place from March 2009 to August 2012, we believe that prudent and rational investors should come to appreciate that the expected 10% yields on mREITs are higher than the 5.5% SEC Yield that the iShares High Yield Corporate Bond ETF (NYSEARCA:HYG).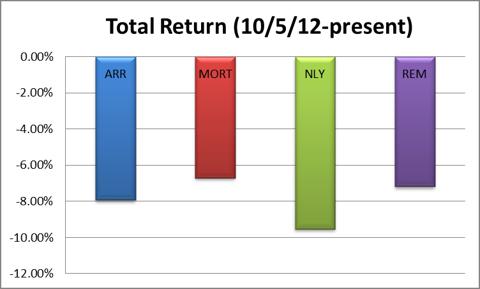 Source: Morningstar Direct
Although Armour cut its dividend by 10% in the last couple of months, the company is still paying out a $1.08/share annualized dividend payment. Unlike many mREITs that pay dividends quarterly, Armour pays its dividends on a monthly basis ($.09/share per month). The company saw strong growth in its assets and equity in Q3 2012 as it executed a secondary offering but because of the realities of the market, we are not expecting the company to go out and increase its assets much further.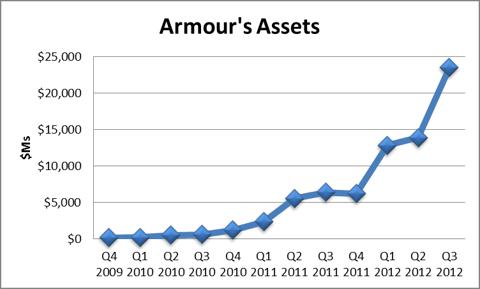 Source: Morningstar Direct
Based on the increase in book value that ARR enjoys due to the unrealized gains on its MBS portfolio and due to the $.264/share in core spread income generated during the quarter, we can see that mREITs are capable of paying 10% annualized dividend yields even with the narrowing interest spreads due to central bank interventions. ARR has $.32/share of estimated taxable net income per share as of Q3 2012 and it distributed $.30/share as dividends. We expect the company to sustain the new quarterly dividend of $.27 for the near term based on its spread income, its undistributed taxable income and potential for realized capital gains as firms look to harvest value from the Federal Reserve's willingness to buy up MBS securities.
ARR enjoyed such strong performance early in 2012. It issued 213M shares in the first nine months of the year. Because of this rapid increase in outstanding shares going into the following periods as well as the steadily flattening yield curve, ARR was facing a tough challenge in order to top its Q1 2012 results. Needless to say, ARR's and Q3 2012 results were not as good as its Q1 2012 results. ARR's Net Spread Income per Share was $0.264 for the period versus $0.315 in Q2 2012, $0.306 in Q1 2012 and $0.318 in Q3 2011. ARR was not alone in seeing its core income decline and other factors that accounted for the drop in Net Interest Income per Share include:
An uptick in the CPR prepayment rate on its portfolio of mortgage-backed securities from 9.1% in Q2 2012 to 13% in Q3 2012
The rapid increase in its total net premium amortization. During the first half of 2012, the company's net premium amortization was $33.7M but $38M in just Q3 2012.
A 14% drop in the asset/equity ratio (from 11.1:1 in Q3 2011 to 9.6:1 in Q3 2012)
The continued decline in the average coupon of its MBS holdings narrowing the Average Net Interest Rate Spread enjoyed by the firm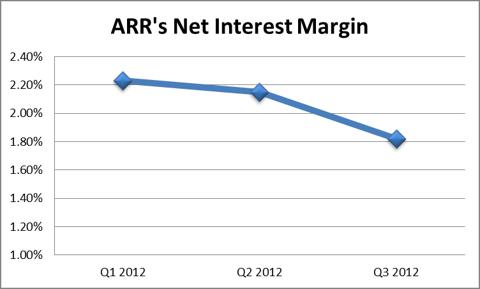 Source: Armour's Last Three Earnings Releases
If ARR was to cut its dividend again, we are of the opinion that it won't cut dividends until next year. We believe it will continue to pay the $.90 monthly dividend for the rest of 2012 and maybe even H1 2013. Before the Fed announced its QE Infinity program, we were expecting ARR to maintain the company's monthly per share dividend distributions at $.09 for the short and intermediate term. Despite the weakness of the economy, our assumptions were that there was no fundamental reason for the Federal Reserve to resort to another round of money printing especially since it had already purchased $2.1T of assets during the first two rounds of money printing and instead of engaging in QE3 last year, implemented the Operation Twist program in which the Fed sold short term debt and bought long-dated debt.
We believe that the company can maintain its $.09/share dividend for the rest of 2012 based on its level of net interest income per share and its strong level of realized and unrealized gains. We also believe that the open-ended monetary easing program will push the company to try to lock in its interest income received on its bonds and swaps in order to mitigate a likely decline in net interest income. The worst case scenario for ARR is that it will cut its dividend by 33% and it would still yield over 10% and we believe that would still provide a satisfactory yield to reasonable and rational mREIT investors who are interested in a best-in-breed mREIT. We reiterate that investors who are looking for growth in Net Interest Income per Share and Dividend Growth from mREITs are looking for needles in haystacks.
Although the company's reported comprehensive income per share of $1.07 for the period was more than 100% higher than any of its previous quarters, we don't have to waste much time identifying that this was due to the Fed's monetary easing activities pushing down bond yields, which pushes up bond prices. These actions helped contribute to $250M in unrealized gains on its MBS portfolio, $31.5M in unrealized losses on derivatives, $15.1M in realized gains on the sale of MBS securities and $18.9M in realized losses on derivative instruments. We are pleased that ARR's CPR prepayment rates have been significantly lower than its larger mREIT competitor Annaly Capital Management.
Source: MRQ Press Releases for Armour and Annaly
89% of AGNC's $7B MBS portfolio is backed by fixed-rate agency securities and 11% adjustable rate securities. ARRs fixed-rate investment portfolio was comprised of 12.5% ≤15-year fixed-rate securities, 44.1% in 20-year fixed-rate securities, 1.8% in 25-year fixed-rate securities and 41.6% in 30-year fixed-rate securities. Considering that AGNC's weighted average cost basis on its investment portfolio was 105.3% as of September 30, 2012, we can see that the company will need to maintain its focus on minimizing prepayment risk.
In conclusion, ARR has proven itself to be an mREIT investors should keep their eyes on. The company has $23.5B in assets and it offers investors a monthly dividend stream instead of quarterly. Here are some of the reasons why Armour is a better mREIT for investors than Annaly:
Armour's CPR prepayment rate of 13% for Q3 2012 is lower than the 20% that Annaly posted in the same time period
Armour's Net Interest Margin of 1.82% in Q3 2012 is 58bp higher than the 1.24% that Annaly achieved
Armour's Dividend Yield is 210bp higher than Annaly's
Armour's Market Price Discount to Book Value of 10.3% is slightly higher than Annaly's 9.75%
Disclosure: I am long ARR. I wrote this article myself, and it expresses my own opinions. I am not receiving compensation for it (other than from Seeking Alpha). I have no business relationship with any company whose stock is mentioned in this article.
Additional disclosure: This article was written by an analyst at Saibus Research. Saibus Research has not received compensation directly or indirectly for expressing the recommendation in this article. We have no business relationship with any company whose stock is mentioned in this article. Under no circumstances must this report be considered an offer to buy, sell, subscribe for or trade securities or other instruments.