Well, well. The 'Slingshot' is working overtime. This article was written about a month ago with Apple's (NASDAQ:AAPL) stock trading at $600 and things have gotten worse for Apple's shareholders. Yes, it does get repetitive to have the same story told over and over but as of this writing, the stock is trading at $528. And with that many new milestones have been achieved. Let us get into the details.
Welcome To the 2% Yield, Apple: Yes, Apple is the latest stock to cross the 2% yield that many investors and funds wait for. At $530, Apple's annual dividend of $10.65 gives it an exact 2% yield. With a low payout ratio of about 24% and that huge cash pile, this is perhaps just the beginning of the good times for dividend investors with Apple.
A Sub 12 PE: At $528, Apple's PE has dropped below 12 for one of the very few times over the past 5 years. The chart shows the PE dropped below 12 only twice before: December 2008 when the market was in doldrums and December 2011 when Apple investors were still trying to adjust to a 'Post Steve Jobs' Apple and were still 'disappointed with the iPhone 4s.

Click to enlarge
(Source: YCharts.com)
Why Is This Important: As mentioned in this article by Mr. Robert Leitao, Apple needs to be evaluated by seasons and not based on daily fluctuations or even a quarter. The tables below show Apple's 6 month stock return from the lowest PE points mentioned above: December 2008 and December 2011.
The current dip happens to be the 3rd instance that the PE is below 12 and if history is any indicator, the 6 month returns are going to be huge as well for ones who stick or even buy here. This can be explained because Apple's fiscal Q1 and Q2 have been the best quarters for the stock. Q3 and Q4 usually go side ways and present great buying dips.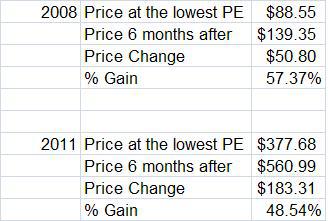 (Source: Table compiled by the author with data from Finance.yahoo.com)
Flip-Flop #1: Doug Kass, perhaps the most famous Apple bear, recently turned bullish on the stock. While it is not surprising to see a hedge fund manager flip-flop as things change, what is important to note is that this is perhaps the best example of the 'Slingshot' theory.
As pointed out by Mr. Philip Elmer-DeWitt in the article linked above, nothing changed about Apple fundamentally for Mr. Kass to turn bullish suddenly, except a lower entry point. For those unaware, Mr. Kass published 10 reasons why he was an Apple bear. NONE, I mean NONE of these reasons changed when he recently turned bullish on the stock - except the cheaper stock price and with it the market cap. In other words, a classic example of pulling your legs down so I could climb higher on the mountain.
Flip-Flop #2: While the last point was about a bear turning bull, this one is about bulls turning bears. Apple's estimates are usually revised to the higher side. But recently, estimates are being lowered. Why is this good news ? Because it sets up for an earnings beat (though the numbers could be revised again).
The numbers are being lowered while Apple continues to sell millions of its iDevices. And by the way, even the lowest 2014 estimate of $58.66 per share in the right most column and a measly PE of 11 should put Apple's stock at $645, 21% higher than where it is today.

Click to enlarge
(Source: Finance.yahoo.com)
Technicals: The Relative Strength Index [RSI] was slightly below 30 at the time of the previous article. Again, a new low has been set for Apple here as the RSI has gone below 15. In other words, if RSI under 30 is oversold, we must come up with a new term for RSI under 15. It was not this low at the time of publishing our first 'slingshot' article either.

Click to enlarge
(Source)
And before you say all the stocks are oversold here with the sell off, take a look at Apple's nemesis Google (NASDAQ:GOOG) below.
(click to enlarge)

Click to enlarge(Source)
Product Related News: Last but not the least, the products have been doing much better the initial estimates.
iPad: The iPad mini was expected to be a dud given the competition and the higher price tag. But Apple sold 3 million units during the opening weekend. The famous Jason Schwarz covers that in detail here. Also, analysts are now suggesting that the iPad mini has after all not been so 'cannibalistic'.
iPhone 5: It was never a question about demand for the latest blockbuster. It was always about supply constraints. With perhaps the best operations brain serving as Apple's CEO, things were always expected to be set right on the supply side. It is already beginning to get better on the supply side as AT&T (NYSE:T) reported here. Also, the estimated shipping time has improved to 2 to 3 weeks.
China Mobile: At this point, this is just a guess and yours is as good as any of the analysts. But a deal with Chinese giant China Mobile (NYSE:CHL) might be closer and it could be an official iPhone carrier as early as 2013 according to this report published this morning. Oh, another number to close out the article, China Mobile has about 655 million subscribers. Even a tiny fraction of it could be huge.
Conclusion: So, just when you think things can't get worse for Apple's shareholders, it does. But if you buy today, you are:
A) getting a 2% yield on a company with zero debt and a huge cash pile.
B) getting in on the lowest end of its 5 year PE range and,
C) getting in line to be a part of the most productive time period for the stock historically (Q1 and Q2).
Disclosure: I am long AAPL, T. I wrote this article myself, and it expresses my own opinions. I am not receiving compensation for it (other than from Seeking Alpha). I have no business relationship with any company whose stock is mentioned in this article.