Commodity Chart Of The Day
Weekly OJ
(click image to enlarge)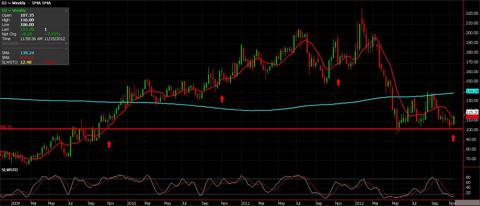 Perhaps off the beaten path but yes, not just a beverage that we drink with our breakfast, but actually a tradable commodity. The contract size on frozen concentrate orange juice is 15,000 lbs. That means every 1 penny move equates to a $150 gain or loss. I am operating under the influence that the trend line, identified by the red horizontal line, will hold as support. In the coming months, I am expecting to see prices pick up, as we may be underway with futures appreciating 7% this week. As one can see, prices are bouncing off oversold levels and while past performance is not indicative of future results, let's look at OJ for the last four years.
I've put red arrows on the chart under the middle of November to correspond to the current price and prices the last three years at this time. Now it may take a few months to develop, so I would trade the March contract and be patient. In 2009, within three months, prices appreciated 20%; in 2010, better than 20%; in 2011, after a 15% decline, prices rebounded to trade at multi-decade highs -- 18% over the original entry price. Now in 2012, prices are starting from a depressed point, and I think it is feasible into early 2013 to see prices gain 20% plus, putting futures near $1.40, as identified by the blue line and the 200 day MA.
At the money options or just out of the money options have a delta of 40-55% and can be purchased for $1000-1600, depending on which strike you select. I also like the idea of back ratio spreads or getting long futures and selling out of the money calls 1:1.
Risk Disclaimer: The opinions contained herein are for general information only and not tailored to any specific investor's needs or investment goals. Any opinions expressed in this article are as of the date indicated. Trading futures, options, and Forex involves substantial risk of loss and is not suitable for all investors. Past performance is not necessarily indicative of future results.
Disclosure: I have no positions in any stocks mentioned, and no plans to initiate any positions within the next 72 hours. I wrote this article myself, and it expresses my own opinions. I am not receiving compensation for it. I have no business relationship with any company whose stock is mentioned in this article.